Lacson: Nothing beats effective coordination in disaster response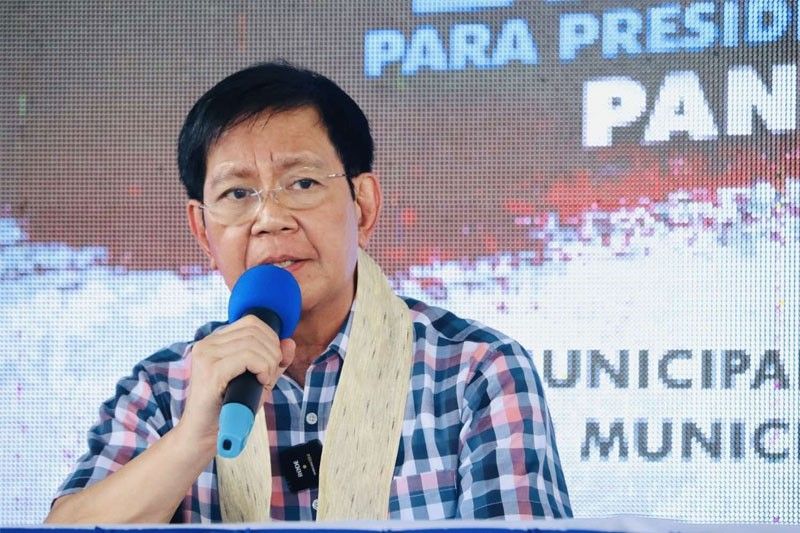 MANILA, Philippines — Nothing beats effective coordination in responding to disaster situations, independent presidential candidate Sen. Panfilo Lacson said during his visit to Estancia, Iloilo last Tuesday.
Lacson planned on visiting Estancia last week but had to postpone it because of Tropical Storm Agaton, which inundated the municipality.
In 2013, the town also sustained serious damage from Supern Typhoon Yolanda, which Lacson helped rebuild through the support of his connections from both the public and private sectors.
At a public forum at the Estancia plaza, Lacson recalled his experience coordinating with local government executives as well as past and present officials of the Philippine Coast Guard (PCG) to aid flood-stricken villages and residents in the town during the onslaught of Agaton.
He said former PCG commandant Ret. Vice Adm. Edmund Tan, who is also actively helping him in his presidential campaign, acted on his request to send rubber boats to Iloilo at the time, which he coursed through incumbent PCG Commandant Adm. Artemio Abu.
PCG Western Visayas District Commander Commodore Ed Ybañez facilitated the same request on the ground that rescued isolated and stranded citizens in Estancia as well as in other affected areas, according to Lacson.
The presidential aspirant also acknowledged the efforts of his support groups and campaign team members – some of whom are homegrown citizens of Iloilo – for immediately organizing relief missions when their earlier scheduled activities in the province had been cancelled.
"They were able to produce relief packs, relief goods and they were able to attend to something like 1,700 families, not only in Estancia but also in other towns like Lemery, Ajur and Pilar," he said in Filipino and English.
In 2014, when Lacson was serving as presidential assistant for rehabilitation and recovery, he managed to restore a fishing village that was destroyed in the wake of Yolanda in Barangay Jolog with the help of development partners, mostly private corporations.
He mentioned that Fernando and Jaime Zobel de Ayala, through their Ayala Land Inc. and Ayala Foundation, volunteered to take on the responsibility of helping the government rebuild Estancia, Iloilo as part of its "build, back, better" post-disaster efforts.
Lacson said they were able to rehabilitate 300 fishing boats and reconstruct 120 houses that were either totally or partially destroyed in the aftermath of Yolanda.
He added that he was informed by the current chairman of Barangay Jolog that their village is now "fully recovered." – Gilbert Bayoran