62 journalists killed worldwide in 2020 – UNESCO
November 3, 2021 | 12:00am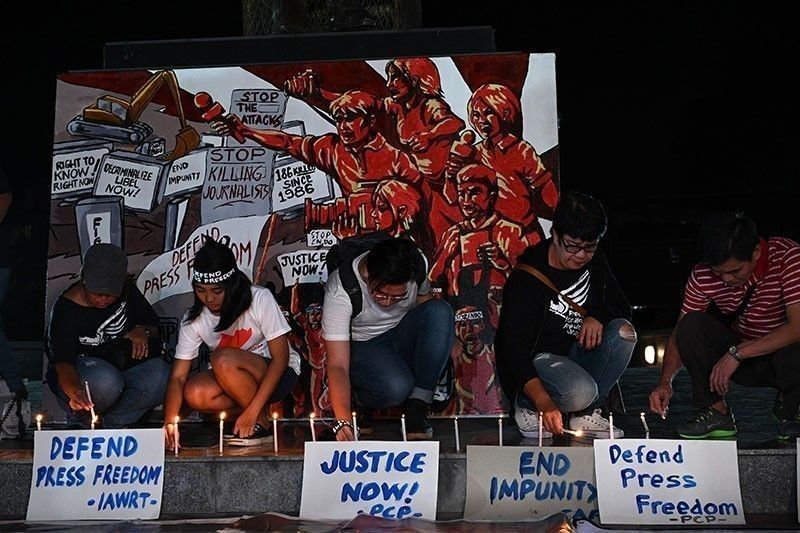 MANILA, Philippines — Sixty-two journalists were killed in 2020 alone just for doing their jobs, according to the United Nations Educational, Scientific and Cultural Organization (UNESCO).
Between 2006 and 2020, over?1,200 professionals lost their lives the same way.
"In nine out of 10 cases the killers go unpunished," UNESCO said.
The UN agency, which works to protect media workers, said that this year, because of statistics like these, the International Day to End Impunity for Crimes against Journalists is highlighting the important role of prosecutorial services, not only in bringing killers to justice but also prosecuting threats of violence.
Orlando "Dondon" Dinoy, a reporter and volunteer anchor, was shot six times at close range by gunmen who barged inside his apartment in Bansalan town, Davao del Sur, on Saturday.
Dinoy was a reporter for Davao City-based online media outlet Newsline Philippines and a volunteer anchor for Energy FM in Digos City. He was a correspondent for the Philippine Daily Inquirer from 2011 to 2020 and for SunStar Davao.
In a message marking International Day to End Impunity for Crimes against Journalists on Tuesday, UN secretary-general António Guterres noted that many journalists had lost their lives while covering conflict, but the number of media workers killed outside conflict zones has risen in recent years.
"In many countries, simply investigating corruption, trafficking, human rights violations or environmental issues puts journalists' lives at risk," Guterres said.
UNESCO said journalists face countless other threats, ranging from kidnapping, torture and arbitrary detention to disinformation campaigns and harassment, particularly in the digital sphere.
For the UN chief, "Crimes against journalists have an enormous impact on society as a whole, because they prevent people from making informed decisions."
"The COVID-19 pandemic, and the shadow pandemic of misinformation, has demonstrated that access to facts and science is literally a matter of life and death," Guterres said. "When access to information is threatened, it sends a disturbing message that undermines democracy and the rule of law."
Guterres also noted that women journalists are at particular risk.
According to UNESCO's recent paper,?"The Chilling: Global trends in online violence against women journalists," 73 percent of the women journalists surveyed said they had been threatened, intimidated and insulted online in connection with their work.
The secretary-general urged member-states to stand in solidarity with journalists around the world, showing the political will needed to investigate and prosecute these crimes.
UNESCO director-general Audrey Azoulay also marked the day with a message, saying that for too many journalists, "telling the truth comes at a price."
According to her, "When attacks against journalists go unpunished, the legal system and safety frameworks have failed everyone."
"States thus have an obligation to protect journalists and to ensure that the perpetrators of crimes against them are punished. Judges and prosecutors in particular, have an important role to play in promoting swift and effective criminal proceedings," she said.
In recent years, UNESCO has trained nearly 23,000 judicial officials, including judges, prosecutors and lawyers. The training covered international standards related to freedom of expression and the safety of journalists, and has placed a particular focus on issues of impunity.
This year, the agency's #EndImpunity campaign is highlighting some of the specific risks which journalists face in their quest to uncover the truth.
"Only by allowing the truth to be spoken can we advance peace, justice and sustainable development in our societies," Azoulay added.
Independent probe
The Commission on Human Rights (CHR) said yesterday it dispatched a team to investigate the killing of Dinoy.
Based on an initial report, CHR spokesperson Jacqueline de Guia said circumstantial evidence points at the crime as premeditated.
"Currently, no motive for his killing has been established, but due to the nature of the crime and profession of the victim, the CHR will be looking closely into his line of work and his previous contacts," De Guia said.
"Killings perpetrated against the media foster a chilling effect and help breed a climate of impunity," De Guia said. "A silenced media hampers the free flow of information and deprives the Filipino citizenry of much-needed information critical for discernment in national affair."
"There is impunity when there is no accountability for crimes committed," De Guia said
Despite the killing of Dinoy, the country will soon be out from being regarded as one of the worst places and murderous countries for journalists.
The Presidential Task Force on Media Security (PTFoMS), through its executive director Usec. Joel Sy Egco, believes with optimism the recently released Global Impunity Index (GII) by US-based press freedom watchdog Committee to Protect Journalists (CPJ) where the country remained on its "biggest mover" status of 7th place gained in 2020.
Egco said that "for the first time, the CPJ made no country specific report on the Philippines unlike in the past when critics, he said, "feasted on mostly critical observations by CPJ."
The CPJ declared the country as the "most improved" country in the world in its 2020 rankings, moving from 5th to 7th place. – Artemio Dumlao