No quarantine for North America travelers sought
October 27, 2021 | 12:00am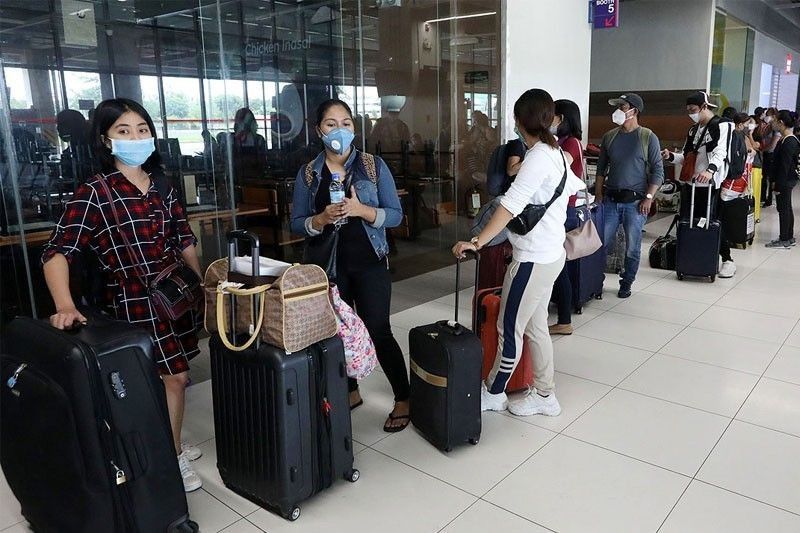 MANILA, Philippines — Presidential Adviser for Entrepreneurship and Go Negosyo founder Joey Concepcion has expressed optimism that the Inter-Agency Task Force for the Management of Emerging Infectious Diseases (IATF) would approve a proposal to do away with quarantine for returning Filipinos and visitors from North America to help the airline industry bounce back.
"We hope that the IATF would agree to our suggestion to allow no quarantine for travelers from North America as this would encourage returning Filipinos and other visitors to travel to the Philippines and to be with their loved ones," Concepcion said.
As a big market for airlines, Concepcion said North America can help the local aviation industry recover from huge losses they suffered, as lockdowns prevented people from traveling to various parts of the country and the world.
"If we can implement this regulation immediately, it would also be a happy Christmas for our airline industry as many Filipinos and other visitors would pack their bags and return to the Philippines and celebrate Christmas here with loved ones who they haven't seen for a long time," Concepcion stressed.
During the arrival of the AstraZeneca vaccine purchase by Go Negosyo through its "A Dose of Hope" vaccination program for private sector workers, Concepcion said vaccine czar Sec. Carlito Galvez are making sure that there would be enough vaccines arriving until the first quarter of 2022.
"The available vaccines will ensure that family members our balikbayans will go home to are also protected from hospitalization. Let's give them a chance to be reunited," Concepcion added.
The Go Negosyo founder also emphasized that the increased inbound traffic and the influx of returning Filipinos from North America would greatly benefit the economy, particularly the micro, small and medium enterprises (MSMEs).
In his last meeting with IATF adviser Dr. Edsel Salvana, Concepcion presented the proposals of the aviation industry, including the shelving of multiple requirements for traveling, such as RT-PCR test for most local destinations and long quarantine for passengers of international flights.
Concepcion, OCTA Research experts Prof. Ranjit Rye and Fr. Nick Austriaco and representatives and officials from local airlines met with Department of Foreign Affairs Secretary Teodoro Locsin Jr., Transportation Secretary Arthur Tugade and Philippine Ambassador to the US Jose Manuel Romualdez to discuss the possibility of implementing a no-quarantine policy for North America.
Go Negosyo and the country's flag-carrier Philippine Airlines (PAL) recently presented their plan to pilot-test the no-quarantine policy on travelers from North America.
They also proposed the frontloading of the testing process before passengers arrive in the country and expanding international gateways to reduce the number of arrivals at the NAIA terminals.
During their meeting with government officials, Concepcion said the country should reciprocate the United States' policy to require travelers from the Philippines to present a negative RT-PCR test and proof of vaccination status as travel requirements by implementing a no-quarantine policy.
Austriaco, for his part, stressed during his presentation that new infections in the Philippines cannot be attributed to international arrivals, claiming that arriving international passengers account for only 1.8 cases out of the 6,000 average new cases.
Philippine Airlines echoed Austriaco's pronouncement, saying that based on its monitoring of positivity rates among its inbound international passengers, positivity rates among inbound passengers from North America have been relatively low because 90 percent of passengers from that region are vaccinated.
Romualdez said the Philippine embassy in the US is willing to support the documentation and authentication of vaccination records for arriving passengers to ensure that they are indeed vaccinated.
Vaccination is also not an issue for US-based Filipinos as 90 percent of them are already inoculated against COVID-19, Romualdez added.
The ambassador also said a Boston-based company has offered to pilot-test a PCR testing technology which can pool testing among passengers and have their results available upon their arrival in the Philippines.
"This can greatly ease the waiting time of arriving passengers at the NAIA, many of whom have already spent hours on the plane and must contend with spending even more time lining up for testing at the airport," he said.
"Filipinos look forward to Christmas every year. It is best spent at home with family. We need to give our balikbayans the chance to be with their loved ones," Concepcion stressed.