Palace downplays drop in Duterte ratings
September 25, 2021 | 12:00am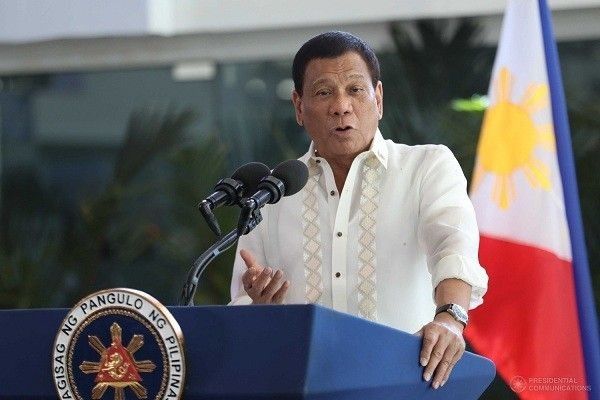 MANILA, Philippines —Malacañang downplayed yesterday the drop in President Duterte's satisfaction rating, noting that all Philippine leaders experienced this as they approached the end of their terms.?
Duterte's satisfaction rating reached an all-time high of 84 percent in November 2020, but dropped to 75 percent in the May and June 2021 polls of the Social Weather Stations (SWS).
"This is not that alarming and it is still very good by any standard," presidential spokesman Harry Roque Jr. said at a media briefing.
"We expect that. No president has not experienced a drop in trust and satisfactory rating as the election approaches," said Roque.
"Of course, as the election draws near, those who are running will find a way to bring down the administration's rating because, otherwise, they have no chance of winning," he added.
In a press statement, Roque said Duterte's "high" satisfaction rating entering his final year in office is "unprecedented" and surpasses those of his predecessors.
To compare, Roque cited the "high" last-year ratings of the late president Corazon Aquino at +24 in April 1991; Fidel Ramos, +49 in June 1997; Gloria Macapagal Arroyo -31 in June 2009 and the late Benigno Aquino III +30 in June 2015.
No data was provided for former president Joseph Estrada who did not finish his term after being ousted in 2001.
"Rest assured that President Duterte will continue to exercise decisive and compassionate leadership until the remainder of his term to serve and protect the interest and welfare of all Filipinos," Roque said.
?'Diversion, fake news'
Disinformation and diversion may insulate Duterte from issues hounding his administration, including the corruption allegations in the procurement of COVID-19 supplies last year, an analyst said.
In an interview with "The Chiefs" over Cignal TV's One News last Thursday night, Stratbase ADR Institute president Dindo Manhit said the economic impact of COVID-19 and the ongoing probe on the use of pandemic response funds is a "double barrel" aimed at the President.
"If we will analyze it without the power of fake news or disinformation in social media, the President would suffer from all these accusations because this is not just corruption. This is COVID corruption," he said in English and Filipino.
"The only problem is I feel the President is on an offensive since last week… He's talking to his constituency. I can imagine how this is now being rephrased, the narrative being changed," he added.
Manhit noted the propaganda machine that helps insulate him from issues thrown at the government.
"Do you think we're hearing the narrative of Sen. (Richard) Gordon? Maybe not," he said, referring to issues being discussed at the Gordon-led Senate Blue Ribbon committee.
"This is what I worry, the way they might diffuse the issue again, divert it and point the blame on – imagine, the Red Cross," he added.
Latest survey results released by SWS showed that the President has achieved his highest satisfaction rating of 84 percent in November 2020. It went down to 75 percent in subsequent polls conducted in May and June this year.
Asked about this, Manhit noted that the November 2020 survey was the first face-to-face poll conducted by the SWS since the start of the pandemic.
"The news we hear about then was really the narrative of government. How good they've been doing," he said.
"But I think fast forward to June, we're still in this situation and COVID has worsened. Worse is the economic consequences of COVID," he added, explaining the slump in the President's ratings in subsequent polls.
Duterte can't bar Cabinet
Meanwhile, former Supreme Court senior associate justice Antonio Carpio said Duterte cannot prevent Cabinet members from attending the ongoing Senate investigation on spending of COVID-19 funds.
"The President cannot bar Cabinet members from attending the Senate investigation on Pharmally because the investigation is in aid of legislation and not a 'question hour' inquiry," he said during a forum organized by 1Sambayan.
"This is the ruling in the 2006 case of the Senate vs Executive Secretary Ermita, which invalided certain provisions of EO 464 issued by president Gloria Macapagal-Arroyo," he added.
Carpio said Cabinet members attend as ordinary witnesses during investigations in aid of legislation and not as heads of their departments. – Janvic Mateo