Freezing assets of Pharmally execs, others sought
September 19, 2021 | 12:00am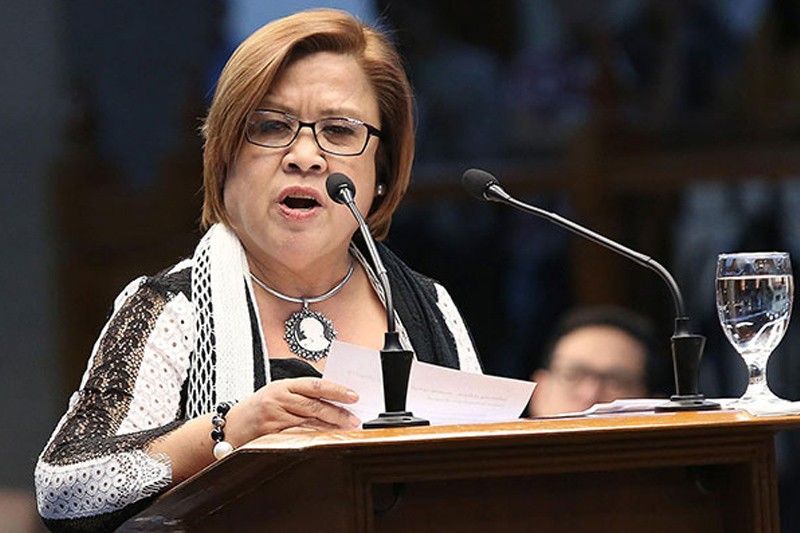 MANILA, Philippines — Sen. Leila de Lima has pressed for the freezing of assets of former presidential adviser on economic affairs Michael Yang, former undersecretary Christopher Lloyd Lao and officials of Pharmally.
"There is an urgent need to freeze the assets of all these soulless monsters before they all fly away to the Caribbean with their plundered loot. The AMLC should immediately apply for a freeze order and initiate civil forfeiture proceedings against these shameless profiteers," De Lima said, referring to the Anti-Money Laundering Council.
"Even if we don't deal yet with Duterte, we will deal with him later. Let's deal with the BFF (best friend forever) Michael Yang first.
"That Lamborghini, that Porsche, that Lexus, are the people's money. That is our money. And these greedy monsters have no conscience whatsoever, using our money to feed their boundless sociopathic need for material wealth at the expense of dying Filipinos in the midst of the COVID-19 catastrophe. They deserve to burn in hell," De Lima added.
De Lima said she was shocked to learn from the Senate Blue Ribbon committee hearings about the buying spree of luxury cars.
"Like everyone else, I was shocked by the parade of Lamborghinis, Porsches and Lexuses owned by the directors of Pharmally who apparently went wild on a luxury car buying-spree after receiving their P8.7-billion windfall from selling overpriced PPEs, masks and face shields to the government. Ex-DBM Usec Lloyd Christopher Lao's Maserati is just missing from the list. That would have made it complete," she said.
"We know that their investment is only sweet talk, especially that of Michael Yang, who seems to be very sweet for Duterte and he even lawyers for them. We know that only Michael Yang and his connection to Duterte is the reason why they cornered billions of government contracts," De Lima added.
She said it was now clear how the Bayanihan 2 funds ended up. "The money was used to buy Porsches and Lamborghinis, while our people are starving and dying of COVID."
Meanwhile, an official of Pharmally Pharmaceutical, which is at the center of a Senate probe on alleged overpriced COVID-19 supplies, has turned to Blue Ribbon committee chairman Sen. Richard Gordon for help in taking down images of her children posted on social media purportedly in the context of illegal drug trade accusations against her husband.
"It is clear that no case has been filed against me in court. But because of the destructive publications and posts on social media, I and my family have been bullied, insulted, judged," Rose Nono Lin said in a statement in Filipino.
"I also request that the picture of my children and linking us to illegal drugs, connection to the President and to Pharmally Pharmaceutical posted on social media sites and published in newspapers be removed," Lin said to Gordon.
Lin appeared before the Senate Blue Ribbon committee hearing on the 2020 COA Report on the Department of Health's use of government funds in combating the COVID-19 pandemic, to explain her side in the face of several questions posed by Sen. Risa Hontiveros on social media.
The senators, however, are determined to unmask the people behind the questionable links among PPE suppliers despite Lin's pleas.
At a virtual public hearing last Friday, Hontiveros presented the pictures as evidence. Photos of Lin's two minor children were among those shown in the posts.
Lin also defended her husband, whose name is being linked to Wen Li Chen and the drug trade.
"My husband's only name is Weixiong Lin. He is in the picture but he is not Allan Lim and my husband has nothing to do with illegal drug trade," she said.
But Hontiveros maintained the photos were lifted from Lin's own social media pages and she would only take these down if ordered by Gordon.
Sen. Panfilo Lacson, meanwhile, reaffirmed his full support for the Senate probe on the questionable procurement and said one hearing is not enough to complete the investigation.
"I don't think one more hearing will be enough to thresh out the issues. There is so much information coming out. And not all senators have had their turn to ask questions," he said.
The Blue Ribbon panel has scheduled another hearing for Tuesday, Sept. 21.
Lacson said the investigation is not targeting President Duterte or any other personality but is largely intended to help lawmakers get to the bottom of corruption issues hounding the P42-billion transfer of funds from the Department of Health to the Procurement Service of the Department of Budget and Management (PS-DBM).
"Our concern revolves around the issue of corruption. That is why I said that as far as the inquiry looking into irregularities, we support the chairman of the Blue Ribbon committee," he said in an interview on dwIZ radio. "In spite of the resource persons' refusal to cooperate, the facts are slowly emerging on the transfer of P42 billion from the DOH to the PS-DBM."
Lacson said some of the most recent findings, including the purchase by Pharmally executives of expensive vehicles after bagging contracts with the government, may be considered circumstantial evidence.
"It seemed they got so much instant money to spend. That would buttress suspicions that they made a windfall," he said.
"If you piece together the circumstances, there are signs of overpricing. Otherwise, they would not have money to buy such expensive vehicles," he added.
Lacson also debunked insinuations that politics is behind the investigation, saying the Senate has been investigating irregularities in various issues in aid of legislation.
He belied as well claims that the Commission on Audit (COA) has already clarified there is no corruption in the procurement, saying COA's mandate is to audit and not investigate possible corruption.