DOH: Walk-in vaccinations should not be allowed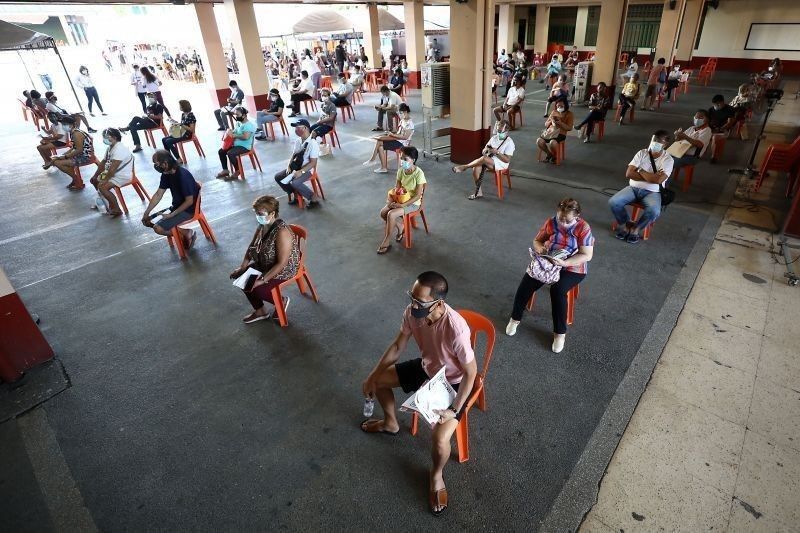 MANILA, Philippines — To prevent overcrowding, the Department of Health (DOH) yesterday reminded local government units (LGUs) that walk-ins should not be allowed at vaccination sites.
DOH Undersecretary Maria Rosario Vergeire said all prospective vaccine recipients must be pre-registered, as it is only through pre-registration that schedules could be given for their jabs at vaccination sites.
She also urged LGUs to make COVID-19 vaccines available even to those who are not from their areas of jurisdiction.
"There is the 'no wrong door' policy being implemented by the national government. This means you can get vaccines anywhere. Please accommodate them if they are eligible," she noted.
Opposition
The Philippine Society for Microbiology and Infectious Diseases (PSMID) is opposing recommendations to mix COVID-19 vaccines and give booster shots to vaccinated individuals, citing the "currently insufficient data."
"We suggest that the primary series of COVID-19 vaccines be completed as recommended using the same product at the prescribed interval," the group noted.
"The need for and timing for COVID-19 booster doses has not been proven. There is currently a paucity of evidence to support recommendations for a COVID-19 vaccine booster shot for the general population," it added.
For his part, Rep. Joey Salceda stressed the importance of mass vaccination to achieve herd immunity and avoid "roller-coaster lockdowns."
At the Senate, Sen. Grace Poe filed Senate Bill No. 2321 to expand the coverage of vaccine cards, allowing them to be used as travel requirements for fully inoculated individuals, including overseas Filipino workers (OFWs).
"Our OFWs have kept our economy afloat in the pandemic, and yet we are making it harder for them to make a living by requiring two different documents that serve the same purpose," Poe said.
20 million doses
The government has administered 20,863,544 doses of anti-COVID-19 vaccines nationwide as of Aug. 1, the National Task Force against COVID-19 said yesterday. Of this number, 11,747,581 individuals have received their first shot while 9,115,963 persons have completed the second dose.
"The total doses administered in the 22nd week of our national vaccination reached 3,661,123 doses with an average of 523,018 daily administered doses," the NTF said.
Meanwhile, 415,040 doses of AstraZeneca vaccines donated by the United Kingdom arrived yesterday at the Ninoy Aquino International Airport (NAIA) Terminal 3 via Emirates Air flight EK 332 from Dubai. The vaccines were immediately transported by refrigerated vans to the PharmaServ Express cold storage in Marikina City.
"The 415,000 doses are part of the first batch of the 100 million doses we've pledged to get the poorest parts of the world vaccinated as a matter of urgency," British Foreign Secretary Dominic Raab said. – Delon Porcalla, Paolo Romero, Jose Rodel Clapano, Rudy Santos
Related video: