Monsoon continues to bring rains in Luzon, Metro Manila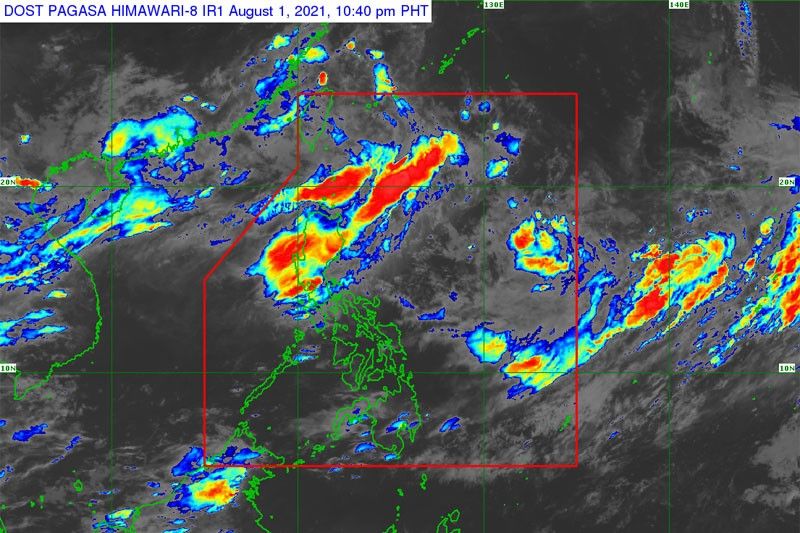 MANILA, Philippines — Metro Manila and several provinces in Luzon will continue to experience rains and thunderstorms this week due to the southwest monsoon.
In its weekly weather outlook, the Philippine Atmospheric, Geophysical and Astronomical Services Administration (PAGASA) said cloudy skies with scattered rain showers and thunderstorms will persist until Friday over Luzon, especially over Ilocos region, Cordillera Administrative Region (CAR), the provinces of Zambales, Bataan, Batangas and Mindoro as well as Metro Manila.
PAGASA warned of flash floods and landslides from moderate to heavy rains, while the rest of the country will have fair weather, except for isolated rain showers and thunderstorms in the afternoon or evening.
Meanwhile, two weather disturbances were spotted yesterday off Northern Luzon.
PAGASA senior weather specialist Chris Perez said a low-pressure area was spotted 680 kilometers northeast of extreme northern Luzon.
The weather system is still outside the Philippine area of responsibiliy and there is slim chance for it to develop into a typhoon within 12 to 24 hours. It will however continue to enhance the southwest monsoon.
In its 4 p.m. weather bulletin, PAGASA said a tropical depression was sighted at 2,265 kilometers east northeast of extreme northern Luzon and is still outside the Philippine area. As of 3 p.m yesterday, it packed maximum sustained winds of 55 kilometers per hour and gustiness of up to 70 kph near its center. It was moving northwest at 15 kph.
Perez said the tropical depression might skirt the Philippines and head to the eastern seaboard of Japan. But the tropical depression would also slightly enhance the southwest monsoon, especially in the eastern seaboards of Luzon, he said.
Gale warning was raised in the northern and western seaboards of Northern Luzon and western seaboard of Central Luzon due to the southwest monsoon.
PAGASA advised fishermen with medium and small boats to refrain from sailing.
Fewer tremors in Taal Volcano
In another development, the Philippine Institute of Volcanology and Seismology (Phivolcs) has recorded fewer and shorter tremors in Taal Volcano in the past two days even as the area remains under Alert Level 2 or "decreased unrest."
A total of 18 volcanic tremors lasting from one up to 18 minutes were recorded by the Taal Volcano Network in the past 24 hours on Saturday until yesterday morning, a significant decrease from 33 tremors lasting from one up to 26 minutes from July 30 to 31 and 44 tremors lasting up to six minutes from July 29 to 30.
Phivolcs, however, said the public must remain cautious as explosions are still possible.