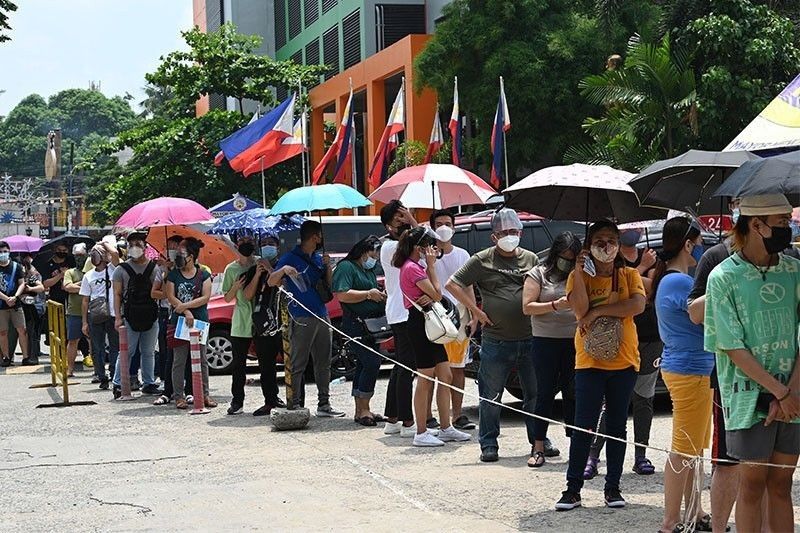 Residents queue up at a Covid-19 coronavirus vaccination centre in Mandaluyong City, suburban Manila on July 15, 2021.
AFP/Ted Aljibe
Experts suggest tighter measures
Janvic Mateo
(The Philippine Star) - July 23, 2021 - 12:00am
MANILA, Philippines — The OCTA Research Group expressed yesterday serious concern over the continuing rise of COVID-19 cases in Metro Manila, saying the region appears to be on the brink of another surge.
Using data from the Department of Health, OCTA said Metro Manila recorded an average of 813 new cases per day from July 15 to 21, up from the 638 daily cases recorded in the preceding week.
The region's reproduction number, which indicates the number of persons a positive individual can infect, also increased from 0.91 to 1.15.
"This is a cause for serious concern. The trend in reproduction number over the past week shows a similar pattern with the trend from Feb. 12 to 19, when the reproduction number increased from 1.06 to 1.3," said OCTA. "That period signified the start of the surge in the National Capital Region (NCR)."
While it is not clear what is driving the increase in cases, the group said it is best to be cautious and be prepared for a possible surge noting that this can still be mitigated with proactive and decisive measures.
It also suggested that the government consider stricter quarantine restrictions, as well as reducing capacity in business establishments, lengthening curfew, reducing mobility of children and adolescents and ensuring compliance to minimum public health standards.
OCTA fellow Ranjit Rye stressed the need to act with urgency and not wait for the numbers to spike to unmanageable levels, noting that current restrictions in Metro Manila are not enough.
"We cannot underestimate the COVID-19 uptick in the NCR because of the possibility that it may be driven by the Delta variant. At the very least, the IATF (Inter-Agency Task Force) must contemplate a stricter quarantine status or impose more restrictions in the NCR," he said.
"If Delta is driving this surge, we need to crush it with lockdowns (localized and regional) and with expanded testing and tracing before it explodes and creates a catastrophic surge. We have a window of opportunity to reverse this surge," he added.
Rye said the delay in response earlier this year led to a deadly surge that resulted in a great loss to life and livelihoods.
"Let us learn from the lessons of other countries where effective control of the epidemic was lost because institutions acted too little and too late," he noted.
In an interview with The Chiefs over One News on Wednesday night, OCTA fellow Guido David raised the possibility of imposing different restrictions for vaccinated and unvaccinated individuals.
"In other countries, they're introducing some policy and we're looking at it. For example, in France, indoor dining is only allowed for vaccinated people," he said. "It may not seem fair, but that would be one way to do it."
David said vaccinated individuals may be subjected to different restrictions as they have more protection from the virus. "We can add some restrictions but at the same time still help the economy. The 15 percent (of the population) vaccinated in NCR, that's a significant number."
Meanwhile, National Task Force Against COVID-19 deputy chief implementer Vince Dizon said the country's fight against the pandemic is still far from over even if vaccine supply and deliveries are starting to progress.
Quoting Health Secretary Francisco Duque III and vaccine czar Carlito Galvez Jr., he reminded the public that there's still a lot of ground to cover toward ending COVID.
"What (they) want to let all of us know is we are still a long way from the end of this fight. We have very long ways to go," he said during a vaccination rite in Pasig City.
The government, he announced, has administered 16 million doses of COVID-19 vaccines with a rate of about 350,000 vaccinations daily.
The Philippines is currently 8th among Southeast Asian nations in terms of vaccinating its whole population and third in terms of COVID-19 vaccine dose deployment.
In Metro Manila, Dizon said local governments have been able to do 130,000 to 150,000 average daily inoculations, beating the target of 120,000.