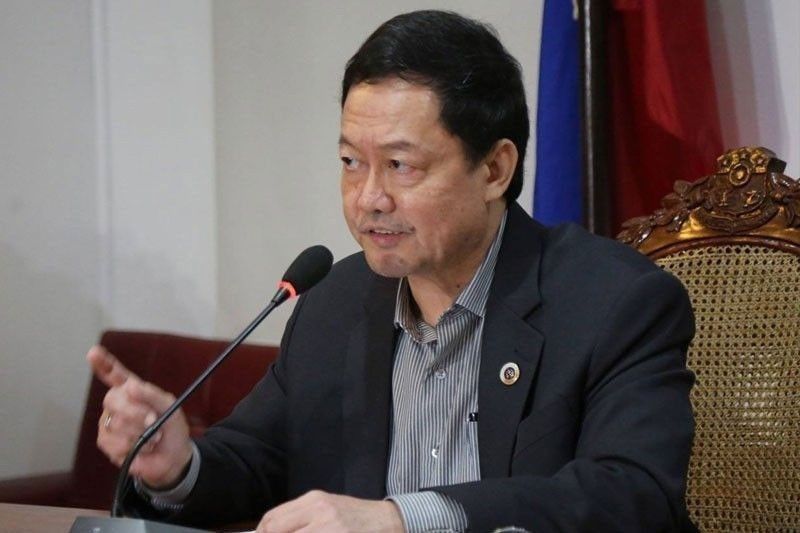 This file photo shows Justice Secretary Menardo Guevarra.
The STAR/Rudy Santos, File
DOJ chief: VP not immune from suit
MANILA, Philippines — A vice president is not immune from legal action, Justice Secretary Menardo Guevarra said yesterday.
"When Vice President (Leni) Robredo was included in sedition charges in 2019 in connection with alias Bikoy's allegations, I remarked that the Vice President was not immune from suit under the present Constitution. My opinion on the matter has not changed," Guevarra said.
He noted that the complaint against Robredo was "eventually dismissed by the panel of prosecutors for insufficiency of evidence, not on account of immunity."
"Please note that I am not commenting on President Duterte's recent statement about his belief on the vice president's immunity from suit, which I consider as part of a political statement rather than a legal conclusion on his part," Guevarra added.
Malacañang, however, believes that Duterte's statement can trigger efforts to determine whether such a privilege can be extended to the second highest post.
"Let's just say perhaps this is an opportunity to provoke jurisprudence," presidential spokesman Harry Roque said yesterday.
During his speech at the National Assembly of the Partido Demokratiko Pilipino-Lakas ng Bayan (PDP-Laban) last Saturday, Duterte said he is considering running as vice president in next year's elections.
"Sabi ng batas, na kung presidente ka, bise presidente ka, may immunity ka. Eh di tatakbo na lang akong bise presidente," Duterte said.
Fiction
Meanwhile, Sen. Bong Go dismissed insinuations that should he and Duterte run and win as president and vice president, respectively, he can be asked to resign and make way for Duterte.
"That is just fiction. First of all, I am not a candidate. I have no interest in running for president. Second, if that happens, President Duterte himself won't allow the winning president to step down just in case he becomes vice president. Third, who is the president who would resign? Fourth, it would be a pity if he won and the tandem won, the other one left. What a pity for what they worked so hard for, and what a pity for the trust of the people given to them," Go explained in Filipino.
"Anyway, the people will be the judge. This is a democracy. We have elections. The people will vote and choose who they want to be president and vice president," Go added.
Vote buying
Poll watchdog Kontra Daya yesterday asked the Commission on Elections (Comelec) to call out President Duterte for allegedly promoting vote buying, after the Chief Executive claimed he would bring "sackloads of cash" when he campaigns for PDP-Laban candidates.
"He should be aware that his action may also be interpreted as misappropriation of taxpayers' money. He is, after all, promising funds to his allies," Kontra Daya said.
In response, Malacañang gave assurance that Duterte won't use public funds to support the candidacy of his political allies.
"Of course, he knows it's illegal to use public funds for partisan purposes. But there is no prohibition in the Omnibus Election Code to raise funds from private individuals for the candidacies of individuals, so that is what the President meant," Roque clarified.
Militant group Kilusang Mayo Uno (KMU) yesterday marched to Malacañang to hand a "letter of termination" for Duterte and demand he vacate his office immediately.
"You are ENDO, Duterte! We gave you a number of warnings but you did not show even a sign of fulfilling your promises," KMU secretary general Jerome Adonis said, referring to Duterte's failed promise of ending labor contractualization in the country. – Alexis Romero, Sheila Crisostomo, Mayen Jaymalin, Cecille Suerte Felipe, Paolo Romero