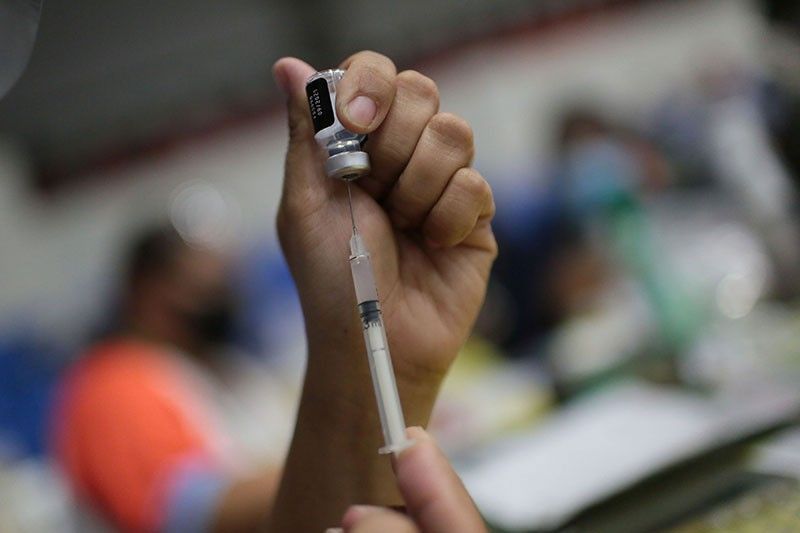 People line up for Pfizer vaccine at Caloocan City Sports Complex on June 28, 2021.
The STAR/Michael Varcas, file
Philippines joins ADB-led advisory group for vaccine rollout
MANILA, Philippines — The Philippines has joined the Asian Development Bank (ADB)-led advisory group that would ensure safe and efficient management of the COVID-19 vaccine rollout across the region.
The Manila-based ADB formed the Regional Vaccine Advisory Group composed of public health experts, vaccine regulators and policymakers to help ADB's developing member-countries, including the Philippines.
The group will provide expert technical and scientific advice on the quality, safety and effectiveness of COVID-19 vaccines. It will also focus on regulatory oversight, risk management strategies and pharmacovigilance needed to safely introduce and monitor vaccine rollouts.
Food and Drug Administration (FDA) director general Enrique Domingo will represent the Philippines in the advisory group.
Others include ADB's Health Sector Group, World Health Organization Health Systems and Services, Vietnam's National Institute of Hygiene and Epidemiology, Canada's COVID-19 Vaccine Logistics and Distribution Vaccine Rollout Task Force, Thailand's Food and Drugs Administration and Japan's Pharmaceuticals and Medical Devices Agency.
Completing the group are China's Office of Clinical Evaluation of Biological Products Center for Drug Evaluation, Singapore's Health Sciences Authority, Indonesia's Food and Drug Administration, Korea's Biopharmaceuticals and Herbal Medicine Evaluation Department, Australia's Health Products Regulation, and India's Department of Biotechnology.
"For most of the world, including Asia and the Pacific, the pandemic continues to disrupt lives and economies and, in some countries, it is intensifying," ADB president Masatsugu Asakawa said.
"ADB's Regional Vaccine Advisory Group will help to safely introduce COVID-19 vaccines across Asia and the Pacific, and allow people to resume their lives, revive their economies and in doing so, reduce poverty," he said.
The group will also focus on increasing the supply of COVID-19 vaccines since only less than five percent of the populations of most countries in the region have been fully vaccinated.
In the Philippines, only some 2.4 percent or 2.63 million of the population have been fully vaccinated.
In a separate development, budget carrier Cebu Pacific hopes more local government units would implement "green lanes" to make travel easier as in the case of Cauayan City, Isabela.
"Simplifying requirements for travelers, both local and foreign alike, will help the industry restore the trust and confidence of the traveling public," Cebu Pacific chief strategy officer Alex Reyes said. – Richmond Mercurio, Emmanuel Tupas