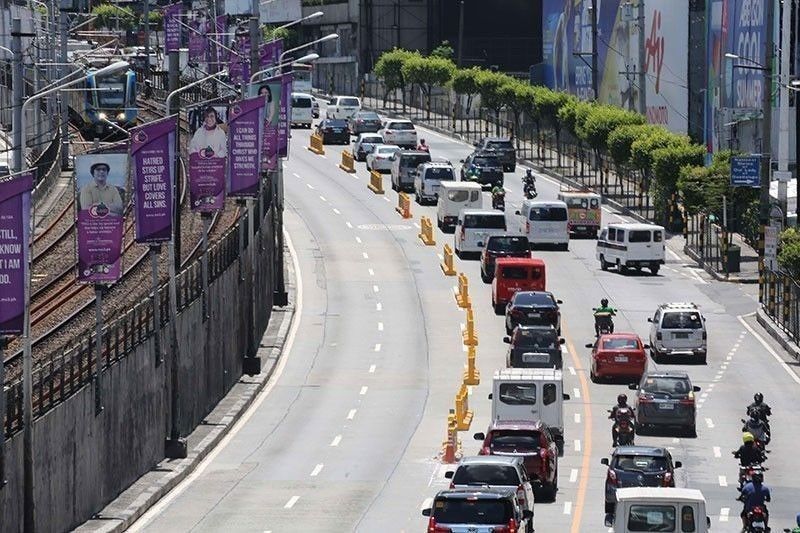 This 2020 photo shows private vehicles separated from the bus lane along EDSA Highway, which was rolled out amid the pandemic.
The STAR/Boy Santos, file
MMDA: Despite rising vehicle volume, speed on EDSA has doubled
MANILA, Philippines — Despite the volume of cars on EDSA approaching pre-pandemic levels, the Metropolitan Manila Development Authority (MMDA) yesterday said vehicle speeds have significantly increased.
In an interview with The STAR, MMDA chairman Benhur Abalos said that while the volume of cars has increased, they are now moving faster compared to the flow of traffic before the pandemic hit the country.
"In terms of speed, the vehicles are faster, compared to before. The cars are now at 24 kilometers per hour, while before, cars ran at 11 kilometers per hour," Abalos told The STAR in Filipino on Saturday.
"We are expecting the worst in terms of volume, but we have better speed now… Both northbound and southbound traffic are now more spacious," he added.
Abalos on Friday said the MMDA is "expecting the worst" with traffic at EDSA, as more cars are using the highway compared to the past year.
He said the number of cars traversing EDSA is nearing 400,000, close to pre-pandemic numbers.
More bridges and roads are also being built, which would alleviate EDSA traffic, the chairman said.
These other roads, such as the Skyway stage 3 that connects the north to the south, could alleviate EDSA traffic.
"EDSA has a capacity of 300,000 (cars). We had 405,000 before the pandemic. We are approaching this figure. But, there are other roads and bridges being built," he reiterated.
"The volume of cars is different from the speed of cars… The flow of traffic now is better," he added.
On Friday, Abalos underscored the need to maximize the mass transport system along the highway.