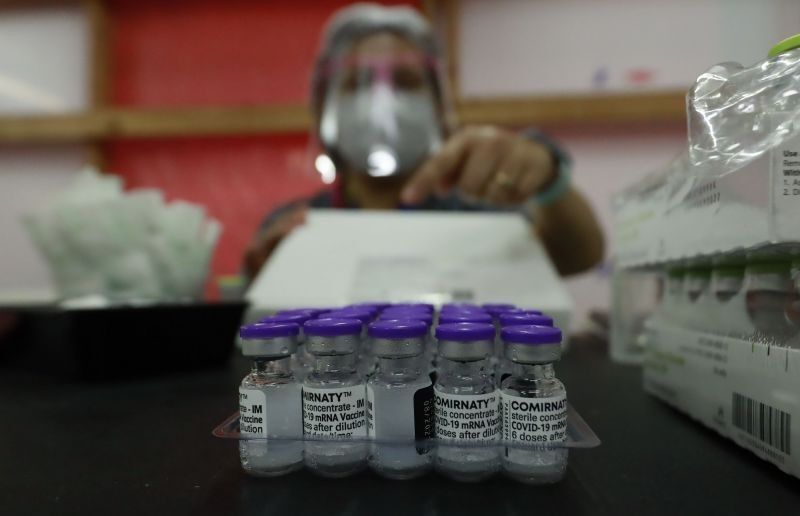 Pfizer vaccines are shown prior to its preperation during the vaccination program for A1 to A3 priority categories at Mandaluyong Mega vaccination site just near Mandaluyong city hall on Tuesday, May 18, 2021.
The STAR/Michael Varcas
Whistleblower in 'vaccine for sale' may sue PNP for inclusion as suspect
MANILA, Philippines — A whistleblower who reported the "vaccine slot for sale" scheme in Mandaluyong City is considering counter-charges against the Philippine National Police over her inclusion in the list of people police charged over the scheme.
Speaking in an interview aired over ABS-CBN News Channel, Nina Ellaine Dizon-Cabrera, CEO of a cosmetics brand, said she was the one who reported the vaccine sellers to the San Juan city government and said she did not have anything to do with the scheme.
She also said the police never reached out to her about the scheme that she reported. She said she only found out about that the PNP considered her a suspect in news reports based on police press releases.
"San Juan [local government] got in touch with me, but as for the PNP, nobody really got in touch...We will fight these charges because they are false. Right now, we're still waiting for the letter from the prosecutor's office," she said.
"[Filing counter-charges] is actually an option we are considering right now," she also said of the idea.
The PNP has not yet responded to requests for comment.
PNP sees 'intent so sell and alleged involvement'
Citing reports from the PNP's Anti-Cybercrime Group, Police Gen. Guillermo Eleazar, PNP chief, said that Cabrera was included in the charge sheet after the investigation showed she also offered 50 to 100 vaccination slots in Mandaluyong City on her social media page.
The offer, the ACG said, "showed intent to sell and alleged involvement in the illegal activity."
I even made sure to get all initial information. This is the conversation between me and the person who posted the for sale post. I even called the seller out when I found out she was selling slots. https://t.co/BjaIAAerR7

— Nina (@theninaellaine) June 9, 2021
The PNP's Public Information Office on Wednesday morning initially issued a statement saying Cyle Cedric Soriano Bonifacio and Melvin Polo Gutierrez were charged with estafa, but a revised statement that included her name was sent to reporters later that day.
Her name was published in news reports after the PNP chief said she was among those facing several charges before the Mandaluyong City Prosecutor's Office for alleged involvement in the sale of vaccination slots.
"I have read the article. I am completely baffled as to why I am being dragged into this scheme when in fact, I exposed this exact scam on my Twitter account last May 21, 2021," she said in a statement shortly after reports came out.
Cabrera, whose social media accounts have over a million followers, said she has been bashed online because of the police allegations.
"I'm very transparent because I am a social media personality and I tend to share everything I find out, which is why my hands are clean and I really don't have any involvement in this," she said.
"I don't even know people from Mandaluyong's LGU, which is why it really comes [off as] weird to me...the truth will prevail as always. I am angry but I am not worried because I'm telling the truth."