Quarantine tightened in areas outside NCR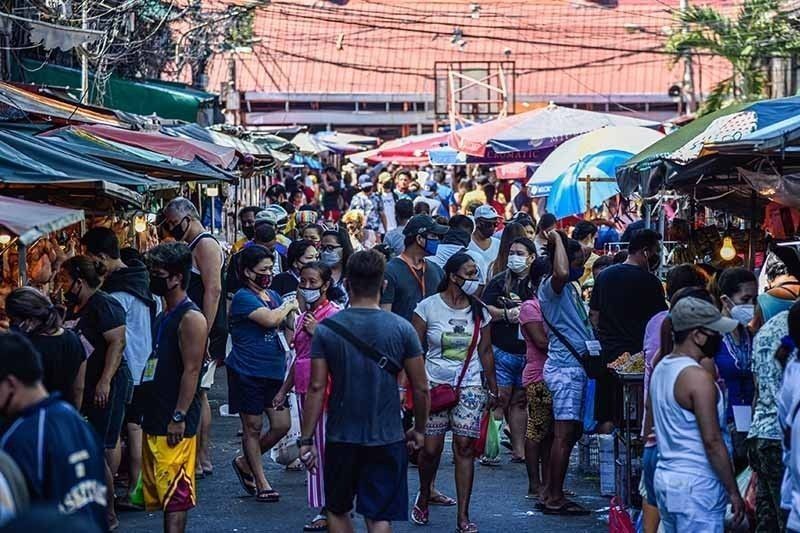 MANILA, Philippines — With COVID cases surging outside the National Capital Region, quarantine restrictions have been tightened in the cities of Davao and Cagayan de Oro, and experts are calling for similar moves in other areas outside the NCR.
"While the situation in NCR is normalizing, surges all over the country now exist and they threaten the health capacity of many regions," warned OCTA Research Group fellow Ranjit Rye during an online forum organized by the Cardinal Santos Medical Center.
Citing the case of Davao City, Rye welcomed the decision of the Inter-Agency Task Force for the Management of Emerging Infectious Diseases (IATF) to approve the request of the city government to revert to the stricter modified enhanced community quarantine (MECQ).
Mayor Sara Duterte-Carpio requested the IATF last Monday to place Davao City under MECQ status until June 30, citing how the daily average of COVID-19 infections increased to 200 cases.
She said COVID-19 patients admitted at the Southern
Philippines Medical Center, temporary treatment monitoring facilities and isolation facilities reached 1,665 as of May 31.
Yesterday, the IATF announced that its Screening and Validation Committee decided on approving the city's reclassification to MECQ starting today until June 20.
Presidential spokesman Harry Roque Jr. said an extension beyond June 20 will be subject to review by the IATF "about two weeks from now."
While the city government has yet to come out with an executive order on the shift to MECQ, it urged residents to abide by the guidelines especially on restrictions in movement.
In a related development, the IATF also moved for the escalation of General Santos City to GCQ status until June 30, owing to a similar surge in cases.
In view of this, Rye said: "We're exhorting other LGUs (local government units) to consider going to stricter quarantine to deal with these surges because these quarantine restrictions, these heightened restrictions, do work, especially when you are trying to slow down a surge."
Areas with surges
At the same forum, OCTA fellow Guido David noted the continuing increase in new cases recorded in some areas outside the NCR.
Among those that recorded significant increases in daily new cases in the past week were Davao City with 193 (up 69 percent from 114), Cagayan de Oro with 138 (up 48 percent from 93), Iloilo City with 122 (up 108 percent from 59) and Bacolod with 104 (up 47 percent from 70).
Also posting significant increases were Tuguegarao with 84 new cases per day in the past seven days (up 144 percent from 34), General Santos with 66 (up 19 percent from 55) and Butuan with 54 (up 38 percent from 39).
In Metro Manila, David said some LGUs have recorded an increase in average daily new cases in the past week, most notably Caloocan with 103 (up 33 percent from 77) and Parañaque with 88 (up 74 percent from 50).
The reproduction number in the region, which indicates the number of persons a positive individual can infect, is still below 1.0 but has increased from 0.59 to 0.71.
David earlier noted a slight increase in new cases in the capital for the first time since the peak of the surge in April, citing public complacency as a possible factor.
Central Visayas surge
Meanwhile, the Department of Health (DOH) said a surge in COVID-19 cases has been recorded in Bohol and Negros Oriental, but not in the entire Central Visayas.
DOH Central Visayas spokesperson Dr. Mary Jean Lorecho made the clarification at the Laging Handa public briefing, emphasizing that COVID-19 cases in One Cebu – referring to Cebu province, Mandaue City and Lapu-Lapu City – are low.
To illustrate, Lorecho cited the 13.2 percent critical care utilization figure in One Cebu, which means that out of the 862 beds allocated for COVID-19 patients, only 114 beds are occupied.?However, the critical care utilization rate in Bohol and Negros Oriental is high mainly because there are few level 3 hospitals or those with intensive care units (ICU).
Yesterday, the DOH logged 7,450 new cases, bringing to 1,255,337 the total COVID-19 caseload nationwide.
DOH said 1,173,006 or 93.4 percent of this total have already recovered, including 2,382 newly reported recoveries. Active cases stand at 4.8 percent or 60,794 of total cases.
Deaths due to COVID rose to 21,537 with the inclusion of additional 181 casualties. The figure accounted for 1.72 percent of the total cases.
Vaccine deployment
OCTA group expressed support for the decision of the national government to recalibrate its vaccine deployment to prioritize areas with a big caseload, particularly NCR, Metro Cebu, Metro Davao, Bulacan, Batangas, Cavite, Laguna, Pampanga and Rizal.
"If there's some more supply, we might include other places such as Iloilo that has been a constant threat of surges," Rye said, stressing that prioritizing areas with high number of cases is the best way to address the pandemic.
"Since the start of the pandemic, the NCR Plus has been the epicenter of transmission in the country, accounting for more than 50 percent of all active cases," he said. "Our belief is winning the battle in the NCR is winning the war against COVID in the country."
While inoculating 70 percent of the population is the most ideal target to achieve herd immunity by the end of the year, Rye stressed the reality of short supply in vaccines that would prevent the government from achieving it. – Edith Regalado, Christina Mendez, Mayen Jaymalin