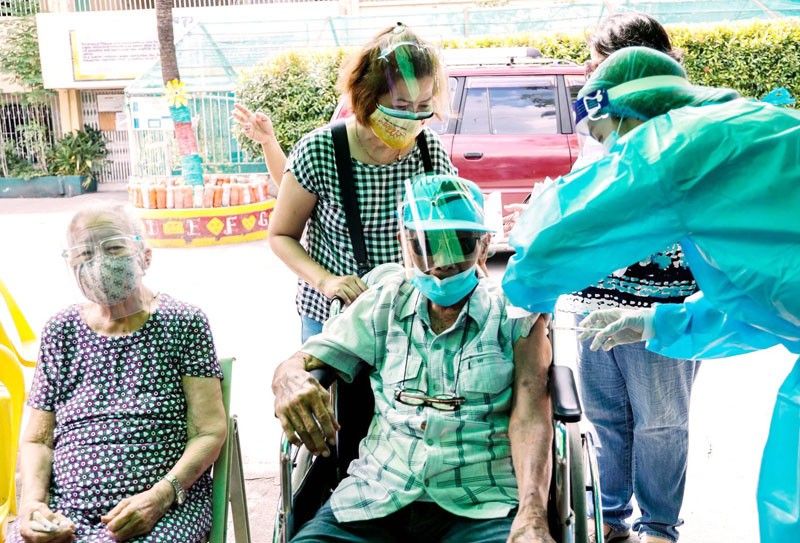 Teofilo Lopez Sr., 101, and his wife Catalina, 95, get their AstraZeneca jabs yesterday.
STAR/File
Centenarians get vaccinated in Navotas
MANILA, Philippines — Two centenarians have been vaccinated against COVID-19 in Navotas, Mayor Toby Tiangco said yesterday.
Herminia Naval, 100, received her first AstraZeneca jab last Thursday, according to city public information officer Irish Cubillan.
Tiangco urged his constituents to emulate the centenarian and also get vaccinated.
"We have a lot of vaccines, but not many registered to get vaccinated, especially among the seniors," Tiangco said in Filipino in a Facebook post.
Elderly couple Teofilo Lopez Sr., 101, and Catalina Lopez, 95, also received their first AstraZeneca jabs in Navotas on Saturday.
Meanwhile, Sen. Richard Gordon suggested yesterday that high school and college graduates be trained in COVID-19 vaccine inoculation in an effort to speed up the country's vaccination campaign.
In his interview with the Foreign Correspondents' Association of the Philippines (FOCAP), Gordon, who also heads the Philippine Red Cross (PRC), outlined some ways the national government could bolster its vaccination program, one of which was training non-health care workers.
"Medics in the Armed Forces can be trained in one week – why not high school and college graduates, with the supervision of medical personnel?" the senator asked.
"If we vaccinate 240,000 Filipinos per day, it will take one and a half years to vaccinate 70 million people. Right now, we are only doing 60,000 people a day," Gordon lamented.
He also updated the FOCAP about the humanitarian organization's own vaccination program, which has already partially inoculated 3,090 people and fully vaccinated 255 persons with its AstraZeneca and CoronaVac supply.
The PRC is also is set to inoculate Filipinos in its 103 chapters nationwide once it receives Moderna vaccines in the third quarter of the year.
Gordon also proposed other ways to streamline the vaccination process, which includes removing the taking of blood pressure and the online completion of the pre-screening questionnaire to avoid overcrowding in vaccination centers.
Sen. Nancy Binay, for her part, prodded the Department of Health (DOH) to press local government units (LGUs) to strictly follow vaccine handling protocols amid shortage and near-expiry of millions of AstraZeneca vaccines.
At least 348 vials of Coronavac had been rendered unusable in Makilala town in Cotabato after local health workers left the vials in a freezer without electricity for two days, she noted.
"Checking if the vaccines are in good condition is the most basic of things. Vaccines are a very precious commodity in these times. A few minutes of brownouts already worry us, what more if it lasts two days? The vaccines could be wasted," Binay said, adding the need for contingency measures.
The senator cited the need for checklists and briefers that LGUs and provincial health facilities can refer to in case sensitive situations arise such as blackouts, typhoons, floods, or the lack of storage facilities.
"Let's avoid oversight and carelessness on the ground, given the complicated handling and logistics involved in bringing the vials to islands and far-flung provinces," she said.
She also called on LGUs to introduce redundancies and constant monitoring in their processes to eliminate possible lapses.
Binay urged the same vigilance from the DOH to "guarantee the quality from source," as she recalled the 7,500 doses of AstraZeneca vaccine that had to be recalled from the Bicol region in March due to suspect handling.
While the health agency has since reported that the recalled vaccines in Albay were in good condition and could still be used, there should be no more "close calls" especially as the bulk of vaccines are expected to arrive soon. – Paolo Romero