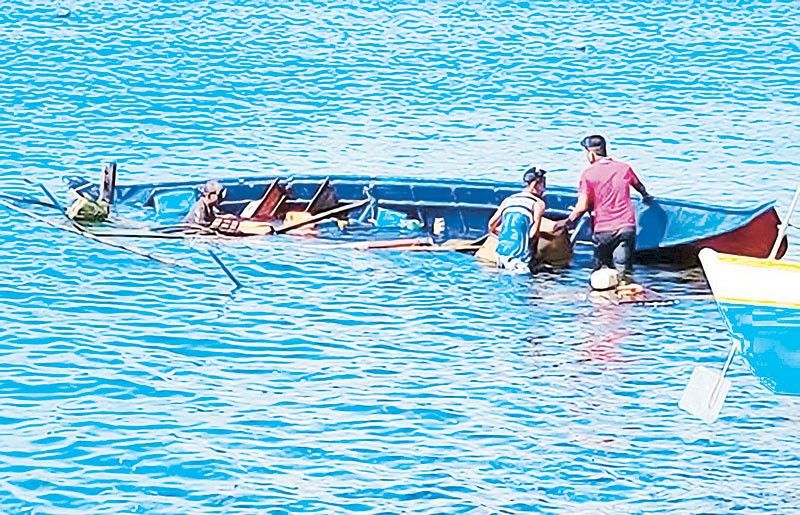 Boxes of vaccines which fell into the water after a service boat of the Department of Agriculture capsized some 100 meters from the shore of Barangay Ungos in Real, Quezon last Thursday.
PCG photos
PCG to the rescue as vaccines sink in Quezon waters
MANILA, Philippines — Two boxes containing more than 1,600 doses of COVID-19 vaccines went underwater in Quezon province on Thursday after the boat carrying them for delivery to two towns capsized after hitting a partly submerged concrete column some 100 meters from the coast, the Philippine Coast Guard (PCG) reported yesterday.
In a Viber message to reporters, the PCG said the service boat of the Department of Agriculture (DA) was carrying Sinovac vaccines for the towns of Polillo and Burdeos when it met an accident near the coast of Barangay Ungos, Real, Quezon at around 8 a.m. No one was reported hurt in the incident.
Aside from its two crew, the boat was carrying two Department of Health (DOH) personnel and two officers of the Municipal Police Station (MPS) in Polillo.
"Upon settling down, the two DOH personnel made proper coordination with their respective unit to check the condition of the COVID-19 vaccines and conduct appropriate measures," the PCG said. The boxes containing the vaccines were found to be generally intact and their contents undamaged, according to the PCG.
This was confirmed by Health Undersecretary Maria Rosario Vergeire when sought for reaction to the incident at a briefing.
"There was an investigation and apparently, the vaccines were placed in double plastic so they remained intact," she pointed out.
The PCG said they were able to deliver 720 doses of the vaccines to the municipal health unit (MHU) of Polillo and 920 doses to Burdeos MHU.
Also at the briefing, Vergeire said the country's "vaccine wastage" is still within the target of less than five percent of the total doses.
She said the country has not exceeded the allowable limit for vaccine wastage which is five percent of the total doses.
The DOH is also looking into reports that more than 300 vials of Sinovac vaccines were left in a freezer without electricity over the weekend in Cotabato City.
The vaccines were in a freezer that was turned off for two days in Makilala town.
Vergeire said the DOH regional office has been directed to investigate and see if anyone should be held liable for the incident.
"To prevent this from happening again, we already advised our local government units – our implementing units – to make sure that there are generators on standby, especially in areas where blackouts are frequent," she added.
So far, more than 7.7 million doses of COVID-19 vaccines have arrived in the country. – Sheila Crisostomo