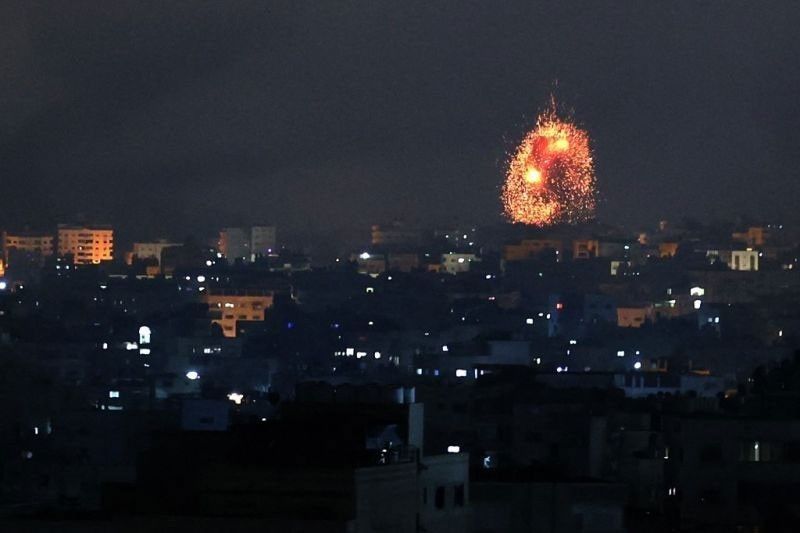 An explosion lights the sky following an Israeli air strike on Beit Lahia in the northern Gaza Strip on May 14, 2021.
AFP/Mohammed Abed
Filipinos in Israel choose to stay despite attacks
Ghio Ong
(The Philippine Star) - May 16, 2021 - 12:00am
MANILA, Philippines — Despite exploding missiles and collapsing buildings, some Filipinos presently working in Israel have chosen to stay, even though they live near Gaza, site of the worsening conflict between Israeli authorities and Palestinian militant group Hamas.
Jimmer Bucasas and Arwin Sausa are among the 800 Filipinos currently studying agriculture and working in farms in Israel.
During their interview with 'The Chiefs' on Cignal's One News/TV 5 last Friday night, Bucasas and Sausa were seen on camera startled by the sound of sirens.
Sausa shared his community was near Gaza, so he could see the rocket fire from both Israel and Gaza, with missiles from Gaza being intercepted by Israel's so-called Iron Dome defense system and detonated mid-air.
Most of the rockets from Israeli forces have bombarded Gaza, creating huge fireballs from the ground and collapsing buildings, so far killing more than a hundred people.
Bucasas shared the offensive between Israel and Gaza was making him and his six other housemates restless, especially when sirens blared.
At one point, the Iron Dome interceptor exploded a rocket from Gaza near their house.
"If not in the evening, in the morning around 1 a.m. It's hard for us to sleep. When the alarm sounds we go downstairs. That's the signal for an approaching missile," Bucasas shared in Filipino.
Bucasas referred to bunkers at the ground floor of the house where they would hide during missile attacks, while Sausa showed the white three-floor "mamad" or bomb shelter they would run to.
"It's a mix of thick rock and steel in the middle… all houses have that," Sausa said in Filipino.
Sausa thought the mamad in Bucasas' household was safer since it was located only on the first floor, while his mamad was at the top floor where he could see the missiles flying overhead.
"Once Gaza sends a bomb, there's a possibility it would hit our house or its top part. It's scary because the front of our house faces Gaza," he said.
Being new in Israel, Bucasas – who flew to the country in January – and Sausa admitted fearing for their lives since it was the first time they witnessed such a violent conflict.
"We've thought about it, but we have no choice but to stay," Bucasas said.
"We were scared at first. We thought about why it was like that, and we wanted to go back home instead of staying here because the bombs were so near us," Sausa added.
However, Sausa said he eventually got used to the sound of sirens and bombs and the sight of rockets as residents seemingly did not mind them.
"It took a few more days, there were bombings but we would just be eating. Even children would go biking outside at times when missiles were far away."
The Philippine embassy in Israel has been advising Filipinos on keeping themselves safe in case of rocket attacks, Bucasas and Sausa said, like looking for the nearest bomb shelter when sirens rang.
Sausa shared they would inform their superiors at the agriculture school about their situation in their areas.
Flying home to the Philippines is not an option for both Bucasas and Sausa, for now, as the Department of Labor and Employment (DOLE) is reportedly preparing to bring home around 300 out of the estimated 30,000 overseas Filipino workers in Israel.
Sausa said he would just evacuate as soon as all his fellows in agriculture school have deemed their situation dangerous.
Bucasas even joked that he could not leave Israel yet because of his obligation to family expenses. "I would go home if this were the situation, but we still have bills to pay and that's why we can't go home."