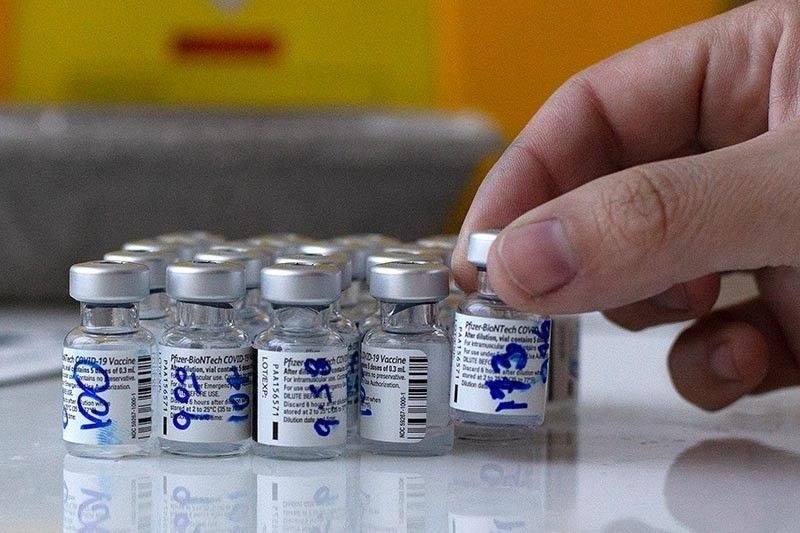 A nurse holds a vial of a Pfizer-BioNTech Covid-19 vaccine at Hospital Posta Central in Santiago, on January 15, 2021.
AFP/Claudio Reyes
DILG warns LGUs vs fake Pfizer vaccines
MANILA, Philippines — The Department of the Interior and Local Government (DILG) has issued an advisory warning the public of fake Pfizer COVID-19 vaccines in the global market.
Interior Secretary Eduardo Año said that local government units (LGUs) and the public should be cautious about sourcing their vaccines to ensure that they get only genuine and safe vaccines.
"While there is no information yet on the presence of the fake vaccines in the country, LGUs should exercise increased diligence as these fake vaccines may be dangerous to the health of those who get inoculated," Año said in a statement.
"Now that COVID cases have gone up, what we need is protection against this disease and not another problem that fake vaccines can bring," he added in Filipino.
Año has directed the Philippine National Police (PNP) to investigate and confiscate any fake COVID-19 vaccines that may have entered the country.
Earlier, the World Health Organization (WHO) issued a global medical product alert regarding the existence of fake COVID-19 vaccine with the product name "BNT162b2" ostensibly manufactured by Pfizer BioNTech.
The fake vaccine, with lot number "783201" and an expiry date of Aug. 24, was first discovered in Mexico. It is still undergoing laboratory analysis by WHO.
The DILG said the public should report any information on fake vaccines to the National Task Force Vaccine Cluster.