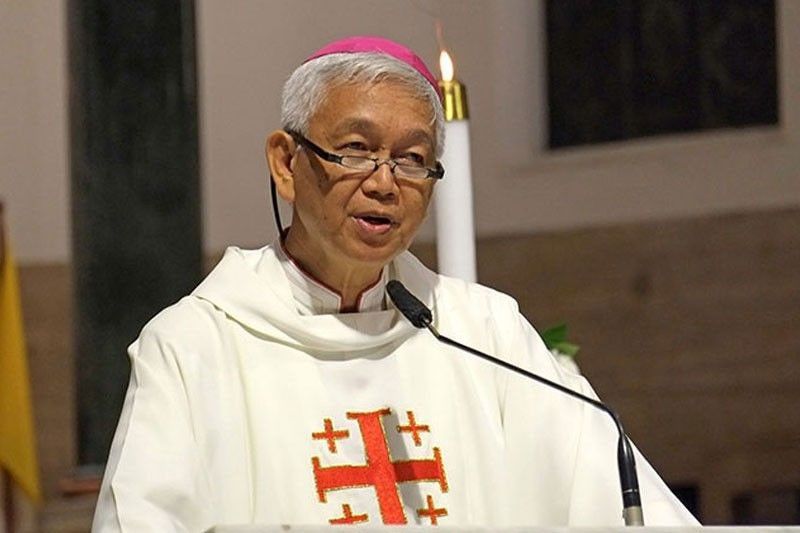 File photo showing Bishop Broderick Pabillo, the apostolic administrator of the Archdiocese of Manila.
Interaksyon/Photo from CBCP News
Faithful urged: Join mass for COVID-19 dead
MANILA, Philippines — The Archdiocese of Manila is urging the Catholic faithful to join them this Saturday at the Manila Cathedral as they organize a mass for those who died of COVID-19.
In an interview with Church-run Radyo Veritas, Manila apostolic administrator Bishop Broderick Pabillo yesterday said that priests would gather at the Manila Cathedral for the "mass for the dead" to be held at 9 a.m.
"The whole Archdiocese will mourn for our dead during this pandemic, but with great hope given by the resurrection of the Lord Jesus, we bring together at the altar of the Lord all the tears and sorrows of our people for their loved ones," Pabillo said.
Pabillo said that the faithful can join with them through live streaming as he emphasized that they cannot accommodate a great number of attendees due to health protocols, which allow religious activities up to only 30 percent capacity of the venue.
The Archdiocese of Manila has dedicated May 5 as the day of prayer for frontliners, May 6 for the sick especially those infected with COVID-19 and May 7 for those who died of the coronavirus.
In another development, the Diocese of Antipolo will join at 6 p.m. today the marathon or prayer for an end to the COVID-19 pandemic with particular intentions for families. .
The Diocese of Antipolo said that a global rosary will be held at its official Facebook and YouTube page, "Birhen ng Antipolo -- Our Lady of Peace and Good Voyage."
Pope Francis has chosen the Our Lady of Peace and Good Voyage in Antipolo as the lone marian sanctuary in the Philippines to join the global prayer along with 30 others around the world.