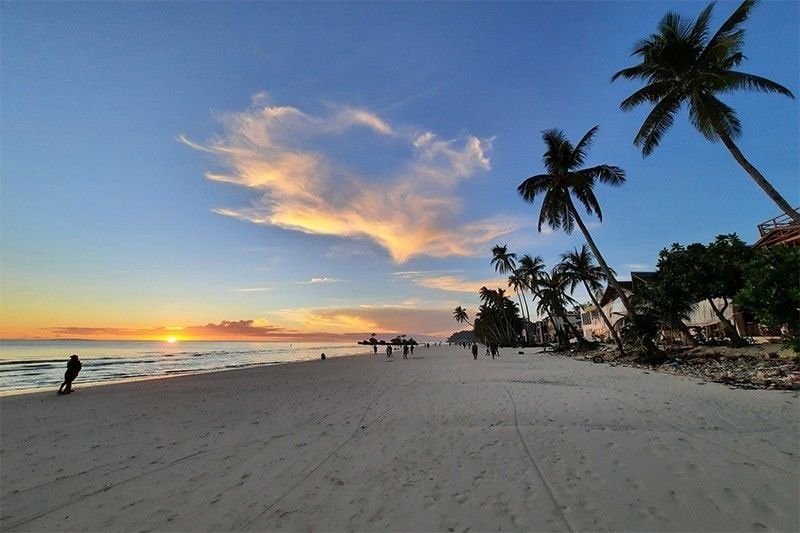 This undated photo shows a view of Boracay island in Malay, Aklan.
Malay Tourism Office/Facebook
Slow tourism urged as waste in seas piles up
MANILA, Philippines — The Department of Tourism (DOT) has asked travelers to reduce their waste disposal in places they visit, as the agency intensifies its campaign to promote sustainable practices in light of calls to reform the sector.
The DOT yesterday called on local governments to enhance their waste management systems in tourist destinations nationwide after its regional arm in Davao collected close to 400 kilograms of garbage in the waters of Samal.
Last week a cleanup organized by government bodies and diving groups resulted in the removal of a total of 378 kilos of garbage in the Island Garden City of Samal.
The DOT also appealed to tourists to maintain the cleanliness of the places they go to, as well as leave their trash in designated areas only. It said the pandemic stressed the need to promote sustainable tourism with a focus on environmental conservation.
For sustainable tourism to work, authorities should engage travelers and introduce ways on how to preserve natural resources. On the other hand, compliance with protocols on waste disposal will sustain the waters and their marine life, the DOT said.
Similarly, Save Philippine Seas executive director Anna Oposa said the government, especially the DOT, should consider campaigning for slow tourism, wherein regulators restrict the number of visitors that can enter a tourist site in a day.
Oposa added famed destinations in the Visayas like Boracay Island and Oslob faced environmental pressures prior to the pandemic, as thousands of tourists used to head there every day and activities last well into night.
The government even had to shut down Boracay for at least six months in 2018 to give way to efforts to rehabilitate the island.
"For the longest time, the government would say that they are not able to limit the people going. It took a pandemic for them [regulators] to realize that they could," Oposa shared in a discussion hosted by the Asian Development Bank last Monday.
"This kind of tourism is not only good for the tourists themselves because they will have a better user experience, [as] there are no thousands of people elbowing you in the ocean, or when you are sunbathing in the beach. It is also less pressure on the environment," she added.