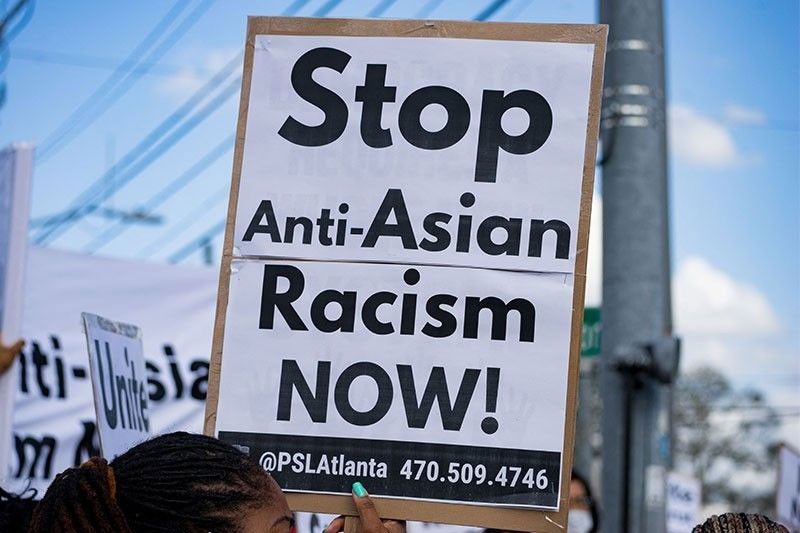 Activists demonstrate against violence towards women and Asians following Tuesday night's shootings on March 18, 2021 in Atlanta, Georgia.
AFP/Megan Varner/Getty Images
Philippines, ASEAN speak out against Asian-American hate in San Francisco
MANILA, Philippines — Consuls general from the Philippines and other member-states of the Association of Southeast Asian Nations (ASEAN) met with the San Francisco Police Department (SFPD) to voice concern over hate crimes against people of Asian descent.
Philippine Consul General Neil Frank Ferrer joined his counterparts from Indonesia, Singapore and Vietnam – all of which had missions in San Francisco – in a virtual call on SFPD chief William Scott.
The Department of Foreign Affairs (DFA) said the meeting discussed incidents of hate crimes against the Asian American and Pacific Islander (AAPI) community.
"Congen Ferrer expressed that he looks forward to tangible courses of action to assist the community regarding this issue considering that there are more than half a million Filipinos and Filipino Americans in the Bay Area," the FA said.
The consuls general expressed that the issue is a matter of great concern to all ASEAN missions.
Scott said that relative to the increase in hate crimes across the US, there has only been a small spike in San Francisco.
He noted that the SFPD is enhancing its community engagements to build trust among the public by mobilizing community groups to strengthen crime prevention efforts, particularly citing the city's Community Ambassadors Program, in which civilians help the police protect neighborhoods.
The DFA said Ferrer requested the SFPD to track crime data against AAPI by ethnicity or nationality, at least during this period when hate crimes against Asians are on the rise.
It said Ferrer and Scott agreed that it is important for the SFPD and the consulates to partner and closely coordinate in informing and engaging with the public.
Scott said consulates may assist in reaching out to the public and providing translation services, if necessary, to help their respective nationals should they need assistance.