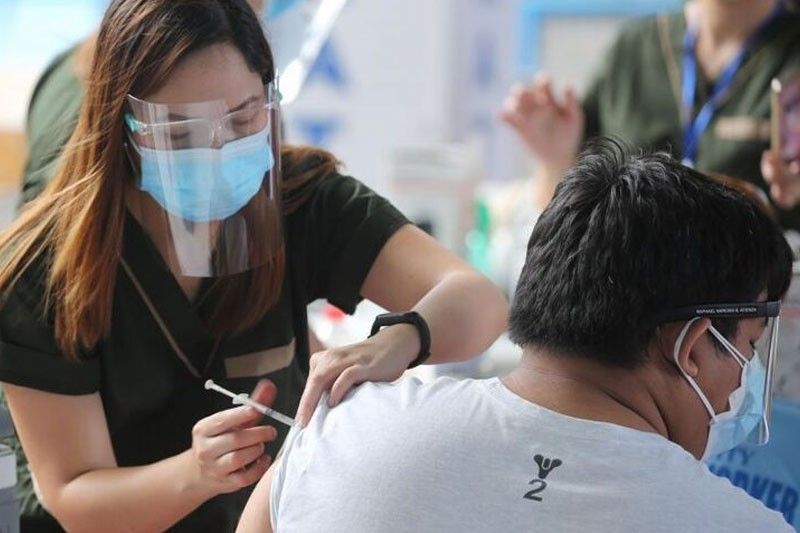 Health workers and other members of vaccine proriority groups receive their second shot of Sinovac's COVID-19 jab at Marikina Elementary School on Tuesday, May 4, 2021.
The STAR/Boy Santos, file
Concepcion backs priority vaccination for NCR
MANILA, Philippines — Presidential adviser for entrepreneurship and Go Negosyo founder Joey Concepcion is backing a move to prioritize the vaccination against COVID-19 of those in the National Capital Region (NCR) and other high-risk areas.
In an interview Tuesday with "The Chiefs" on Cignal TV's One News, Concepcion said he supports vaccine czar Carlito Galvez Jr.'s recommendation to give priority to the NCR Plus – which includes the provinces of Batangas, Cavite, Laguna and Rizal – for vaccination.
"The importance of winning the war at NCR Plus is very critical. That is where the entire economy, 70 percent of the engine is in NCR Plus. So this is where the battlefield is. We've got to win NCR Plus. We have to both bring down the level of infection and eventually open the economy," he said.
He said the private sector's vaccine donations to the national government would also be focused on the NCR Plus.
The private sector and local government units bought 17 million doses of COVID-19 vaccines from AstraZeneca.
Concepcion said the first batch covering 1.3 million doses is arriving in June and the rest would be delivered every month thereafter.
"We are already in the implementation stage, getting ready to go. Our remaining issue is vaccine confidence. So we've launched Let's Go Bakuna. We are trying our best to convince our employees," he said.
He said the vaccine acceptance of employees varies per company.
"We will see in the implementation how many people would really want to take the vaccines. Right now, in our own company, we are at about 75 percent," he said.
He said the private sector is giving employees assurances that in the event something goes wrong during the vaccination, they would be given the necessary leaves.
"This is the only way they can keep their jobs. If we prolong this close, open, close, open running of the country, we will definitely suffer," he said, noting that wearing masks, face shields and social distancing would only buy time but not solve the health and economic problems.
On the proposed bill seeking to make vaccination mandatory filed by Cavite Rep. Elpidio Barzaga Jr., he said he would want employees to make their decision first.
"I do agree, but not immediately. I think let's give our employees a chance to make that decision voluntarily. If the turnout is below 70 percent then, I think the government should take that seriously," he said.
He said it is important for every Filipino citizen to take the vaccine as there is no other way to win the war against COVID-19.
As steps are being taken to address vaccine confidence and prepare for the rollout, he is confident the government's target of herd immunity by yearend would be achieved.
"I believe in it. That is why we are so passionate about it because we in the private sector are entrepreneurs. We always set an optimistic target. That is how we are built. We have a plan, a program. We are working with the government," he said.
On vaccine implementation by the private sector, he said the necessary preparations have been made.
"We have already hired the logistics provider, that's Zuellig. Each company is now securing their own party group that will implement the vaccination of their employees," he said.