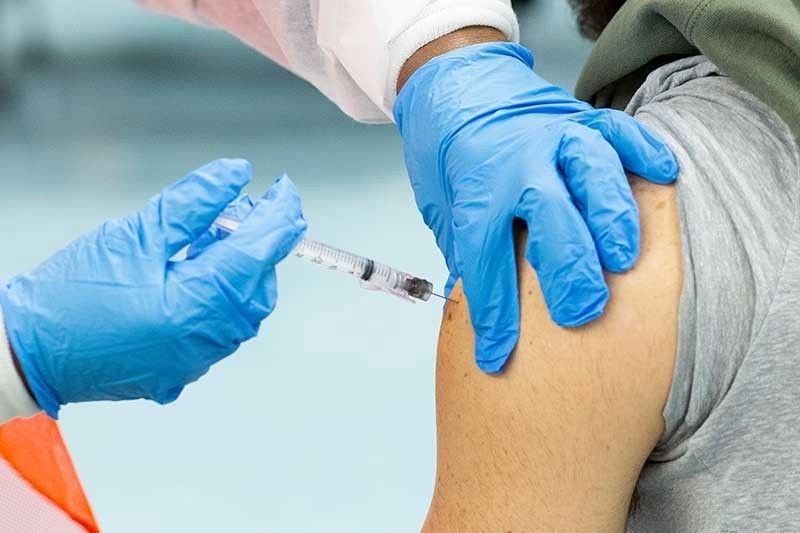 A man receives a dose of the Moderna coronavirus disease (COVID-19) vaccine at a vaccination site at South Bronx Educational Campus, in the Bronx New York on January 10, 2021.
AFP/Kena Betancur
Concepcion backs DOLE on move to vaccinate workers
MANILA, Philippines — Presidential adviser for entrepreneurship and Go Negosyo founder Joey Concepcion is backing the move of the Department of Labor and Employment (DOLE) to encourage private sector employees to get vaccinated against COVID-19.
In a statement yesterday, Concepcion said he supports the DOLE advisory, issued on May 1, which encourages all employees in the private sector, except those who are ineligible or disqualified for health reasons, to get the COVID-19 vaccine.
The DOLE said employers should also urge employees to avail themselves of the company's vaccination program, if available, or those offered by local government units. Employers may also seek assistance from appropriate government agencies for the administration of vaccines.
"Employees in the private sector must understand their crucial part in getting the whole country back to normal (and) why their getting vaccinated will make a huge impact in accelerating the recovery of the Philippine economy. With this endorsement from the DOLE, we are one step closer to our return to normalcy," Concepcion said.
Earlier, Concepcion called on DOLE to have a more active push to encourage employees to get inoculated against COVID-19.
Noting that the country cannot afford new lockdowns, he stressed that getting employees vaccinated is the only solution to enable people to return to work and open the economy.
"We have to get back on our feet as soon as possible, and this endorsement from the DOLE makes a big difference," he said.
The rollout of vaccines has been slow in the country given the global shortage in supply and vaccine hesitancy among Filipinos. A survey conducted from February to March this year by Pulse Asia showed 61 percent of Filipinos would refuse to be vaccinated against COVID-19.
As part of efforts to get more people inoculated, Concepcion has launched an information and education campaign to address concerns and misinformation on the vaccines.
Called Let's GO Bakuna, the campaign seeks to serve as a platform for Filipinos to discuss issues and get answers to questions on the COVID-19 vaccine.
Backed by 1,000 companies, the campaign includes a series of vaccine education forums, webinars and town hall meetings and multi-platform information materials based on expert advice and testimonials.