Expert cites factors in India COVID-19 surge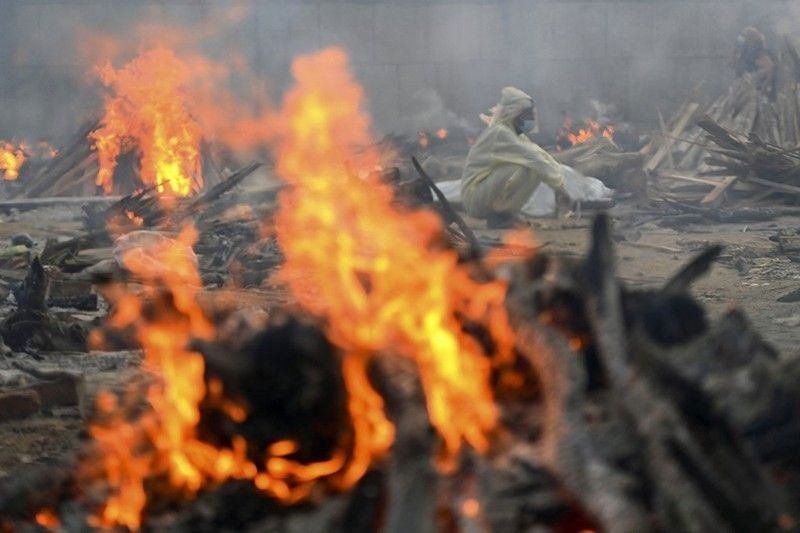 MANILA, Philippines — For the Philippines to avoid an India-like surge that has completely overrun hospitals and crematoriums, an infectious disease expert suggested strongly against fully opening the economy for now.
"It should not be a priority to open up (the economy). OK lang 'yung 40 to 50 percent," Dr. Rontgene Solante told Wednesday night's episode of "The Chiefs" on Cignal's One News/TV5.
Solante, who heads San Lazaro Hospital's adult infectious disease unit, noted that the opening up of society resulted in unrestricted interaction and became one of the major factors that led to the surge of infections in India.
He also cited as contributory factors to the surge the transmission of a more infectious variant and the low vaccine coverage.
"These three factors put together really causes a surge. The density of population in India is really very big… their houses are close to one another," Solante said partly in Filipino. "That is not unique with India. That's also been observed in other countries with a surge (in COVID-19 cases)."
In the Philippines, Solante called for a stricter implementation with health protocols such as wearing of face mask and observing physical distancing, especially when staying in an enclosed space.
With studies showing that an airborne transmission of the virus is possible indoors, Solante reminded business owners to enhance the ventilation in their establishments.
This should be maintained while the vaccine coverage in the country remains low, he said.
Also, he said that contact tracing and isolation must be improved along with increasing the capacity of health facilities.
However, Solante admitted that community restriction is just a temporary measure and that government must enforce more palpable and sustainable measures to prevent a surge.
Help for India
Yesterday, Malacañang said it is ready to provide assistance to India even as the Philippines is saddled with its own struggle with the pandemic.
The World Health Organization (WHO) is alarmed by the rising of COVID-19 cases and deaths in India, describing the situation as "beyond heartbreaking" with hospitals and crematoriums in full capacity.
WHO reported 17,997,267 confirmed cases in India, with over 300,000 cases logged daily in the past week and a total of 201,187 deaths despite over 10 percent or 147,727,054 of its 1.39 billion citizens being vaccinated against COVID-19.
Presidential spokesman Harry Roque Jr. said the Palace will coordinate with the Department of Foreign Affairs (DFA) to determine how help could be provided to India as its health care system crashes.
"I'm sure our Department of Foreign Affairs is thinking up ways of how we can help India," Roque said in Filipino.
Citing good bilateral relations, the Palace spokesman said the Philippines will not hesitate in providing any assistance to India.
Filipino Catholics are being called to include India in their prayers and mass intentions as the country of 1.39 billion continues to be plagued with a second wave of COVID-19 cases.
"Let us always remember and include India in our prayers and holy masses, that with the rest of the world, this COVID-19 pandemic will end and healing will come to all of us," Bishop Ruperto Santos said yesterday.
Santos, who heads the Catholic Bishops' Conference of the Philippines-Episcopal Commission on the Pastoral Care of Migrants and Itinerant People, said everyone around the world, regardless of race, should act as one in bringing hope and help to all. – Christina Mendez, Robertzon Ramirez