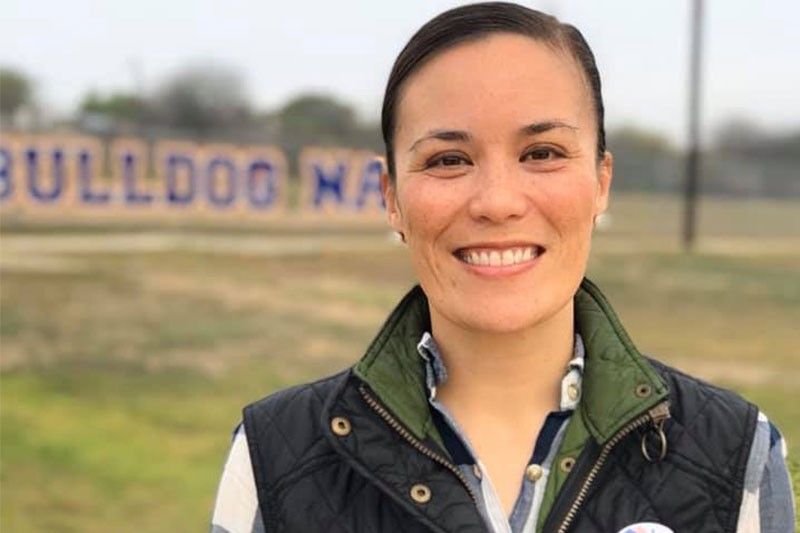 This March 3, 2020 shows Filipino-American veteran Gina Ortiz Jones, who has been nominated as undersecretary for the US Air Force.
Facebook/Gina Ortiz Jones
Biden nominates Fil-Am veteran as US Air Force undersecretary
(Philstar.com) - April 28, 2021 - 9:15am
MANILA, Philippines — US President Joe Biden nominated a Filipino-American veteran for a post in the US Air Force.
The White House announced Gina Ortiz Jones, an Iraq war veteran, as nominee for undersecretary of the US Air Force under the Department of Defense.
The US Senate has yet to confirm her nomination.
Jones will become the highest Filipino-American appointee under the Biden administration and the first woman of color to serve as Air Force undersecretary.
According to a June 2018 report from Inquirer.net, Jones and her sister were raised by their single mother Victoria Ortiz, who immigrated to the US in the late 1970s as a domestic helper.
In 2018, Jones was the Democratic nominee for the 23rd congressional district of Texas.
She became the first openly gay and military veteran running for office in the state. However, she lost to Republican Will Hurd.
The Filipino-American launched a second congressional campaign but lost to Republican nominee Tony Gonzales. — Patricia Lourdes Viray.
As It Happens
LATEST UPDATE: July 8, 2021 - 9:39am
Joe Biden takes office as the 46th president of the United States with an optimistic call for unity, vowing to bridge deep divides and defeat domestic extremism two weeks after a violent mob tried to undo his election victory.
On a frigid but sunny day at the very Capitol building that was assaulted on January 6, Biden was sworn in moments after Kamala Harris became America's first woman vice president, closing the book on Donald Trump's tumultuous four years.
"Democracy is precious, democracy is fragile and at this hour, my friends, democracy has prevailed," Biden says before a National Mall that was virtually empty due to the ultra-tight security and a raging COVID-19 pandemic that he vowed to confront immediately. — AFP
July 8, 2021 - 9:39am
President Joe Biden pushes his giant infrastructure spending plans in a speech urging the country to modernize and create "an American century."
"We have to think bigger, we have to act bolder and we have to build back better," he says in a speech in Crystal Lake, Illinois.
Referring to Ronald Reagan's famous assertion in 1984 that the booming economy brought "morning in America," Biden says his plans promised "an American century." — AFP
July 3, 2021 - 8:51am
President Joe Biden on Friday cheers the "historic" US rebound from the COVID-19 crisis as the economy gained 850,000 new jobs in June, cementing the evidence of a broad recovery.
The uptick was better than expected and came after two months of disappointing results, buoyed by big increases in the hard-hit leisure and hospitality sector, the Labor Department said in its closely watched monthly report.
With the latest gains, the world's largest economy has added 3.3 million jobs in the first six months of the year. — AFP
July 2, 2021 - 11:28am
President Joe Biden will celebrate America's defeat of COVID-19 with a July 4th barbecue this Sunday, but the fireworks smoke will barely clear before the Democrat has to confront maybe even tougher challenges.
About 1,000 guests -- emergency service and essential workers, military members and their families -- are set to pour into the White House grounds for the kind of party unimaginable a year ago, when the country was under lockdown.
The Independence Day bash on the South Lawn, followed by a thunderous fireworks display on the National Mall, will allow Biden to mark what he's calling "independence from this virus."
June 29, 2021 - 10:01am
Lawyers for the Trump Organization were making a last-ditch effort on Monday to ward off what appeared to be an impeding criminal indictment of the ex-president's company, according to US media.
A series of reports in recent days seem to indicate that closed-door investigations into the business practices of the former New York real estate mogul — a case opened more than two years ago by the Manhattan district attorney and two Democratic members of Congress, and focusing on alleged financial fraud — are about to bear fruit.
According to several media outlets, including the Washington Post, lawyers for the Trump Organization, an unlisted family holding company that owns golf clubs, hotels and luxury properties, were presenting their final arguments to prosecutors Monday to forestall charges.
A face-to-face meeting was scheduled, according to CNN. — AFP
June 24, 2021 - 8:27am
US Vice President Kamala Harris on Friday will visit the country's border with Mexico, the White House announced, as the Biden administration faces intense scrutiny over its handling of an immigration surge.
Hundreds of thousands of migrants, many fleeing poverty and violence in Central America, have attempted to cross into the United States in recent months, prompting scathing criticism from Republicans that President Joe Biden's more humane approach to immigration was provoking rather than preventing a crisis.
Harris senior advisor Symone Sanders said Wednesday that the vice president will visit the border city of El Paso, Texas, and will be accompanied by Homeland Security Secretary Alejandro Mayorkas.
Biden tasked Harris earlier this year with overseeing efforts to address what the administration describes as root causes of migration from El Salvador, Guatemala and Honduras. — AFP