Hospitals in NCR Plus commit more ICU beds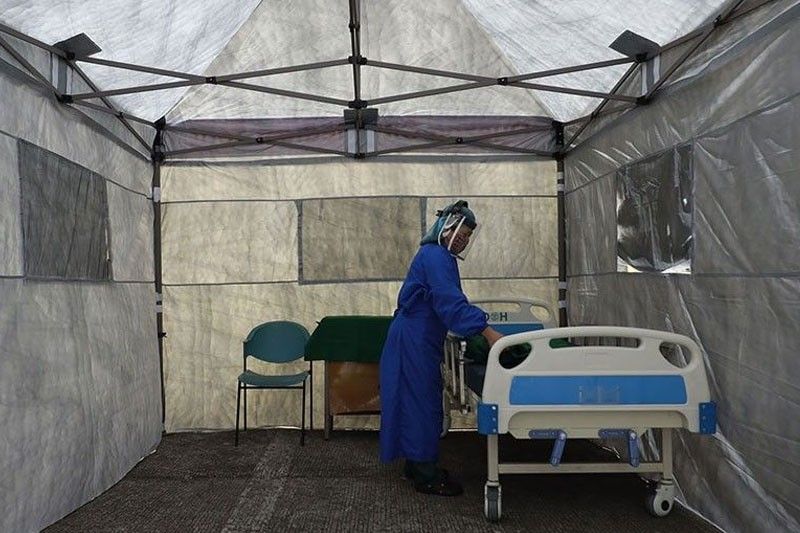 MANILA, Philippines — Hospitals in the National Capital Region (NCR) Plus have vowed to allocate additional intensive care unit (ICU) beds for COVID-19 patients, but it remains unsure whether the quarantine restrictions in the area would be relaxed next month, officials said yesterday.
National Task Force Against COVID-19 deputy chief implementer Vince Dizon said the 176 additional ICU beds and more than 1,000 ward beds committed by the NCR Plus hospitals may be available by next month.
NCR Plus is composed of Metro Manila, Bulacan, Cavite, Laguna and Rizal, areas that were placed on the strictest enhanced community quarantine from March 29 to April 11 because of soaring COVID-19 infections.
"The hospitals have committed 176 ICU beds in the NCR Plus and more than 1,000 ward beds in their respective hospitals. Our target is to activate these beds before May," Dizon said at a press briefing.These additional ICU beds, he added, would lower the utilization rate to roughly 70 percent from 82 percent, which means that more COVID-19 patients would be accommodated. If the ICU bed utilization rate is lowered to 70 percent it would be classified as moderate risk, making an area qualified to be downgraded to the more lenient general community quarantine.
Aside from this, presidential spokesman Harry Roque said the COVID-19 daily attack rate and two-week attack rates also have to be studied to determine if the classification of NCR Plus, which is now under modified enhanced community quarantine (MECQ), can be relaxed.
He noted that 82 percent of ICU beds, 61 percent of isolation beds, 70 percent of ward beds, and 60 percent of ventilators are in use in Metro Manila—the epicenter of the pandemic in the Philippines.
For the entire Philippines, the healthcare utilization rate as of April 21 is 65 percent for ICU beds, 49 percent for isolation beds, 55 percent for ward beds, and 45 percent for ventilators.
Given the scenario in Metro Manila, the Chinese General Hospital and Medical Center launched its homecare program with seven different home care packages for COVID patients.
"This will ensure that those truly in need of medical treatment for COVID-19 will be attended to and not turned away because of sheer volume. Our patient's health and recovery remain our top priority," said the hospital's medical director, Dr. Samuel Ang.
COVID patients may access its medical services through hotlines 87114141 loc. 1103 to 105 or mobile No. 0966-6804553 or visiting http/homecarechhmccare.
Increased testing
Dizon said the health department is helping hospitals augment their personnel, noting that several health workers are getting sick or are experiencing fatigue.
"Even if some laboratories are facing challenges in NCR Plus because many of their personnel are getting sick and infected with COVID, with the help of DOH (Department of Health), LGU (local government units), we are really trying to increase testing," he stressed.
His latest report indicated that the average number of COVID-19 tests conducted in the country per day have increased to over 50,000 in the past weeks from an average of over 30,000 in February.
It showed an average of 34,293 from Feb. 17 to 23, which rose to 52,930 in the week of March 17 to 23.
Dizon also said around 200,000 antigen test kits were deployed in Metro Manila and nearby provinces that include Pampanga, Bulacan, Cavite, Laguna, Rizal and Batangas. He however noted that the antigen tests are only used in the NCR Plus for those who are symptomatic or those who had close contact with symptomatic individuals or positive with the virus.
He bats for strict enforcement of protocols for returning overseas Filipino workers, saying: "The President said he is not willing to compromise on protocols on incoming Filipinos or arrivals in the Philippines. That's why our recommendation is to retain current protocols requiring testing on the sixth day of quarantine."
The LGUs, he added, have also requested to retain this.
"We think it is better to test. The protocols came from technical advisers, experts. That's why our recommendation with Secretary (Carlito) Galvez and (Health Secretary Francisco) Duque is to retain current protocols on arrival. But we will review it regularly," he said.
Meanwhile, Malacañang expressed support for the May 8 "Day of Prayer" for those who died of COVID-19 to be held at the Manila Cathedral.
"We support that. As a victim of COVID, I thank those who prayed for my recovery and I engage everyone to pray for all our countrymen who caught COVID-19. We support all prayer initiatives because we know that prayers can move mountains," Roque said. – Mayen Jaymalin, Louella Desiderio