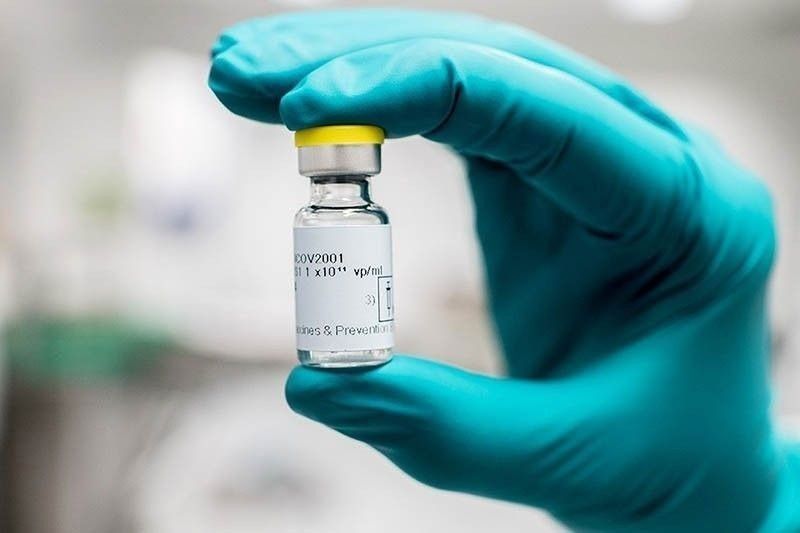 A person holds Janssen's investigational COVID-19 vaccine candidate.
Johnson & Johnson website
Janssen, Covaxin get nod from FDA
MANILA, Philippines — The Food and Drug Administration (FDA) has granted emergency use authorization (EUA) to Janssen of Johnson & Johnson and Covaxin of Bharat Biotech for their respective COVID-19 vaccines.
FDA director general Eric Domingo announced yesterday the approval of the EUA applications of Bharat and Janssen of Johnson & Johnson filed on Jan. 22 and March 31, respectively.
"Our experts have evaluated their applications and decided that the benefits outweigh the risk," he said at a public briefing.
But the issuance of EUA to Bharat was "conditional," Domingo said, as the company has yet to submit one documentary requirement.
"They have already been inspected but their certification has not yet been released," he added.
Bharat will have to submit a Certificate of Good Manufacturing Practice before it can start bringing its vaccines into the country.
FDA data show that Bharat's vaccine is given in two doses 14 days apart. It has an efficacy rate of 80.6 percent.
According to Domingo, they issued EUA to Janssen despite an ongoing investigation abroad on blood clotting incidents among some vaccine recipients.
"Overall, the benefits of using this vaccine outweigh the risk of clotting, which is one in every one million," he said.
He added that if the Janssen vaccines would be rolled out in the country, the DOH may have to issue "clear guidelines" for their use. The single-dose Janssen vaccine has an efficacy rate of 66 percent.
Aside from Bharat and Janssen, the FDA earlier issued EUAs to Pfizer-BioNTech, AstraZeneca, Sinovac and Gamaleya.
Presidential adviser for entrepreneurship and Go Negosyo founder Joey Concepcion welcomed yesterday FDA's granting of EUA to Bharat's Covaxin.
India's Ambassador Shambhu Kumaran said via Twitter he is delighted to hear FDA's granting EUA to Covaxin.
The vaccine has been recommended by many health professionals and senior politicians from India, including Indian Prime Minister Narendra Modi, who has received the vaccine.
"Covaxin is a very promising vaccine with an efficacy rate of 81 percent. It has also promised an early arrival this coming May and June which many companies are really wanting for them to inoculate immediately its employees. As of now, we are expecting a total of eight million doses of Covaxin for the Philippines," Concepcion said.
He said the early arrival of Covaxin would help accelerate vaccine rollout, especially with more transmissible COVID-19 variants keeping infection levels high.
"This will complement the arrival of the rest of the initial batches, from the first and second batch of the AstraZeneca vaccines, that the private sector and LGUs (local government units) have procured," he said.
The first batch of AstraZeneca vaccines is expected to arrive in June, while the second batch would be delivered in July.
Go Negosyo is set to hold a town hall meeting via Zoom on April 27 for those interested in ordering Covaxin.
Last month, Go Negosyo held a private sector briefing on Covaxin, which had over 1,000 attendees.
"As we have another vaccine in our hands, we encourage more Filipinos to suit up and take our civic duty of being vaccinated. The vaccine is our only way out of this pandemic and it is only through our united action that we could achieve herd immunity. Attaining herd immunity, we can open further the economy and make lives and livelihoods flourish in the process," Concepcion said.
Sputnik to arrive this month
Meanwhile, the initial batch of 20,000 doses of Russia's Sputnik V COVID-19 vaccine is expected to arrive within the next few days after logistical requirements are met.
"My understanding is we have complied with their requirements because they would not deliver unless they are satisfied with our logistics," Ambassador to Russia Carlos Sorreta said at a press briefing.
"That's why the first 20,000 (doses) will be used to fine-tune logistics on our end," he said. The Sputnik V vaccine needs to be stored at -18 degrees Celsius.
Sorreta said almost 500,000 doses will be delivered to the Philippines before the end of April or early May.
"Over the next few months, we're going for seven figures, about 20 million doses before the end of the year," he added.
"We have to be cognizant of the realities. The demand is very high for the vaccine and the best we can do is to try to lock in the supplies," Sorreta said.
"Of course, we have to manage expectations. There could be problems in production. Many things can come up," he said. Efficacy of Sputnik V against COVID-19 was reported at 91.6 percent.
Russian Direct Investment Fund CEO Kirill Dmitriev said the Philippines can be a production hub for COVID-19 vaccine Sputnik V in Asia.
Another vaccine producer Moderna, meanwhile, has confirmed the delivery of 200,000 doses by June 15, Ambassador to Washington Jose Manuel Romualdez said.
"That is the target date. They are confident they will start rolling in vaccines and then it will start increasing in succeeding months. They will complete the 20 million up to the end of the year," Romualdez said.
He said Moderna also informed him about the "booster shot" it was developing.
"They can use this booster shot. It will complement it, as a matter of fact, to give a push and more efficacy, especially to the new variants that are coming in," Romualdez said. "I'm very confident by the end of this year, large majority of our people will be vaccinated."
Sinovac delivery
Vaccine czar Carlito Galvez Jr., for his part, said on Monday the delivery of 1.5 million doses of Sinovac's CoronaVac is expected to be completed before the end of this month.
Galvez reported to President Duterte that 500,000 doses arrived last April 11. He said the government is expecting delivery of 500,000 doses on April 22 and another 500,000 doses on April 29.
"The global supply is limited but the government is doing its best to ensure that the country will have a fair share of the vaccines. The instruction of President Duterte is for Filipinos to be vaccinated and save more lives as we collectively surmount the challenges brought about by the pandemic," Galvez said.
Sinovac delivered 500,000 doses early this month after two million doses were delivered in February and March.
Galvez said the government expects to receive seven to eight million vaccine doses in June – 4.5 million doses of CoronaVac, two million doses of Sputnik V and 1.3 million doses of AstraZeneca.
"With the arrival of these vaccines, we will continue our aggressive vaccine roll-out in the county to protect the Filipino from COVID-19," Galvez said.
Meanwhile, Sen. Leila de Lima has commended Filipino-American health care groups for helping speed up the delivery of 20 million Moderna vaccines purchased by the Philippine government and the private sector from the American drug company.
De Lima said the move of Filipino American groups, including the US Medicare in the Philippines and the Philippine Medical Association of Metro Washington DC, to seek US President Joe Biden's help is laudable.
"The members of these groups may be miles away from us, but they showed that distance can never prevent them from going the extra mile to show concern and love for their countrymen and ensure that their fellow Filipinos' lives will be protected," she said.
"Amid the critical situation that we have in the country as COVID-19 cases continue to rise, we really need the help from the US government to ensure the early release of Moderna jabs in the Philippines," she added.
Recently, Virginia-based nonprofit US Medicare in the Philippines and partners Philippine Humanitarian Coalition, the Philippine Medical Association of Metro Washington DC, the National Federation of Filipino American Association and the Philippine Nurses Association of America reportedly wrote Biden a letter seeking his administration's help in facilitating the delivery of Moderna vaccines.
"We appeal to you to authorize the early humanitarian release of the 20 million Moderna vaccines… Please consider an initial export release of 5 to 10 million vaccines this April – rather than in June or July. Your early decision will save thousands of lives in the Philippines," the letter read. – Pia Lee-Brago, Jose Rodel Clapano, Cecille Suerte-Felipe