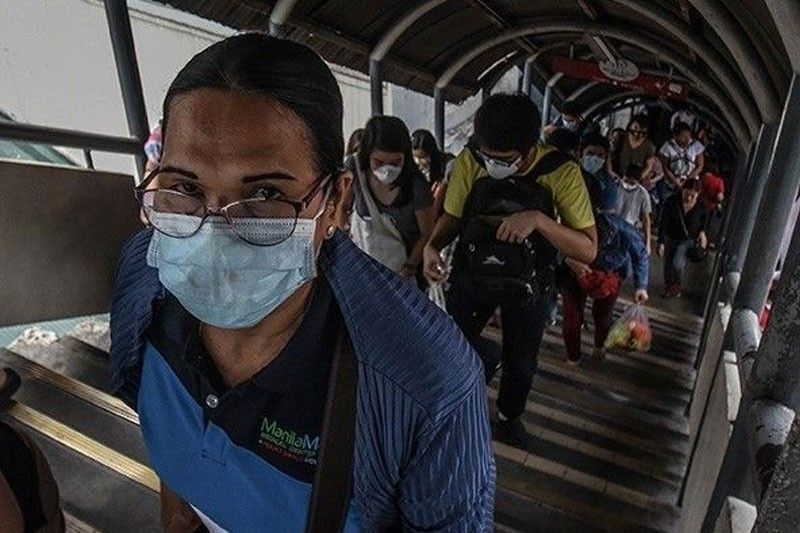 This Feb. 5, 2020 photo shows pedestrians wearing face masks as they climb the stairs of a Metro Rail Transit station in Manila.
Philstar.com/Deejae Dumlao, file
COVID-19 airborne? DOH says health protocols enough
MANILA, Philippines — There is no need to make changes in current health protocols despite a recent report in a prominent medical journal regarding airborne transmission of COVID-19, the World Health Organization (WHO) and the Department of Health (DOH) said yesterday.
WHO Country Representative Rabindra Abeyasinghe and DOH Undersecretary Maria Rosario Vergeire noted at separate press briefings that existing health protocols against COVID-19 are enough.
According to Abeyasinghe, WHO is studying a report published in The Lancet on the airborne transmission of SARS-CoV-2, the virus that causes COVID-19.
The report underscored the need for adjustment in current protocols against COVID-19.
"We are looking at these conclusions carefully… It is still largely aerosol-generated transmission. But we are studying these new reports," he maintained.
Abeyasinghe reiterated that COVID-19 is spread by aerosols "generated through talking, coughing or sneezing (that) can be controlled by the wearing of masks."
"That's why WHO has been advocating the wearing of masks to prevent aerosols from landing on people or surfaces," he said.
Unless there is a clear impact analysis on what degree of transmission can be attributed to airborne, he stressed "our primary focus should be on prevention of transmission through wearing of masks and hand hygiene."
Abeyasinghe added if the protocol would move to "more stringent measures" such as wearing of N95 masks and double masking, "we need to be conscious that this must be relative to the risk of airborne transmission."
"That's why WHO has recommended that airborne transmission is highly likely where medical procedures are happening," he maintained.
The statement was echoed by Vergeire who reiterated that the main mode of transmission of COVID-19 is through "droplet infections."
"At the start of the pandemic, we were already saying that if you are an ordinary individual, surgical or cloth mask is OK," she added.
The official pointed out that those working in hospitals have to use "high-tech masks" like N95.
She said there are a lot of "aerosol-generating equipment" in hospitals so the "virus stays longer there."
"We have our existing protocols already. Let's wait for the recommendation of the WHO. But what we are doing right now, I think, is appropriate to protect the public," Vergeire added.
Stick to protocol
Malacañang, meanwhile, asked the public to continue to strictly follow health protocols despite the decrease in the number of COVID-19 infections in some parts of Metro Manila.
Citing data from local governments, presidential spokesman Harry Roque said the number of COVID-19 cases in Manila dropped from 4,083 last April 15 to 3,957 on April 18. The number of infections in Muntinlupa went down from 1,692 to 1,578 while that of Pasay decreased from 480 to 390. COVID-19 cases in Valenzuela, meanwhile, decreased from 1,218 last April 15 to 1,173 on April 17.
"Now, these are modest decreases. But for the first time, it went down. So that is significant. Modest as they may be, for the first time siguro in about a month, at least there is a signal that it (number of infections) went down somehow," Roque said at a press briefing.
"In relation to this, let us continue wearing face masks, frequent hand-washing and physical distancing and we continue to urge those who have not been vaccinated to avail of the vaccine," he added.
Roque attributed the decrease to the prevention, detection, isolation, treatment and reintegration (PDITR) efforts conducted by local government units (LGUs).
"While the decrease is modest, it is a proof that the intensified PDITR of the LGUs seems to be working," the Palace spokesman said. "We are not saying that the problem is finished because our problem involves more infectious new variants."
Metro Manila and the nearby provinces of Bulacan, Cavite, Laguna and Rizal were under the strictest enhanced community quarantine (ECQ) from March 29 to April 11.
The classification was downgraded to the more lenient modified enhanced community quarantine (MECQ) last April 12 as more hospitals agreed to set aside more beds for COVID-19 patients.
Roque said the effects of the two-week ECQ may be seen in the next few weeks.
"What they are saying is (the effects will be seen) anywhere from third to fourth week... I think it should be second or third week after the second week of MECQ," he added.
Trade Secretary Ramon Lopez previously said MECQ areas may be placed under the more relaxed general community quarantine – a classification where about half of industries can operate – if the COVID-19 numbers improve. – Alexis Romero