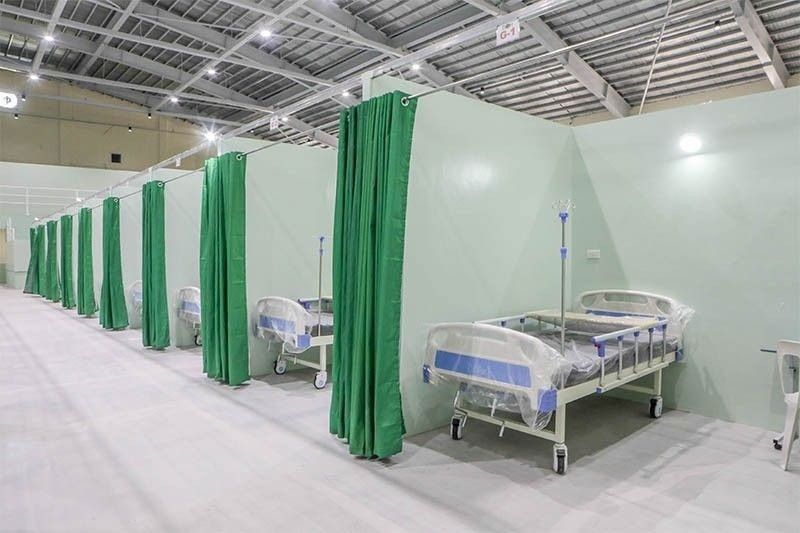 He declared that "139 out of 635 isolation facilities and off site dormitories are in NCR. The nationwide utilization rate is 16.91 percent or 21,362 out of 126,358 beds."
The STAR/Geremy Pintolo, file
DPWH completes 635 isolation facilities
(The Philippine Star) - April 10, 2021 - 12:00am
MANILA, Philippines — During the recent final inspection of the Quezon Institute Modular Hospital, Department of Public Works and Highways (DPWH) Secretary Mark Villar announced that the agency has completed a total of 635 facilities nationwide.
He declared that "139 out of 635 isolation facilities and off site dormitories are in NCR. The nationwide utilization rate is 16.91 percent or 21,362 out of 126,358 beds."
Villar noted that in the National Capital Region (NCR), the current utilization rate is at 75 percent or 4,938 out of 6,576 beds.
The data did not not include beds in hotels under Oplan Kalinga.
The Quezon Institute Modular Hospital has a total bed capacity of 110 beds, inclusive of ICU rooms intended for patients exhibiting moderate to severe symptoms.
"This facility will assist our existing health facilities that are now overwhelmed with the continuous spike in COVID-19 cases, especially in Metro Manila and its neighboring provinces," said Villar.
"We continue to expand both the temporary treatment and isolation/monitoring facilities, and rest assured that we are doing our best to fast-track completion of health facilities that will back our health care system," he added.
Earlier, DPWH also completed two modular dormitory units with a 64-bed capacity for the workers manning the operation of Quezon Institute.
In partnership with the Department of Health, DPWH also facilitated the creation of extensions for level 3 hospitals utilizing similar modular fabricated components which include the Dr. Jose N. Rodriguez Memorial Hospital in Tala, Caloocan City with 22-rooms, operational since last March 2021; and the 16-bed pop-up hospital at the Lung Center of the Philippines which was turned-over in November 2020.
"More COVID-19 isolation facilities are to be completed in the coming days not only within the NCR Plus to ensure patients, especially severe cases, are catered to. Simultaneously, we continue to build more facilities in other areas across the country," said Villar.
Aside from the one located at Quezon Institute, the national government is working on the construction of at least four modular hospitals at the following locations: National Kidney Transplant Institute, Lung Center, Southern Philippine Medical Center and Dr. Jose Rodriguez Hospital.