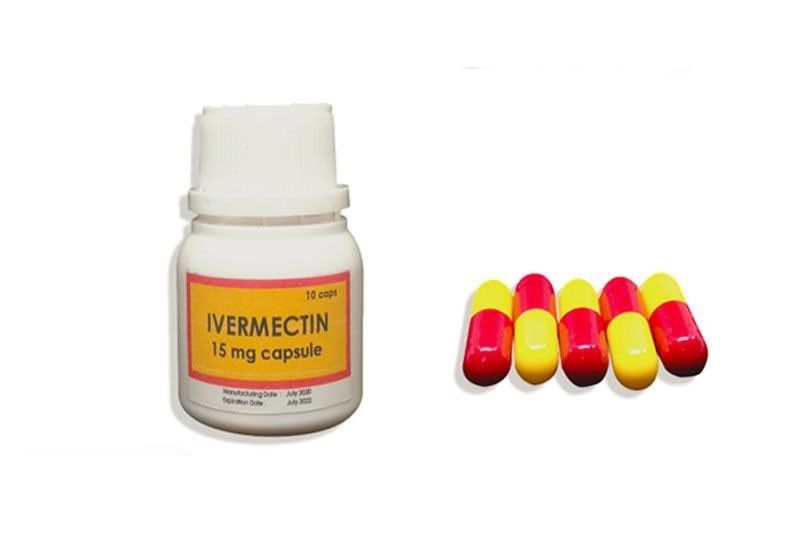 Undated photo of Ivermictin capsules.
Interaksyon/FDA/Released
Experts question compassionate use approval for Ivermectin
Edu Punay
(The Philippine Star) - April 10, 2021 - 12:00am
MANILA, Philippines — Former health secretary Janette Garin slammed the Food and Drug Administration (FDA) for allowing the use of animal anti-parasitic drug Ivermectin for COVID-19 patients in a hospital.
She branded the FDA decision to issue a compassionate special permit (CSP) for use by an undisclosed hospital as a "political rather than medical" move that she sees as nothing but "a big joke."
"This should not have a place in an institution which is primarily responsible for safety and efficacy of drugs and vaccines prior to allowing Filipinos to access such," said Garin, a House senior deputy minority leader.
"Issuing a compassionate use permit for just one hospital but saying it cannot be distributed and used for COVID-19 treatment in general seems to be more of a political accommodation than a medical decision," she alleged.
A doctor by profession, Garin explained that "compassionate use means access is a potential pathway for a patient with an immediate and urgent life-threatening condition or serious disease when no other option is available."
"Therefore, you give it to dying patients where risks of an experimental drug are outweighed by the current situation of the patient. In other words, there's no choice left and it's the last resort already," she pointed out.
Garin, who faced controversy during her term as DOH chief over the use of dengue vaccine Dengvaxia for children, stressed that the FDA should base its decisions on science.
"We are dealing with public health.
An anti-parasitic drug for animals will be used as anti-viral medicine for humans? ...They're likening a dog or cat with scabies to persons with COVID-19," she lamented.
The World Health Organization has said there remains no significant evidence to show that Ivermectin could treat COVID-19 patients.
Esperanza Cabral, also a former health secretary, yesterday said she is not discounting the possibility that the FDA was "pressured" into allowing its use, as she expressed concerns on the grant of CSP despite the lack of evidence about the potential therapeutic effect of Ivermectin against COVID-19.
"I cannot discount that fact (pressure) because many politicians and businessmen are meddling but the pressure is coming mostly from politicians," she said in a phone interview.
Last Feb. 4, Ivermectin manufacturer Merck had issued a statement affirming its position on the use of the veterinary drug. It reiterated that there was "no scientific basis for a potential therapeutic effect against COVID-19 from pre-clinical studies" and that there is "no meaningful evidence for clinical activity or clinical efficacy in patients with COVID-19 disease."
Merck also underscored "a concerning lack of safety data in the majority of studies."
Given these, Cabral called on politicians to leave the health issues alone, saying, "Let the doctors…guide the country through. Doctors and the people at the FDA know what to do better."
FDA director general Eric Domingo denied being pressured into granting the CSP to a hospital, explaining that the permit was given to give doctors and patients access to medicines that are still undergoing clinical trials abroad.
The CSP used to be given for cancer drugs, among others, until it was allowed by the government to be issued for COVID-19 medicines that are under trial because of the pandemic.
Domingo added the CSP is valid only for one year and that this does not allow the commercialization of Ivermectin, which should be given only at the hospital that requested for the permit.
For her part, House health committee chair Helen Tan expressed alarm that some of her colleagues have been aggressively advocating the use of the animal anti-parasitic drug on humans.
"I feel it's quite dangerous for some to advocate its use even without license from FDA. I know we're desperate for solution but we shouldn't be shortsighted with what's happening," the Quezon congresswoman lamented.
"I'm sad with what's happening right now, that many are using it already without clear benefits. I'm afraid for their safety. Statements of our experts are very clear that there is no evidence yet to show that Ivermectin can be used to treat COVID.
"I think we need more time and wait for result of 13 ongoing studies. Yes, there are testimonials but we need to validate them. Medicine is evidence based," lamented Tan, also a doctor. – Sheila Crisostomo, Emmanuel Tupas, Rainier Allan Ronda