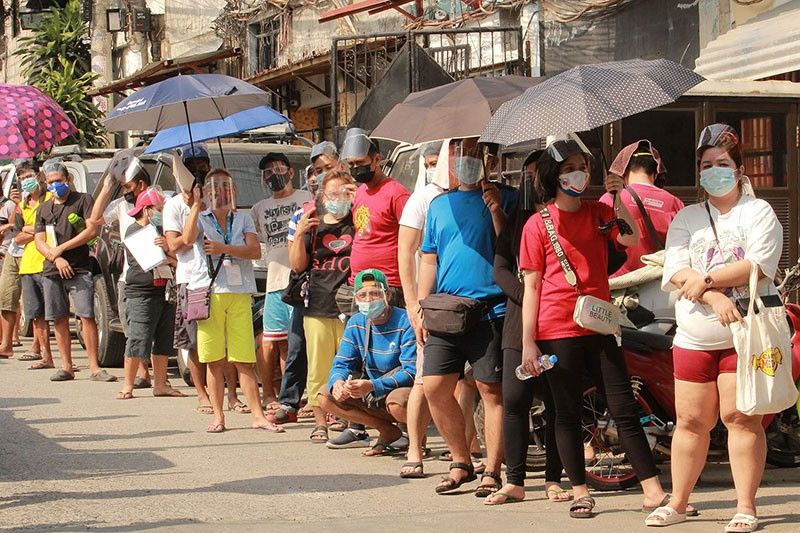 Residents of Batasan Hills in Quezon CIty line up to receive their financial assistance from the national government on April 7, 2021.
The STAR/Michael Varcas
Extend aid distribution deadline, government urged
Janvic Mateo
(The Philippine Star) - April 9, 2021 - 12:00am
MANILA, Philippines — Citing the large number of beneficiaries, Quezon City Mayor Joy Belmonte yesterday urged the national government to extend the 15-day deadline for the distribution of financial aid to those affected by the enhanced community quarantine or ECQ.
"The main challenge is the fact that our city is 25 percent of Metro Manila," she said in Filipino during the Laging Handa briefing. "The number of people who will receive the aid is more than those in other cities, yet the deadline given by the national government is the same."
Quezon City received P2.4 billion in financial aid, which is expected to cover 2.4 million residents belonging to at least 800,000 families. It was released by the national government last Monday, with the deadline for distribution set on April 20 or 15 days later.
Belmonte said they are doing their best to comply with the deadline but noted the difficulty in maintaining social distancing and minimum health standards to avoid transmission of the viral illness during the distribution process.
"I do not want the release of the financial assistance to become super spreader events. The aid should be used for food and other needs of the families and not for the hospitalization of our people," she said. "I hope the national government will consider this because I do not want our people to get sick."
Undersecretary Jonathan Malaya, Department of the Interior and Local Government spokesperson, said the DILG is willing to extend the deadline for the largest cities, which include Manila and Quezon City, if they are not able to meet the deadline.
"We have to be realistic. (They are) not just working on ayuda (aid). They're also working on vaccination. They're doing a lot of things all at the same time. We encourage them to meet the deadline, but if these large cities (cannot do it) we will consider an extension," he said.
Malaya noted that the initial distribution of the P22.9-billion lockdown assistance has been going well despite some isolated incidents that led to long queues at some centers in the NCR Plus bubble.
He gave assurance that they are already working with the LGUs to fix the snags to ensure a faster and more efficient distribution of ayuda in areas under ECQ.
Over 41,000 families in Quezon City have received aid on the first day of distribution on Wednesday, with another 74,000 targeted yesterday.
Belmonte acknowledged challenges faced by barangays in controlling the crowd who gathered in distribution centers, saying they have implemented various systems to limit the number of people.
She said those in the original lists from the Department of Social Welfare and Development will also receive assistance.
"If they are not on the list, we have grievance or appeal committee," Belmonte said. – Romina Cabrera, Rainier Allan Ronda, Mayen Jaymalin