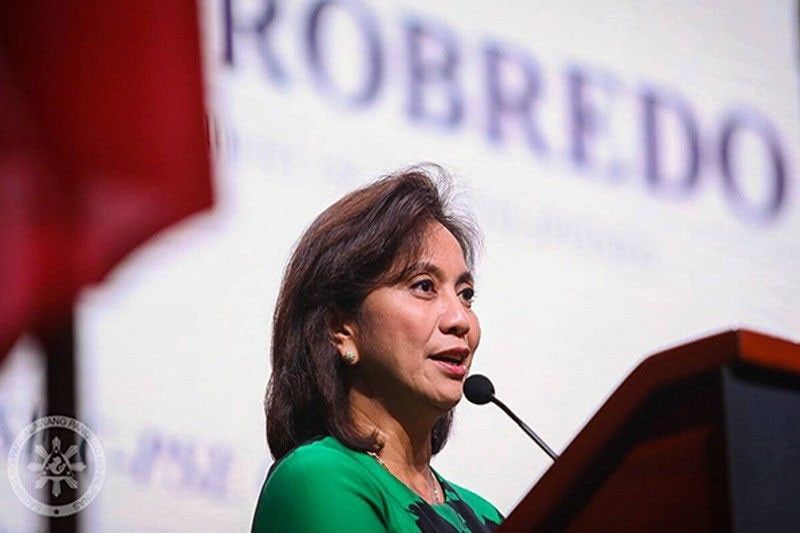 "Even in spheres where women participation has improved, gaps in gender balance at the highest levels of leadership still need to be filled to truly create a more inclusive, holistic climate of change," Robredo said in a statement.
Leni Robredo Facebook Page
VP Robredo to women: Answer calls to leadership
Helen Flores
(The Philippine Star) - March 9, 2021 - 12:00am
MANILA, Philippines — Vice President Leni Robredo urged yesterday women to answer calls to leadership as the world marked International Women's Day.
"Even in spheres where women participation has improved, gaps in gender balance at the highest levels of leadership still need to be filled to truly create a more inclusive, holistic climate of change," Robredo said in a statement. "Let us answer the calls to leadership, face the trials of our time with resolve and strive towards a fairer, kinder, more humane world, where no one is left behind."
President Duterte, in a separate statement, called for the breaking of barriers that prevent women from realizing their full potential and the "backward mindset" that fueled inequality.
Duterte, who has drawn flak for remarks perceived to be demeaning to women, urged Filipinos to celebrate the indispensable role of women in the nation's progress by supporting advocacies that fight for and acknowledge women's inalienable rights as equal partners of men.
He noted that in the past several decades, international organizations, women's rights movements and various governments have worked together and made significant strides in addressing gender inequality.
"Let us elevate women to their rightful place in society by empowering every Filipina to break not only the barriers that have long hindered them from reaching their full potential, but also the backward mindset that fueled a culture of gender oppression and inequality," his statement read in part.
"While there is still much to be done to completely free women from this bondage of inequality, we can nonetheless proudly claim that concrete, sustainable and inclusive actions have been taken by our government to create an environment where women's rights are respected and their contributions to society are recognized," it also read.
Robredo, although saying she remains focused on addressing people's needs amid the COVID-19 pandemic, is not discounting the possibility of seeking the presidency in 2022. Several groups are already backing this bid.
She ranked 5th in a Pulse Asia survey on the Filipinos' preferred presidential bets for 2022. Presidential daughter and Davao City Mayor Sara Duterte-Carpio topped the poll.
Robredo cited the gains achieved by women in the past several years – the right to vote, improved economic and political participation and stronger legislation protecting women's rights – but said "the road remains long" despite these gains.
"The realities on the ground paint a picture that remains far from ideal. Cases of domestic violence continue to rise. Under the shadow of the pandemic, reproductive health services have been hampered, and lockdowns have trapped survivors at home with their abusers, with little in terms of a lifeline to the outside world," she said.
Robredo said there are places in the world where women are denied an education and forced into marriages.
"Today is a reminder of the imperative: we need to band together to continue the work. We need as many women and allies as possible banging against the glass ceiling and creating spaces where all genders can flourish and contribute to society… Because progress hinges not on the brilliance of a few, but in the sustained united effort of all," she said.
Meanwhile, Sen. Cynthia Villar and Las Piñas Rep. Camille Villar offered to help empower Filipino women through the Villar SIPAG Foundation as they participated in the observance of the International Women's Day yesterday.
Dubbed "Kabuhayan Para Sa Kababaihan sa Mapanghamong Panahon," the program, aired on Facebook and in partnership with East-West Seed Foundation, was filled with knowledge, information and inspiration for women, especially in dealing with urban agriculture.
Senator Villar has been promoting vegetable gardening as a viable intervention to make households and communities healthier and more food sufficient. Women in urban areas, she added, are the best force to tap "when we talk of home gardening, since most of them stay at home."
"We should equip them with skills so that they can practice urban gardening and plant vegetables even in small spaces to have an available supply on their tables," she noted.
Women-participants who joined the program won prizes that include a livelihood showcase, grocery packs and other items during a raffle draw.
The Villars said women have a lot to contribute to the country's development if they would just be given opportunities and tools such as learning new skills. Through Villar SIPAG, the senator has also been providing jobs and livelihood opportunities to women so they can help augment the earnings of their husbands.
At the House of Representatives, Speaker Lord Allan Velasco designated several female House members to preside successively the deliberations held yesterday at the plenary hall.
"Allow me to recognize all the strong, empowered and empowering women of the House. Kinaya at kinakaya natin ang laban sa pandemya (We are able to fight the pandemic) because you kept everything steady here at work even as you faced the challenges with your families at home," the Speaker said.
"As we continue to face the worst public health crisis in a generation, let us pause for a moment to pay tribute to all the women of this country for their resilience and invaluable contributions to society and nation. The strength, fortitude and resilience of the House as an institution is truly a reflection of the many women that make it strong, while giving it a heart," Velasco added during the flag-raising ceremony.
There are 85 women legislators in the chamber, eight of them deputy speakers.
Also yesterday, several women workers staged separate rallies to protest against illegal termination and joblessness among their sector. The Defend Jobs Philippines and the Bar and Restaurant Employees and Workers Solidarity or BREWS demanded the immediate reinstatement of 374 workers who were allegedly illegally dismissed by a pizza chain. – Alexis Romero, Edith Regalado, Mayen Jaymalin, Delon Porcalla, Cecille Suerte Felipe