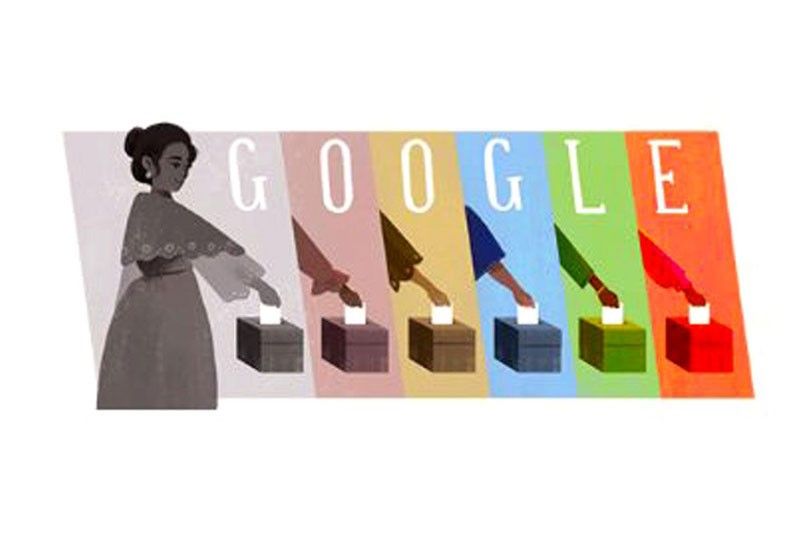 Google honors Rosa Sevilla de Alvero with this doodle on its homepage yesterday.
STAR/File
Google pays tribute to champion of Pinay suffrage
Janvic Mateo
(The Philippine Star) - March 5, 2021 - 12:00am
MANILA, Philippines — Google has paid tribute to journalist, educator and activist Rosa Sevilla de Alvero, who was a leading voice in giving voting rights to Filipino women in the early 1900s.
A doodle featuring Sevilla greeted Filipino users of the popular search engine yesterday, in time for the 142nd birth anniversary of "one of the most influential suffragists in Philippine history."
Born in Manila in 1879, Sevilla spent her formative years while living with an aunt who often hosted Filipino patriots and intellectuals at her home.
"Sevilla often eavesdropped on their conversations about battling educational colonialism, revolutionary discussions that helped mold her beliefs," said Google.
At 21, she founded the Instituto de Mujeres (Women's Institute of Manila), one of the first schools for women in the islands.
According to a paper published in 1989 in journal Philippine Studies, Sevilla made the institute – now known as the Rosa Sevilla Memorial School – an agency for change in the Philippine society.
"Among these issues were making Tagalog the national language, securing suffrage for women and achieving independence from American rule," it said.
In collaboration with leading poets Jose Corazon de Jesus and Florentino Collantes, Sevilla presented the first balagtasan at the institute, sparking a movement for Tagalog to become the national language.
In 1916, she joined the movement to obtain the right to vote for Filipino women, working closely with Pura Villanueva Kalaw and Pilar Hidalgo Lim.
She led various initiatives, including co-founding the Federación Catolica de Mujueres (Catholic Women's League) and the Liga Nacional de Damas Filipinas (National League of Filipino Women) to support the cause.
"Thanks in part to Sevilla's tremendous call to action, voting rights were granted to Filipino women in 1937," Google said.
Sevilla received numerous recognitions, including a decoration from former president Elpidio Quirino in 1948.
She died in 1954 at the age of 75.
Meanwhile, President Duterte vouched for women empowerment during the kick-off ceremony for National Women's Month led by the Philippine Commission on Women yesterday.
"I join the entire nation in celebrating Women's Month. The government recognizes the role of women in nation-building and in upholding the fundamental equality before the law of both genders," Duterte said in a statement. – Christina Mendez