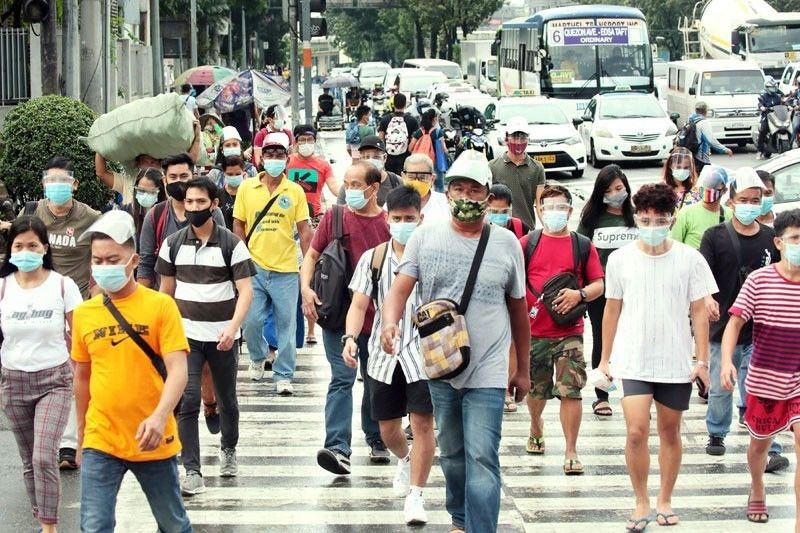 Speaking at a virtual briefing yesterday, Department of Health Epidemiology Bureau acting director Alethea de Guzman said the upward trend in infections has been observed in a majority of areas in the National Capital Region.
Michael Varcas, file
DOH monitoring Metro Manila for COVID-19 case surge
MANILA, Philippines — Health authorities are closely monitoring the continuing increase in coronavirus cases in Metro Manila and two other regions of the country this week.
Speaking at a virtual briefing yesterday, Department of Health (DOH) Epidemiology Bureau acting director Alethea de Guzman said the upward trend in infections has been observed in a majority of areas in the National Capital Region (NCR).
The same was observed in Central Visayas (Region 7) and the Cordillera Administrative Region (CAR).
"The plateauing trend seen in the past months was broken by a spike in new COVID cases this week nationally," said De Guzman, who stressed a need for immediate and heightened response to the trend.
There should also be a continuing genomic surveillance effort to monitor and detect other areas of concern, she said.
Despite the increase, she gave assurance that the health system capacity in these areas remains at a safe level.
As of Feb. 28, the most common lineage of the virus was still the B.1.1.63 comprising 26 percent of the 3,044 samples subjected for genome sequencing, De Guzman said.
The UK variant accounted for three percent of the samples submitted for genome sequencing and only 0.2 percent of samples turned positive for the South African variant.
A majority of samples sequenced are from NCR, Calabarzon (Cavite, Laguna, Batangas, Rizal and Quezon or Region 4-A), Cagayan Valley (Region 2) and CAR, while returning overseas Filipino (ROF) account for 152 or 5 percent of the samples.
De Guzman said four cases of the newly found South African variant came from Pasay City while two others were ROFs – one coming from the United Arab Emirates (UAE) and the other from Qatar.
She said 91 percent of 183 barangays in Pasay City have recorded new infections. As of March 2, the daily attack rate of COVID-19 in the city has jumped to 24.7 individuals per 100,000 population.
While the DOH considers that the new variants might have contributed to the spike in cases, Health Undersecretary Maria Rosario Vergeire said other factors must have contributed to rising infections such as non-compliance with minimum public health standards.
In a television interview, Vergeire said the DOH did a "purposive specimen" collection – 140 samples to be exact – from Pasay and other cities in Metro Manila to determine if other areas already have the new variants.
"We want to see if these variants also will be detected in the other cities in NCR... we will do a special run just specific for NCR, so that we can determine the extent (of transmission)," she said.
"For the cities of Pasay and Cebu, we have included the special run that we have done and we have collected specimens at the start of the week. Hopefully, it will be out towards the end of the week," Vergeire added.
The DOH has been meeting with the Metropolitan Manila Development Authority (MMDA) and concerned local government units (LGUs) to come up with an appropriate response to the rising cases of COVID-19.
Concerning the reopening of cinemas and other establishments, Vergeire said the Department of Labor and Employment (DOLE) and other concerned agencies are coming out with appropriate guidelines on ventilation. "There are still other standards to be followed, not just ventilation," she said. But she maintained that there is still no community transmission of the new variants.
AstraZeneca vs new variant
Meanwhile, Health Secretary Francisco Duque III expressed hope that the AstraZeneca vaccine doses arrive soon as he led yesterday's start of the vaccination program at East Avenue Medical Center in Quezon City.
"Hopefully, these doses arrive on Monday so that our vaccinations may continue and that the inoculation of our health care workers may be completed," he said in Filipino.
The AstraZeneca vaccines being obtained via the COVAX facility were supposed to arrive last Monday but were delayed due to logistical problems.
Apart from medical frontliners, senior citizens are also among the DOH's priority to be vaccinated against COVID-19.
But an OCTA Research fellow cited a study that AstraZeneca's vaccine is less effective against the B.1.351 or the South African variant of COVID-19 which has been found in cases in Pasay.
"The efficacy of the AstraZeneca vaccine against B.1.351 dramatically decreases from 70 percent to 10 percent," said molecular biologist Fr. Nicanor Austriaco, visiting professor of biological sciences at the University of Santo Tomas.
"South Africa decided to abandon the AstraZeneca vaccine because it was no different from injecting water into the patients. With 10 percent protection, basically most people would still be able to get mild and moderate COVID-19," he added in an online press briefing yesterday.
Failure to eliminate the new variant, Austriaco warned, will have an impact on the vaccine rollout as the country already ordered 17 million doses from AstraZeneca.
"We still have a window of time to try to eliminate the B1.3.51 from Metro Manila. I am hoping over the next couple of weeks, we will actually be able to do that," he said.
Yesterday, Vergeire said the DOH is still investigating the source of the six cases of South African variants that have been detected so far.
But she assured the public that the DOH is working with local government agencies is containing the transmission of this COVID variant as fast as possible.
Austriatico said: "We have just begun (vaccination) and we have already been hit in the stomach by a variant that – if it is not controlled, if it is not eliminated from the islands – will severely impact and will make it more difficult for us to vaccinate the 75 million Filipinos in order to acquire herd immunity."
Yet another OCTA Research fellow, Ranjit Rye, reiterated the position of the World Health Organization in encouraging health care workers to get vaccinated with whatever is available in the country at the moment.
"AstraZeneca or Sinovac is still better than no vaccine at all," Rye said.
OCTA warns: More deaths this month
On the spike in COVID-19 cases in Metro Manila, OCTA fellows reiterated the need to reverse the spread of the virus, warning that the trend may lead to a month-end tally of 280,000 – a jump from the current 234,754 cases – and an additional 920 deaths.
Rye said the potentially serious surge in Metro Manila is in its early stage and can still be mitigated.
Strict implementation of current quarantine protocols, an initial vaccination rollout and more localized lockdowns may reduce the reproduction number that would control the increase in cases to only 260,000 by the end of the month, the group said.
OCTA urged LGUs identified as high-risk areas to further intensify their efforts at testing, tracing and isolation and implement small, targeted lockdowns to contain super-spreader events.
On a national scale, the DOH said confirmed COVID-19 cases have reached 582,223 as 1,783 infections were logged yesterday.
The DOH recorded 91.9 percent or 534,778 of the total cases as recovered, including 330 new recoveries.
Active cases stand at 35,056, which account for six percent. The bulk or 94.8 percent of active cases are mild and asymptomatic, it said.
Those who succumbed to the disease hit 12,389, with the inclusion of 20 additional fatalities, accounting for 2.13 percent of total cases.
'Exclude MM from face-to-face classes'
Meanwhile, senators urged the Department of Education (DepEd) to exclude Metro Manila and other areas with numerous cases of COVID-19 from its recommendation for the pilot testing of face-to-face classes.
"My suggestion to make the pilot testing more acceptable: Do not include NCR (and) Quezon province," Sen. Nancy Binay said at the hybrid public hearing on the pandemic's impact on education. "We should only choose the ones with zero or less cases of COVID-19 to make it more acceptable to the President."
Education Undersecretary Nepomuceno Malaluan told senators that as of March 1, the DepEd has nominated 1,579 pilot schools for face-to-face learning. The figure is higher than last week's 1,065 schools.
He said the DepEd has recorded a total of 4,468 COVID-19 cases – 2,830 among teachers and non-teaching staff; and 1,638 among students. Of the total, the biggest caseload of 193 was in Quezon province, followed by 158 in Batangas, 128 in Bataan, 114 in Cebu province and 104 in Quezon City.
Sen. Sherwin Gatchalian advised the DepEd to enlist the help of experts in estimating whether or not it is safe to start face-to-face classes and not just rely on community quarantine qualifications.
Last Tuesday, the Senate adopted Proposed Senate Resolution No. 663, which recommends the resumption of face-to-face classes through the immediate launching of pilot testing in COVID-19 low-risk areas in the country.
President Duterte will decide on the matter. – Janvic Mateo, Cecille Suerte Felipe