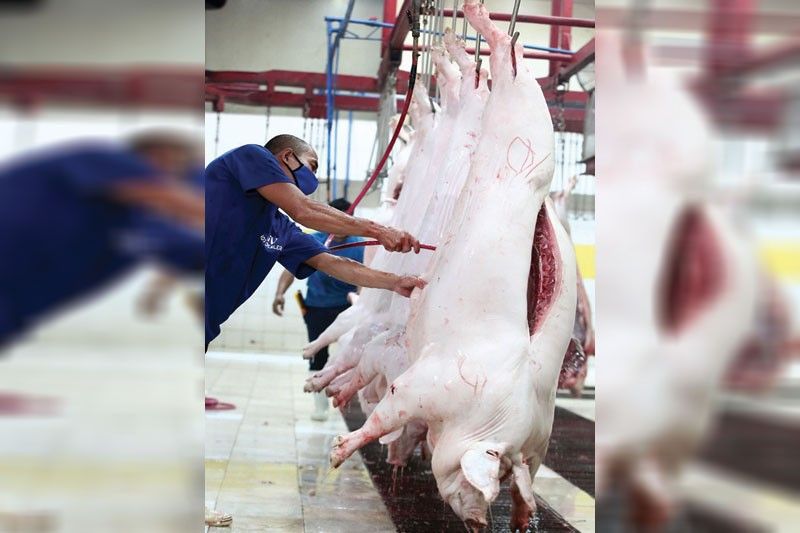 Workers clean newly slaughtered hogs at a government-accredited facility in Pasay City yesterday. The hogs, which came from Batangas and Quezon province, will augment pork supply in Metro Manila.
Miguel De Guzman
Government urged to run after pork, meat product smugglers
MANILA, Philippines — The Pork Producers Federation of the Philippines (PPFP) urged the government to run after smugglers of meat products instead of probing reports that local producers are hoarding supply.
Agriculture Secretary William Dar and law enforcement agencies like the National Bureau of Investigation (NBI) should focus on pork and meat product smugglers at the Bureau of Customs (BOC) where the government is losing billions of pesos in taxes, PPFP vice president Nicanor Briones said.
"The losses in taxes at the BOC amount to as much as P8 billion for pork alone," Briones said in an interview with One News' "The Chiefs" aired on Cignal TV/TV5 on Tuesday night.
Briones said they received reports that prices of meat products are being misdeclared, resulting in lower taxes.
He defended local producers from allegations that they are hoarding meat supply, saying they want to sell their products immediately due to the threat of African swine fever (ASF).
Distributors, Briones said, would not hoard hogs as these could die in 10 days if infected with ASF.
Meanwhile, Sen. Risa Hontiveros urged the Department of Agriculture (DA) to incentivize and compensate commercial farms that observe biosafety protocols to prevent the spread of ASF.
Hontiveros said Dar confirmed to her that the DA would propose to other Cabinet members the expansion of insurance coverage under the Philippine Crop Insurance Corp. (PCIC), to include commercial farmers and coverage for five million pigs.
Hontiveros sought free insurance coverage over the next two years for farms in ASF-free areas and potential green zone areas that could level up compliance with infection control regulations.
This, she said, would not only provide relief to commercial farmers, but is also a key instrument for ASF recovery.
At present, commercial hog raisers are not included in the insurance program of the PCIC and have not received support from the government commensurate to their huge losses.
With limited resources, commercial farms are having a hard time following safety protocols and installing systems for infection control, she said.
73,000 hogs to MM
More than 73,000 live hogs have been delivered to Metro Manila in over two weeks to augment supply and stabilize prices in the region.
Data from the DA showed that a total of 73,365 live hogs and 439,852 kilos of carcass were delivered to Metro Manila from the provinces from Feb. 8 to 23.
Calabarzon (Cavite, Laguna, Batangas, Rizal, Quezon) supplied the largest number of live hogs, with 38,034 heads, accounting for 51.84 percent of total deliveries.
This was followed by Mimaropa (Mindoro, Marinduque, Romblon, Palawan) with an 11.36 percent share or 8,331 heads delivered, and Western Visayas with an 10.29-percent share or 7,547 heads.
Soccsksargen (South Cotabato, Cotabato, Sultan Kudarat, Sarangani and General Santos) in Mindanao and Central Luzon shipped a total of 6,749 and 5,921 heads, respectively.
In addition, 2,990 heads came from the Bicol region, 1,508 from Zamboanga peninsula, 1,393 from Central Visayas, 645 from Northern Mindanao, 152 from Ilocos and 95 from Cagayan Valley.
Central Luzon shipped the most number of carcasses at 409,115 kilos, accounting for 91.10 percent of the total delivery.
This was followed by the Bicol region with 22,722 kilos and Zamboanga peninsula with 7,800 kilos.
In addition, 205 kilos were shipped from Northern Mindanao and 10 kilos of carcasses were shipped from Bangsamoro Autonomous Region in Muslim Mindanao.
The DA said earlier it is looking to deliver at least 15,000 hogs per week to Metro Manila for two months to stabilize pork prices.
Dar issued a memorandum order establishing the general implementing guidelines for the procurement of hogs from Feb. 8 to April 8.
Hogs will be directly sourced from eligible local producers through negotiated procurement, supervised by DA regional field offices. – Cecille Suerte Felipe, Catherine Talavera