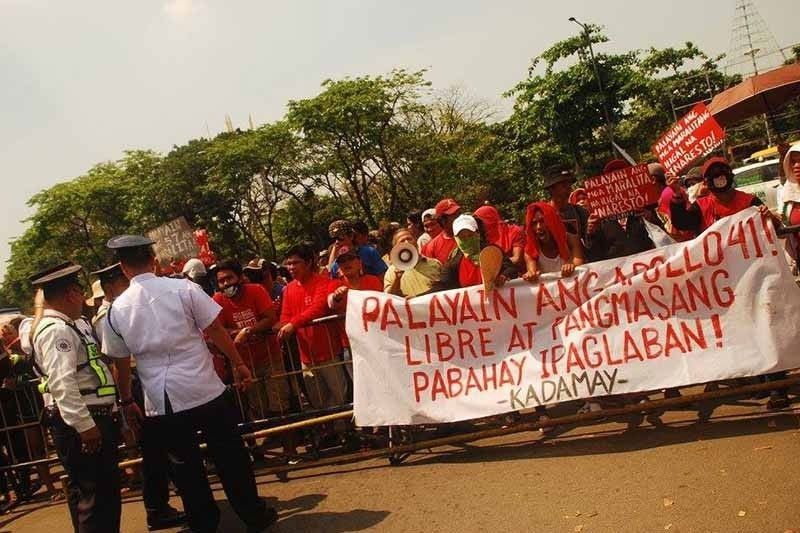 This photo posted April 11, 2017 showed group Kadamay holding a protest at the Quezon City hall and calling for the release of 41 of their members then detained at Camp Karingal.
KADAMAY Facebook page
Court fines 38 Kadamay members P200 each for trespassing
MANILA, Philippines — The Quezon City Metropolitan Trial Court (MeTC) has convicted 38 members of the Kalipunan ng Damayang Mahihirap (Kadamay) who reoccupied a contested property in Quezon City from which they were evicted in 2017.
In a 12-page decision promulgated on Feb. 22, Quezon City MeTC Branch 43 Judge Don Ace Mariano Aguilar found the Kadamay members guilty of trespassing under Article 281 of the Revised Penal Code. They were fined P200 each.
The members of the urban poor group reoccupied a 1,668-square meter lot along Apollo street in Barangay Tandang Sora after they were evicted in April 2017.
The court said the Kadamay members broke into the property
despite being prohibited by the owner. They overpowered the security guard and destroyed the gates of the property.
The judge imposed fines instead of prison term because of the situation of the Kadamay members at the time.
The Kadamay members said they were forced to reoccupy the property under the circumstances of self-preservation as they were also evicted along the sidewalk where they stayed.
The court junked the cases against three other respondents – Tirso Mangubat, Aileen Mangubat and Mark Anthony Roadilla – who died during the trial.
The court also dismissed for lack of evidence the charge of grave coercion against the respondents in June 2019.
The group's counsel, Katherine Panguban of the National Union of Peoples' Lawyers said she would consult her clients on whether they would file an appeal.
"We will discuss what they want to do. We have 15 days to file an appeal," she said in a phone interview.
Panguban lauded the judge for recognizing that the respondents were forced to reoccupy the property as they had no place to stay.