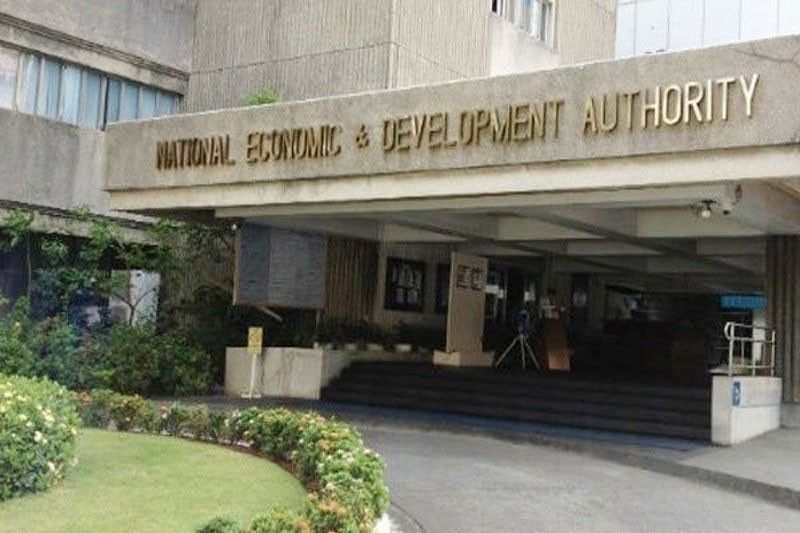 Quarantine restrictions that have been in place since March last year have caused a total income loss of P1.04 trillion or P2.8 billion per day, which translates to an average annual income loss of P23,000 per worker, according to acting NEDA director general Karl Chua.
STAR/File
NEDA wants MGCQ for entire country in March
Alexis Romero
(The Philippine Star) - February 17, 2021 - 12:00am
MANILA, Philippines — Citing the need to address hunger and income losses caused by prolonged lockdowns amid the COVID-19 pandemic, the National Economic and Development Authority (NEDA) has recommended placing the entire Philippines under modified general community quarantine (MGCQ), the most lenient quarantine status, next month.
Quarantine restrictions that have been in place since March last year have caused a total income loss of P1.04 trillion or P2.8 billion per day, which translates to an average annual income loss of P23,000 per worker, according to acting NEDA director general Karl Chua.
"However, we know that other sectors were not allowed to operate under the community quarantine and other people lost their jobs. That's why the impact on the income and livelihood of other workers is worse," Chua said during a meeting of the government's pandemic task force last Monday.
The acting socioeconomic planning secretary cited the need to balance the containment of COVID-19 and efforts to revive the economy.
"We need to shift as soon as possible to MGCQ for the entire Philippines. We hope starting March 1, 2021, so we can address the high percentage of Filipinos who are experiencing hunger," he said.
"We are not saying that we should reopen the economy without minding the number of COVID cases. We have to do both," he added.
Chua explained that there was no significant increase in the number of COVID-19 cases despite the reopening of the economy in October and the Christmas vacation. He also cited a recent survey that found 73 percent of Filipinos saying the government has to balance the opening of the economy and jobs and controlling the spread of the virus.
"So given progress on the health side and no spike in COVID-19 cases from the reopening of the economy last October and the yearend holiday, our recommendation is … we further open the economy to MGCQ for the entire Philippines, especially the NCR (National Capital Region)," he said.
"The main reason is we want to mitigate or reduce sickness, hunger, poverty, job and income loss that are arising from non-COVID cases," he added.
Localized lockdowns that are limited to specific barangays and municipalities can be imposed to prevent the spread of the virus, according to Chua.
Majority of the provinces and cities in the Philippines are now under the most relaxed MGCQ, where about 75 percent of industries are allowed to operate. Only Metro Manila, Batangas, Abra, Apayao, Benguet, Baguio City, Ifugao, Kalinga, Mountain Province, Tacloban City, Davao City, Davao del Norte, Lanao del Sur and Iligan City are under the stricter GCQ, where about half of the industries can operate.
Presidential spokesman Harry Roque said President Duterte is still studying the NEDA's recommendation.
Roque, however, agreed with Chua that the government should now help Filipinos who are experiencing hardships because of COVID-19-related restrictions.
Citing a study by the NEDA, the Palace spokesman said that while the number of COVID-19 infections has reached more than 550,000, the number of Filipinos who are experiencing hunger has risen by 23.7 million. The number of poor people has increased by 4.5 million while that of jobless individuals has risen by more than two million, he added.
"Since more people are suffering because of non-COVID-related activities... it's about time that we save our countrymen from hunger and poverty," he said at a press briefing yesterday.
Roque added that Filipinos have also been following health and safety protocols, citing an OCTA research suggesting that 93 percent of them wear face masks.
Other recommendations
The NEDA also proposed the expansion of public transport from 50 percent to 75 percent so that more people can return to work.
Chua said public transportation should be complemented with "active transport support" like designating bike lanes. He cited the need to expand inter-province bus operations, noting that many Filipinos who went to the provinces during the lockdown could not report for work.
He also recommended the easing of age-based movement restrictions, which was deferred because of the emergence of a new and more infectious COVID-19 variant.
"At present, people aged 15 to 65 are the only ones who are allowed to go out. Our proposal is to gradually expand it to (people) aged five to 70. We can do it gradually, in increments of five years, also with appropriate safeguards," the acting NEDA chief said.
"With regard to safeguards, young people can go out with their parents only, or initially, they can go out to more open areas and it does not mean they will go to the malls. Young people can go out with safeguards, it will allow also their parents to work and get a job," he added.
The NEDA also called for holding pilot face-to-face classes in low-risk areas, saying the government was able to control the spread of the new COVID-19 variant. Pilot in-person classes were supposed to start last month, but they were canceled as a precautionary measure against the new virus strain.
DTI backs NEDA
The Department of Trade and Industry (DTI) is in favor of the NEDA's proposal, but emphasized that health protocols must be strictly complied with by everyone.
"I agree and support. I have mentioned before that it will depend on COVID statistics, but as we see, the cases (are) generally going down. Even with gradual and calibrated reopening of economy, we should continue gradual safe reopening of sectors and further relaxation to MGCQ, with very localized lockdown where needed, so we can open other parts of the economy and bring back more jobs for our kababayans," Trade Secretary Ramon Lopez said in a Viber message to reporters yesterday.
While the economy is on its way to recovery, Lopez said the country still had the biggest decline in gross domestic product and employment among its Southeast Asian neighbors.
He added that based on data from NEDA, Metro Manila has a very weak recovery and many are still out of jobs.
"The damage to malnutrition and other health and social issues will be irreversible," he said.
Given this situation, Lopez said it is about time the country moves to MGCQ after being under stricter quarantine classifications for close to a year, but with full compliance to health protocols – wearing of face mask and face shield, physical distancing, frequent sanitation and good ventilation.
OCTA bucks move
Citing COVID-19 outbreaks in various parts of the country, the OCTA Research Group yesterday rejected the NEDA's proposal.
Instead of setting a deadline on when to loosen the quarantine restrictions, OCTA fellow and University of the Philippines professor Ranjit Rye said the government should look at the current situation before coming up with such a decision.
"The government has set the guidelines, there is a prerequisite on when to shift from GCQ to MGCQ," Rye said in Filipino in an interview with CNN Philippines on Tuesday.
"For us in OCTA, that is more important than the deadline in March. The reopening should not be arbitrary or premature because it will become risky," he added.
The country is not yet "where we are supposed to be to move to MGCQ," according to Rye.
"Although we are in a manageable situation right now, we cannot say for certain that we have managed transmission in the NCR. There are nine cities with upticks, and among the serious ones is Navotas right now," he said.
He also noted upticks in Cebu, Caraga and Kalinga, stressing the need to further strengthen the "test, trace and isolate" strategy to ensure that the country is capable of managing the surge.
Rye also reiterated their call to strengthen bio-surveillance to determine the real situation as regards the more infectious United Kingdom variant, which has been detected in some areas in the country.
"We have not rolled out our vaccination for health care workers, and that I think that now – given the nature of the pandemic in the country and in the NCR – should be a requisite in any decision to loosen up," he said.
In a separate interview with Teleradyo, OCTA Research fellow Guido David also highlighted the importance of vaccination before further loosening up the restrictions.
"If we will suddenly open up, there is a risk for the cases to rise, especially since we have not conducted the complete bio-surveillance," David said in Filipino.
He also expressed concern over the proposal to allow more minors outdoors, saying the vaccines are not designed for those below 16 years old.
"They have low mortality rate… but the problem is that they can be carriers, possibly even super carriers," he said.
No consultations with mayors
Several Metro Manila mayors yesterday rejected the proposal to place the entire country under MGCQ.
San Juan City Mayor Francis Zamora and Marikina City Mayor Marcelino Teodoro said they preferred their cities to stay under GCQ, which they see as a viable option to keep the highest standards of prevention while allowing the economy to thrive.
"For me, it's better to remain under the current quarantine status. After all, the vaccines are expected to arrive," Zamora said in an interview aired over GMA News.
Teodoro, who also rejected the government's decision to reopen several industries like cinemas and arcades, said decisions on the matter should also be hinged on what experts in the health sectors say.
He had earlier suggested that easing quarantine restrictions, especially in reopening industries, should instead be an incentive for effective implementation of the vaccination program and proposed consultation with Metro Manila mayors.
"This had no proper consultation and we mayors are asking for this because we are the ones on the ground, meaning we are the ones enforcing the guidelines," he said.
Zamora said the consensus among mayors in Metro Manila, according to their last discussion, is to allow 15- to 65-year-olds outdoors as opposed to the current age regulations allowing 18- to 65-year-olds outside.
Navotas City Mayor Toby Tiangco also lamented that mayors were not consulted by the NEDA in proposing to lower those allowed outdoors to seven years old.
Tiangco said he was surprised that there were no consultations made, just like with the national government's proposal to reopen cinemas, arcades and other establishments.
He added that he sided with experts that children could become super carriers of COVID-19.
"(I'm) surprised again that there were no consultations. And the opinion of health experts not taken into consideration," he said.
For Quezon City Mayor Joy Belmonte, reopening cinemas will have a major impact on the economic recovery of the country.
In an interview with "The Chiefs" on One News/TV 5 last Monday night, Belmonte said even cinema operators whom she talked to were apprehensive about opening their theaters.
Some do not think that it is economically viable for them to open considering the current circumstances, according to the mayor.
"Others were saying, even if we open up, what would we show? There are no distributors with any new films to show," she said. "I really don't see the correlation between opening theaters and economic growth. I don't think that that's the solution to the economic woes of the country."
The mayor also doubted the claim that opening cinemas would provide jobs for 300,000 people, noting the possibility that only a handful of theaters would be opened even if it was allowed by the government.
Malabon City Mayor Antolin Oreta III also said he does not approve of allowing those as young as seven to go outside.
"It might produce spikes in COVID-19 cases," Oreta said, adding that he would prefer to remain under GCQ.
The mayor, however, said he was in favor of easing age restrictions to 15 to boost the economy.
Valenzuela City Mayor Rex Gatchalian said he would consult with city health experts first before commenting about the proposal to further lower the allowable age outdoors. – Louella Desiderio, Janvic Mateo, Neil Jayson Servallos, Marc Jayson Cayabyab, Ralph Edwin Villanueva, Cecille Suerte Felipe, Edu Punay