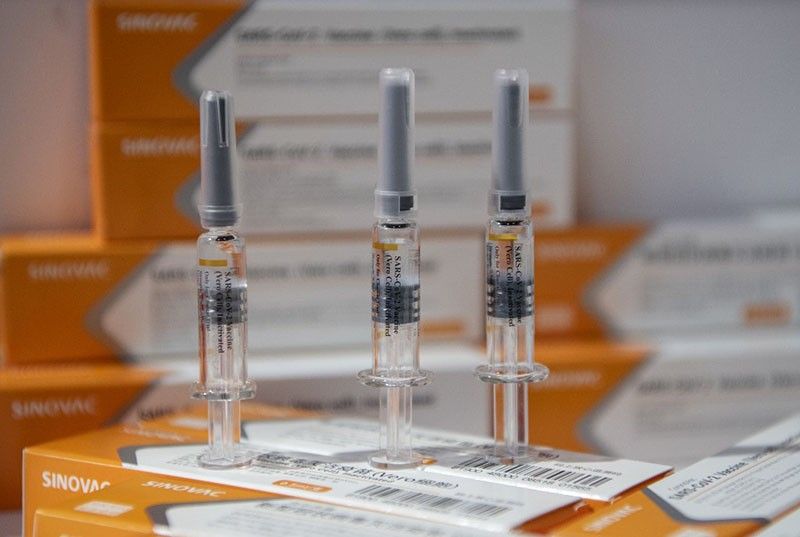 A Sinovac Biotech LTD vaccine candidate for COVID-19 coronavirus is on display at the China International Fair for Trade in Services (CIFTIS) in Beijing on September 6, 2020.
AFP/Noel Celis
Palace: China's vaccine donation to military has no bearing on West Philippine Sea issue
MANILA, Philippines — Malacañang on Thursday downplayed fears that it might be compromising the country's position on the West Philippine Sea by accepting vaccine donations from China, even as it announced that Beijing would be donating 100,000 Sinovac jabs exclusively for the military.
Presidential spokesman Harry Roque during a virtual briefing announced that China's donation of 600,000 doses of coronavirus vaccines from Sinovac Biotech, which has not yet been approved by local regulators for emergency use, would be arriving on Feb. 23.
Of these, he said 100,000 would be allocated for the Department of National Defense at the direction of China.
Asked if this might affect the Philippines' position on the West Philippine Sea, Roque said partially in Filipino: "No, there's no relation, this pandemic is governed by the laws of humanity and the dictates of public conscience."
Last month, vaccine czar Carlito Galvez Jr. similarly told senators that the "differences" between China and the Philippines should be "set aside" during the global effort to combat the COVID-19 pandemic, even as he promised that he would not compromise the country's rights to the West Philippine Sea during vaccine negotiations.
He said this in response to questioning from Sen. Risa Hontiveros who noted fears, held both in the Philippines and abroad, that China is deploying vaccine diplomacy — or using access to its vaccines — to force other countries to bend to its will.
China officially considers as part of its territory the resource-rich West Philippine Sea, the part of the South China Sea within the Philippines' exclusive economic zone, despite an arbitral ruling saying it's nine-dash line claim has no legal basis.
It also passed a new law allowing the Chinese coast guard to fire at foreign vessels and demolish structures built on contested islands has also raised bilateral tensions, causing the Department of Foreign Affairs to file a diplomatic protest and the Armed Forces of the Philippines to increase its naval presence in the West Philippine Sea.
President Rodrigo Duterte has been unabashed in his pursuit of close ties with China, lauding the country and its longtime leader at every opportunity. He has also made clear his preference for the Chinese vaccines, something which Roque reiterated on Thursday.
Apart from the 600,000 doses being donated by China, the national government is set to purchase 25 million Sinovac jabs pending emergency use approval from local regulators
What about the Sinopharm vaccines already used by the military?
Roque also announced on Thursday that the Food and Drug Administration granted the Presidential Security Group "a compassionate use license for 10,000 dosages of Sinopharm."
This comes months after the Presidential Security Group inoculated themselves with smuggled Sinopharm jabs, which are made by a Chinese state-run pharmaceutical firm.
Despite the fresh license and the months that have passed, Roque said he still does not know where the jabs came from.
Duterte blocked attempts to probe the PSG's unauthorized inoculation effort, threatening a "crisis" and barring his security detail from cooperating with a Senate inquiry on the government's national vaccination program.
Roque also said he also does not know if the license applies retroactively, covering PSG's unauthorized inoculation effort, and where the new batch of Sinopharm vaccines will come from. The license is not retriactive and is valid for one importation, FDA said.
Roque has also previously said that the Sinopharm vaccines used by PSG were not bought, implying a donation.
FDA chief Eric Domingo also told Philstar.com in January 2021 that Compassionate Special Permits cannot be used retroactively as they are "[used] to import the drug or vaccine."
Both Sinopharm and Sinovac have not yet published Phase 3 trial data in peer-reviewed magazines. Sinopharm has reportedly been used to inoculate millions in China while Sinovac only recently received regulatory approval in its home country. — with a report by Xave Gregorio