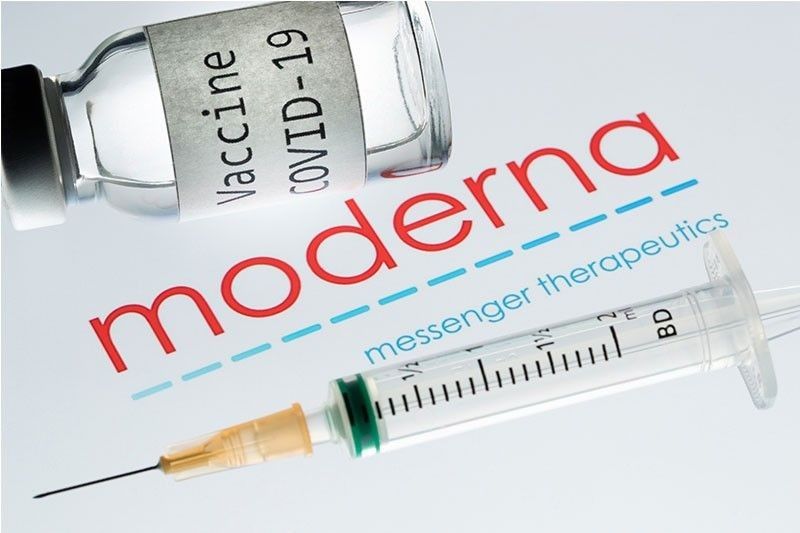 "What we're hearing is that there could be a next batch of vaccines from Moderna," Manuel V. Pangilinan said in an interview with "The Chiefs" aired on One News/TV 5 on Tuesday night.
AFP/Joel Saget
Private sector eyes Moderna vaccines
MANILA, Philippines — Following the agreement to purchase COVID-19 vaccines developed by British pharmaceutical company AstraZeneca, private sector groups are also looking at the possibility of procuring vaccines from American drug maker Moderna, according to MVP group chairman Manuel V. Pangilinan.
"What we're hearing is that there could be a next batch of vaccines from Moderna," Pangilinan said in an interview with "The Chiefs" aired on One News/TV 5 on Tuesday night.
"Initially, we heard it's up to 10 million, but we're hearing that that might be reduced. To what extent, we don't know yet," he added.
The MVP group is participating in the potential order of the vaccines, noting that it will be allocated not just for their employees and their dependents, but also to the patients in their hospitals, according to Pangilinan.
Details on the possible procurement are still unclear, but he said they are ready to help the government should it require the donation of a certain amount of vaccines that the private sector would procure, like in the case of AstraZeneca.
"We're prepared to help out what the government may need from their side," he added.
Pangilinan, who also chairs the private sector-led Philippine Business for Social Progress (PBSP), underscored the challenges in implementing the vaccination program.
He said their organization, which is celebrating its 50th anniversary this year, is looking at ways to help the government in the task.
"We're starting to slowly realize that the deployment of the vaccine is quite a complicated process," Pangilinan said.
"The sooner we can get the vaccine here and deploy them, the better because then we can alleviate the fear factor of our citizens," he added.
PBSP executive director Rey Laguda said some of their member companies, like the MVP group, are leading the conversations in terms of vaccine procurement.
Some have also lent their expertise to provide support to the other requirements for the rollout, such as in cold chain and deployment of the vaccines.
As a group, Laguda said they are looking at providing support to local government units in the upcoming vaccination drive.
"What we find important is for us to recognize that this is a vaccination program that we want to be successful," he said.
AstraZeneca's EUA
In another development, the Food and Drug Administration is likely to release the emergency use authorization (EUA) of AstraZeneca's vaccine today, FDA director general Eric Domingo said.
Vaccine experts had a list of questions submitted to AstraZeneca last week, but it took the latter four days to reply, according to Domingo.
The firm's answers were reviewed by the experts who gave "positive" recommendation to AstraZeneca's application for EUA.
"They are very favorable. I am just looking at the data now for technical quality, side effects and safety, and their recommendation, and I hope to finish this today, and maybe tomorrow. I want to get this over within the week," he said in a television interview Wednesday.
Once the company gets its EUA, it will be allowed to sell its COVID-19 vaccines to the Philippines.
Domingo noted that experts' questions revolved around the conditions set for EUA and some "local questions that are very specific in our Philippine situations for clarification."
AstraZeneca filed its application for EUA last Jan. 6.
Domingo said the FDA was able to act on this within 21 days primarily because AstraZeneca already has EUA issued in other countries such as the United Kingdom, which has a stringent regulatory authority. "So we were able to take a lot of that into consideration," he added.
Once the FDA issues AstaZeneca's EUA, it will be the second vaccine manufacturer to have it in the country, after Pfizer-BioNTech.
Over 1 million doses
Meanwhile, the Philippine government is expecting more than one million doses of COVID-19 shots to be delivered to the country for the vaccination rollout next month, according to National Task Force against COVID-19 chief implementer and vaccine czar Carlito Galvez Jr.
During the COVID-19 Vaccines CODE Team Visit in Taguig City yesterday, Galvez disclosed that 500,000 doses of Sinovac's CoronaVac and another 500,000 from AstraZeneca and COVAX facility Pfizer vaccines are expected to arrive in the country for the rollout.
"We will have an early rollout this February, more or less… more than one million doses. Part of the shipment are vaccines coming from the WHO (World Health Organization)-led COVAX facility," he said at a press conference.
He added that four term sheets for the supply of vaccines have already been signed by the government while negotiations are ongoing with seven vaccine manufacturers.
The government targets to finish the negotiations before the month ends or early next month, according to Galvez.
The government aims to vaccinate 50 million to 70 million Filipinos against COVID-19 this year as negotiations continue for the procurement of about 148 million doses for the country.
"I believe our vaccination, if the supplies become available within the year, we can do the target of 50 million to 70 million," Galvez said.
"But this remains dependent on the vaccine supplies," he added, explaining that Pfizer and AstraZeneca have encountered shortfalls in their manufacturing due to global demand.
The vaccine czar explained that this would be the "definitive cause" should there be delays, but the country remains ready for nationwide vaccination in terms of administering vaccines to millions of Filipinos.
"We can definitely do this, as long as there are vaccines," he said.
Galvez also cited the report by British media company the Economist Group could have been wrong in saying developing countries, including those in Asia, would not have widespread access to COVID-19 shots before 2023.
He explained that the Philippines is negotiating vaccine deliveries for this year and that there are no agreements being brokered for 2023, as the latest delivery schedule is slated for the first quarter of 2022.
"I think the Economist's basis was wrong," he said.
A study by the Economist Group was quoted by a Reuters report where it said more than 85 poor countries would not have broad access to vaccines before 2023, including many countries in Asia.
Galvez said that while it might be possible to encounter supply problems, he believes that vaccine production will increase once drug makers earn EUAs.
Galvez also assured the public that vaccines procured by the government would undergo strict evaluation and selection processes of the country's vaccine expert panel, the FDA and the Department of Health.
EU allocation
The European Union has allocated 850 million euros through COVAX to provide COVID-19 vaccine doses for low- and middle-income countries, including the Philippines, by the end of this year.
During a courtesy call at the Department of Foreign Affairs (DFA), Ambassador-designate and head of the EU delegation to the Philippines Luc Véron discussed with Foreign Affairs Secretary Teodoro Locsin Jr. the EU allocation through COVAX.
Veron noted that the unprecedented global public health situation has presented states with a unique opportunity to work with one another.
The United Nations has repeatedly underlined the need to make COVID-19 vaccines "a global public good," affordable and available to all, through the COVAX Facility, a global mechanism which aims to deliver two billion doses by the end of this year. – Sheila Crisostomo, Neil Jayson Servallos, Pia Lee-Brago