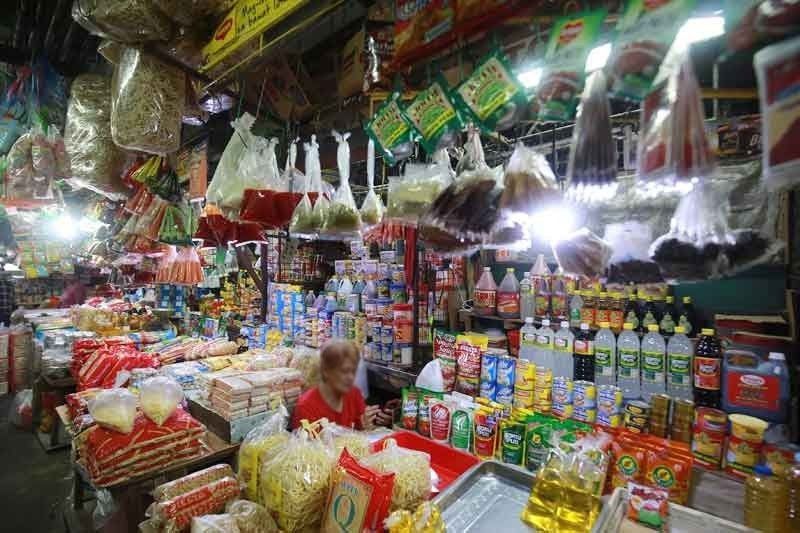 Guevarra said they have not yet received any formal request from the DA to help in the monitoring and surveillance of traders, wholesalers and other individuals who may have contributed to spreading the idea of a food shortage to justify the high prices of these commodities.
Michael Varcas, file
DOJ willing to aid DA in price monitoring, surveillance
MANILA, Philippines — Justice Secretary Menardo Guevarra yesterday assured the Department of Agriculture (DA) of the Department of Justice (DOJ)'s willingness to help in strengthening the monitoring and surveillance of those manipulating the prices of pork and chicken meat.
Guevarra said they have not yet received any formal request from the DA to help in the monitoring and surveillance of traders, wholesalers and other individuals who may have contributed to spreading the idea of a food shortage to justify the high prices of these commodities.
In a report, the DA said it was also partnering with the DOJ, National Bureau of Investigation (NBI), Department of the Interior and Local Government (DILG), Philippine National Police (PNP) and the Department of Trade and Industry (DTI) to strengthen monitoring and surveillance.
The DA earlier said the high prices of pork and chicken meat are not coming from farm gate prices and they would focus on traders and wholesalers who may be engaged in the manipulation of supply and prices.
"All entities, individuals and organizations who float the idea of food shortage have to substantiate their claims; otherwise, failing to do so renders them suspect of collusion with traders and wholesalers," Agriculture Secretary William Dar said.
"Let us not sow panic among the public and the consumers. We have enough food supplies, only that these are manipulated by traders," Dar added.
President Duterte is expected to sign an executive order mandating a price ceiling and prize freeze on pork and chicken meat.
More shipments for Metro Manila
As this developed, more shipments of agricultural produce are coming into Metro Manila in efforts to stabilize the prices of basic commodities as consumers continue to bear the brunt of rising food costs.
The DA said Metro Manila residents would now have additional access to vegetables, meat and poultry products as supplies have started to pour in from production areas in nearby regions.
Some 700 kilograms of assorted vegetables and two metric tons (MT) of chicken meat recently arrived at the Agricultural Training Institute in Quezon City.
The produce, which came from the Calabarzon (Cavite, Laguna, Batangas, Rizal, Quezon) region, is part of the initial shipments of agricultural products to be delivered in Metro Manila through a collaboration of the national government and farmers' cooperatives and organizations.
Another shipment of vegetables and poultry products is expected in the coming days. Taytay and Coron in Palawan and the province of Marinduque have also shipped initial deliveries of hogs.
A total of 612 heads of hogs have been delivered to Pasay and Alabang for slaughtering and trading.
Further, Balintawak market received some 80 MT of vegetables that came from Central Luzon.
"We hope to sustain these initiatives in partnership with hog and poultry raisers and farmers' cooperatives and associations to stabilize food supply and prices in Metro Manila," Dar said.
The agriculture chief is optimistic that the initiative will immediately address the shortage in supply and hiked-up prices believed to be manipulated by unscrupulous traders.
"We are leveling up our efforts to prevent opportunistic traders and sellers from manipulating prices and in effect help Filipinos affected by the still ongoing pandemic," he said.
The DA is set to strengthen interaction and dialogue with the Philippine Competition Commission to investigate traders and sellers engaging in price manipulation.
Latest market monitoring showed that the price of pork ham or kasim ranges from P350 to P400 per kilo while pork belly or liempo is now at P400 to P440 a kilo.
Chicken is sold at P160 to P200 a kilo.
Prices of most vegetables remain on their current levels while others have registered declines.
As of yesterday, bitter gourd or ampalaya was priced at P100 per kilo compared with P120 per kilo a week ago.
The price of cabbage also decreased by as much as P20 to just P160 per kilo.
Eggplant also saw a P20 decline in price to just P100 from P120 while tomatoes went down to P80 from P100.
The price of pechay baguio is now at P100, down P20.
The prices per kilo of squash remained stuck at P100, potatoes at P120, string beans or sitaw at P80, native pechay at P70, carrots at P120, Baguio beans at P80 and chayote at P40.
For spices, red onion and garlic remain at P100 per kilo, white onion is at P80 per kilo.
Ginger slightly went down to P140 per kilo. The price of chili (labuyo) is now down to P400 from a high of P700.
Scrap pork tariff
Meanwhile, local processors are calling on Duterte to temporarily scrap the tariff on pork imports in a bid to address shortage and stabilize prices for the sake of the consuming public.
In a letter, the Philippine Association of Meat Processors Inc. (PAMPI) asked the President to authorize the importation of pork at zero tariff to immediately arrest sky-high prices of pork in the market.
PAMPI's request comes just a week after Duterte retained the low tariff rate on imported mechanically deboned meat, a vital raw material used in processing.
The group's proposal also comes after the DA had said it is increasing the minimum access volume (MAV) scheme for pork imports to 162,000 MT from 54,000 MT. These imports will be levied at a lower 30 percent tariff.
PAMPI president Felix Tiukinhoy said the zero tariff on pork imports is just part of the three emergency measures that should be adopted to ease the tight supply and high prices of pork.
"The emergency measures aim to mitigate and control the deepening pork shortage, and to provide an alternative to the MAV Plus mechanism to import pork," Tiukinhoy added.
The high price of pork is still an effect of tight supply due to rising cases of African swine fever as well as the lowering of investments of commercial raisers amid fears of getting infected with the hog disease.
Rehab of food baskets
The government must speed up the rehabilitation of major food-producing regions that were hit by typhoons last year and pour aid to farmers there to stabilize prices of basic commodities, senators said yesterday.
Sen. Risa Hontiveros urged the government, particularly the DA, to "make a big push" for the recovery of the agricultural food baskets hit by disasters last year to help address supply shortage that have drastically driven up food prices throughout the country.
"We don't need just price controls and monitoring to stabilize prices of basic commodities. Prices of vegetables, fruits, meat and other food would go down fast if the government helps bring our food baskets to normal productivity levels," Hontiveros said.
She added that the government in particular should provide adequate shelter and food assistance to vital agricultural supply areas until the first harvests arrive in summer, especially in Northern Luzon and Bicol.
Citing data from the National Disaster Risk Reduction and Management Council, the senator said Cagayan Valley lost P2.1 billion worth of crops due to Typhoon Ulysses, along with P5 billion in damaged or destroyed infrastructure.
Likewise, Bicol lost P629 million worth of crops and P2.3 billion in infrastructure. – Louise Maureen Simeon, Paolo Romero