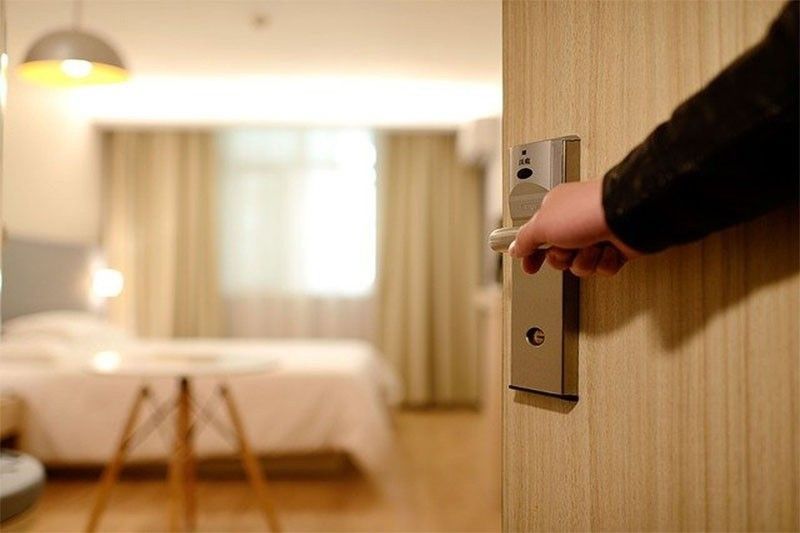 This file photo shows a hotel room.
Pixabay/David Lee
DOT chief: Not all 4 or 5-star rated hotels open for staycation
MANILA, Philippines (UPDATED Jan. 7, 2021; 1:51 a.m.)—Tourism Secretary Bernadette Romulo-Puyat on Tuesday corrected the misperception that all four or five-star rated accommodation establishments can operate as staycation hotels.
"For such hotel to accept guests for leisure purposes, it has to apply for a Certificate of Authority to Operate as Staycation (CAOS) hotel. With the authority is the responsibility to strictly adhere to the minimum health and safety guidelines," Puyat said.
"One has to pass the rigid inspection to ascertain that measures and systems are put in place and diligently practiced on a daily basis. It cannot, above all things, concurrently operate as a quarantine facility," she added.
The DOT chief made the reiteration after City Garden Grand Hotel in Makati City was implicated in the death of 23-year-old flight attendant Christine Angelica Dacera.
The agency on Tuesday issued a show cause order against the Makati hotel, asking it to explain why its accreditation should not be revoked.
CGGH, a four-star hotel, is listed as a quarantine hotel and should not operate as a staycation hotel or is not allowed to concurrently accept guests for leisure purposes. However, reports said that the death of Dacera occurred after a New Year's Eve party in one of its hotel rooms.
Meanwhile, the DOT stressed that as of January 5, there are only 15 accredited AEs in Metro Manila that operate as staycation hotels.
These are: Grand Hyatt Hotel, Makati Shangri-La Hotel, Okada Manila Hotel, Shangri-La at the Fort, Nobu Hotel, Joy Nostalg Hotel and Suites Manila, EDSA Shangri-La Manila, Solaire Resort, Hyatt Regency City of Dreams, Nuwa Hotel City of Dreams, The Peninsula Manila, Aruga by Rockwell, Sheraton Manila Hotel, Hilton Manila and Hotel Okura Manila.
Other AEs not included in the roster are banned from accepting guests for leisure purposes or are not open at this time.
Puyat warned AEs without CAOS and tour operators and other entities "that continue to post invitations or make false, deceptive and misleading claims or statements for the purpose of soliciting business from clients" that they may face violations.
"These non-staycation enterprises have been using social media to carry its ads," the DOT said.
The DOT advised the public to check the status of the establishment before booking. The AEs operating as quarantine facilities are listed in the website of the Bureau of Quarantine.
On the other hand, AEs and new enterprises that are interested to apply for accreditation can register via the DOT's online accreditation system can be accessed through Accreditation Portal (https://accreditation.tourism.gov.ph/).
Puyat said that with the threats posed by the new coronavirus variant, the DOT "will be on heightened alert and will have zero tolerance for even the slightest violation of health protocols."
"Lives are on the line and our economic recovery depends on everybody being responsible. Let us all perform our duties well. Each has an important role to play in managing this crisis," she said.
As It Happens
LATEST UPDATE: February 25, 2021 - 5:48pm
Find the latest travel and tourism news from around the world amid the coronavirus pandemic. Main image by AFP/Romeo Gacad
February 25, 2021 - 5:48pm
Tourism Secretary Bernadette Romulo-Puyat visits Siquijor to check preparations for reopening it to tourism, her department says.
She inspected accomodation establishments and tourism enterprises on the the island, where 37 hotels and inns have been accredited to reopen.
The province recorded 143,286 same-day visitor arrivals and 37,651 overnight visitor arrivals in 2020.
February 23, 2021 - 8:36pm
EasyJet shares rallied Tuesday on rocketing flight bookings for the British airline over the past week, given a boost by Prime Minister Boris Johnson's pledge to begin easing England's virus lockdown shortly.
Bookings soared 337% by late Monday compared with a week earlier, EasyJet said after Johnson's announcement.
EasyJet shares rallied around five percent on the London stock market -- and there were solid gains for European rivals.
Johnson's four-month roadmap to ease lockdown curbs by the northern hemisphere summer has also sparked hopes of easing restrictions elsewhere in Europe.
"The prime minister... has provided a much-needed boost in confidence for so many of our customers in the UK with demand for flights up 337 percent and holidays up 630 percent already compared to last week," EasyJet chief executive Johan Lundgren said in a statement. — AFP
February 18, 2021 - 10:05pm
Singapore on Thursday launched what it billed as a coronavirus-secure hotel and meeting complex where visitors communicate via intercom through glass panels, as the Asian financial hub slowly opens up to the world for business.
Short-stay business travellers to Singapore will be able to avoid the official 14-day quarantine rule if they stay at Connect@Changi, a purpose-built facility near Changi Airport.
They will, however, be required to remain within the facility for the duration of their stay to prevent possible transmission to the wider community.
After keeping its borders mostly closed for months, Singapore, which is home to the Asian headquarters of many international firms, will soon allow in business travellers from anywhere in the world as part of efforts to recover from a pandemic-induced downturn. — AFP
February 12, 2021 - 5:48pm
The Department of Tourism says it is optimistic with the speedy recovery of tourism due to the decision of the Inter-Agency Task Force on the Management of Emerging Infectious Diseases to reclassify industries for the continued reopening of the economy.
"With this development, we see the revitalization of the MICE (meetings, incentives, conferences and exhibitions) sector in General Community Quarantine (GCQ) areas and eventually, restoring our competitive advantage in the region. We also expect social events, though on limited scale, to resuscitate our accredited establishments, parks, historical landmarks, museums and other event locations, uplifting businesses along the value chain and more importantly, addressing employment and underemployment concerns," says Tourism Secretary Bernadette Romulo-Puyat.
February 9, 2021 - 5:35pm
Travellers arriving in Britain from abroad will have to take two coronavirus tests during quarantine, the government is expected to confirm on Tuesday.
Health Secretary Matt Hancock is due to announce that people told to isolate at home will be required to get a test two and eight days into a mandatory 10-day quarantine period.
The new measures, which critics say come too late to curb the spread of the virus, are aimed at halting new variants. — AFP