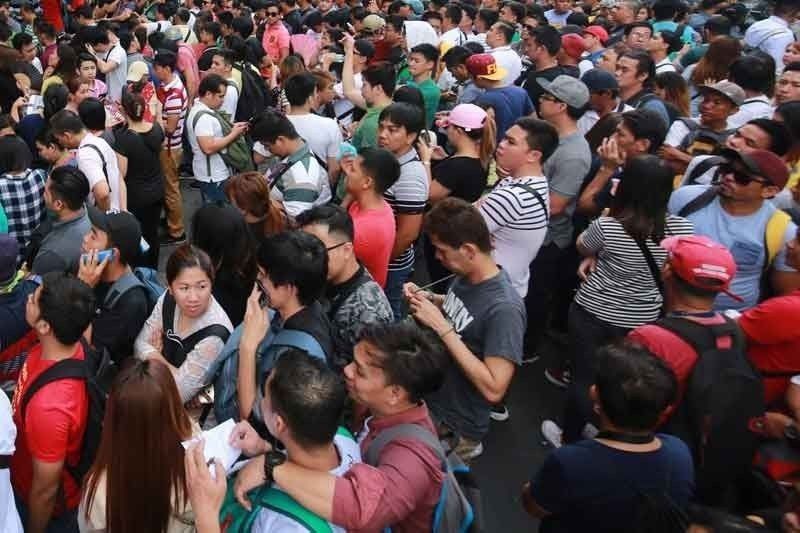 Preliminary results of the October 2020 round of the Labor Force Survey (LFS) showed that the unemployment rate eased to 8.7 percent in October from 10 percent in July.
STAR/Michael Varcas, file
Jobless rate eases to 8.7% in October
MANILA, Philippines — Unemployment decreased more in October as community quarantine restrictions eased further, but the Philippine Statistics Authority (PSA) noted that fewer working age Filipinos were returning to the labor market.
Preliminary results of the October 2020 round of the Labor Force Survey (LFS) showed that the unemployment rate eased to 8.7 percent in October from 10 percent in July.
This was equivalent to 3.8 million Filipinos without jobs or livelihood in October, 800,000 fewer compared with 4.6 million in July when the country was just emerging from strict lockdowns.
While unemployment in October eased from July and April, this was still almost double the pre-pandemic rate of 4.6 percent in October 2019 when only two million Filipinos were out of work.
This brought the 2020 average unemployment rate to around 10.4 percent, the highest since 2005.
"This improvement in the unemployment rate was driven by the reopening of the economy and it could have been lower if the economy were opened further, coupled with the provision of safe and sufficient public transport," said acting Socioeconomic Planning Secretary Karl Chua.
"On the other hand, the country was also hit by a succession of four typhoons in October alongside the monsoon and La Niña, resulting in significant employment loss in agriculture," Chua said.
Among major industries, job loss was fastest in arts, entertainment and recreation; accommodation and food service; real estate; transportation and storage; and manufacturing.
Underemployment also eased but remained high at 14.4 percent, equivalent to 5.7 million Filipinos looking for additional work to supplement their income.
"Decreasing underemployment means that the quality of jobs is improving. This proximity to normalcy means that the informal sector is performing and the impact on poverty may be less severe than initially estimated," said Chua.
Unemployment in Metro Manila alone eased in October from July but remained high at 12.4 percent in part as transportation woes continued to be experienced in the capital. Underemployment also eased but only marginally to 11.1 percent, indicating that few quality jobs were restored or created.
As of October 2020, the pool of potential workers aged 15 and above rose to 74.3 million Filipinos from 74.1 million in July and 72.6 million in October 2019.
Fewer working age Filipinos, however, reentered or joined the labor market during this period as seen in the drop in the labor force participation rate to 58.7 percent in October from 61.9 percent in July.
This translated to 43.6 million Fiilipinos working or looking for work in October versus 45.9 million in July and 44.6 million in October 2019.
PSA chief statistician Dennis Mapa said this can be partly attributed to some young Filipinos opting to continue their education. Some parents might have also chosen to accompany young children in blended learning from home.
Other potential returnees or job applicants, meanwhile, might have been discouraged after jobs dried up or shifted to digital operations.
Fewer young workers, those aged 15 up to 24 years old, were interested in joining the workforce in October as seen in the drop in the youth labor force participation rate to 33.9 percent in October from 38.9 percent in July.
This meant that 6.8 million Filipinos in this age bracket were working or looking for work, fewer than 7.8 million doing so in July. Out of this number, 5.5 million were employed in October, fewer than six million in July.
The lower participation rate resulted in a net employment reduction of 1.5 million in October from July.
This is equivalent to 39.8 million employed as of October compared with 41.3 million in July and 42.5 million in October 2019.
Mean hours worked in a week improved to 40.8 hours in October from 38.2 hours in July, but still below 42 hours in a week in October 2019.
Job growth was strongest in the following subsectors: water supply and wastewater management; fishing and aquaculture; education; information and communication; administrative and support service; as well as health and social work.
Chua said the results of the latest LFS round "support the need to manage risks more and further open the economy safely to restore jobs and economic activities."
Clamor for more jobs
Meanwhile, labor groups are demanding for more and quality jobs for Filipinos in spite of the recorded decline in the country's unemployment rate.
The Sentro ng mga Nagkakaisa at Progresibong Manggagawa (SENTRO) said the 8.7 percent unemployment rate is not a reason to celebrate as the country is yet to recover from crisis.
Even with the decline in the number of jobless people, the Associated Labor Union (ALU) said the country is "still deep in the woods."
It cited the poor quality of jobs available, as reflected in the extraordinarily high 14.4 percent underemployment rate.
"To effectively address this high unemployment number, job generation has to come from the national and local government building infrastructure programs. The government must take the lead in providing more jobs through aggressive infrastructures spending which employs Filipinos," ALU said.
It also stressed the need for government to provide financial grant incentives and affordable loans to enable financially distressed firms to cope with adverse impact of the pandemic.
"The Department of Labor and Employment must also do their part in helping curb rising underemployment by fully resuming the conduct of labor inspections nationwide to ensure lawful wages, social protection benefits and quality, regular jobs are enforced," ALU said.
Moreover, it said government should address exorbitant and unlawful increases in prices of basic food commodities.
SENTRO pointed out that employment in all classes of workers, except those employed in family operated farms or businesses, declined compared from figures in July 2020.
Even unpaid family workers declined drastically by 1.2 million, the group said.
"The recovery that our economic managers are waiting has yet to come. Time for government to pump prime the economy," SENTRO said. – Mayen Jaymalin