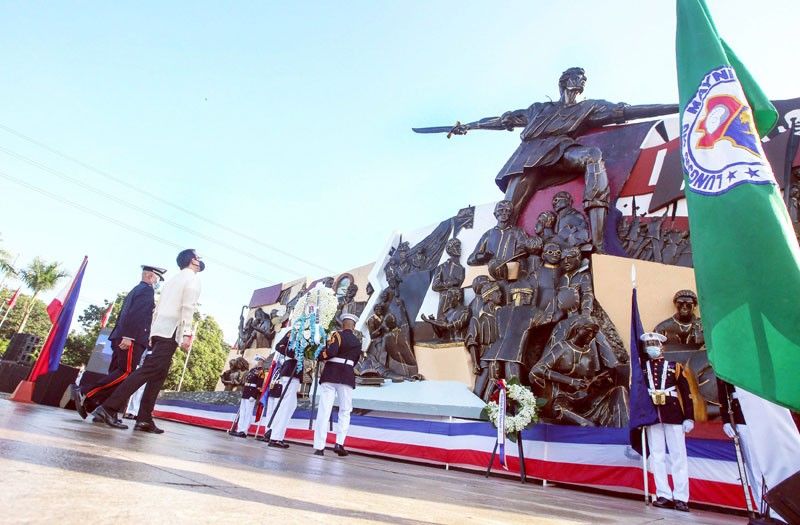 Manila Mayor Isko Moreno leads the wreath-laying ceremony at the Bonifacio Shrine near city hall to commemorate the 157th birth anniversary of revolutionary leader Andres Bonifacio yesterday.
Krizjohn Rosales
Duterte to Pinoys: Fight COVID-19 with courage of Bonifacio
MANILA, Philippines — President Duterte yesterday urged Filipinos to take inspiration from the courage and ideals of revolutionary leader Andres Bonifacio to promote an inclusive society and to surmount the challenges confronting the country, including the COVID-19 pandemic.
In a video message for the 157th birth anniversary of Bonifacio, Duterte said the hero's legacy of sparking the fires of a revolution "awakened our national consciousness and served as the foundation of this Republic."
"His love of country – which aroused our ancestors to fight for our freedom and secure our rightful place in the community of nations – is very vital now, more than ever, as we overcome the challenges of COVID-19 pandemic," Duterte said.
"As we remember his life and deeds, may the values he fought for inspire us all to become worthy heirs of the just, progressive and inclusive society that he envisioned more than a century ago. Fueled by Bonifacio's extraordinary courage and determination, let us surmount the many challenges ahead and secure a much better and brighter future for every Filipino," he added.
Presidential Communications Secretary Martin Andanar called on Filipinos to emulate Bonifacio's nationalism and aspire to be "modern heroes."
"May his bravery and courage that helped to awaken in our forefathers the desire for liberation and self-determination, be a source of inspiration to all Filipinos, as well as be a source of strength, as we continue to face societal ills and challenges such as poverty, insurgency, terrorism, corruption, illegal drugs and, recently, the COVID-19 pandemic," Andanar said in a statement.
"May this desire propel our nation towards justice, prosperity, tranquility, comfortable life for all Filipinos, and our recovery as one nation," he added.
Vice President Leni Robredo yesterday urged Filipinos to emulate Bonifacio, whose life exemplified the true meaning of courage.
"What Bonifacio exemplifies is not the cosmetic courage of bluster, or power, or brute strength; it is the courage of compassion," Robredo said in her message on the commemoration of the 157th birth anniversary of Bonifacio.
She said Bonifacio's courage was rooted in love for fellow Filipinos and belief that no one must be left behind.
"This courage is not a pretense. This is the kind of courage that will not be cowed no matter how difficult life gets," the Vice President said in Filipino.
"On this day, we are called to emulate Bonifacio's courage in any way, at any time, in small or big things, whether in delivering aid to people affected by disasters, in following rules to keep others safe amid the pandemic, or in taking a stand against oppression," she said.
Simpler rites
The commemoration of Bonifacio's birth was scaled down yesterday at his monument in Caloocan.
Defense Secretary Delfin Lorenzana, Mayor Oscar Malapitan, representatives from the National Historical Commission and police led the wreath laying at the Bonifacio Monument in Monumento, Caloocan.
Armed Forces of the Philippines (AFP) vice chief of staff Lt. Gen. Erickson Gloria, Northern Police District (NPD) director Brig. Gen. Ronaldo Ylagan, Caloocan City Police chief Col. Samuel Mina and Caloocan City Fire chief Supt. Aristotle Banyaga also joined the activity.
While there were a few attendants and a simpler commemoration unlike previous Bonifacio Day rites, this does not diminish Bonifacio's bravery and heroism that the public should emulate, Malapitan said.
"Even though there is a pandemic, we are not setting aside Bonifacio's birthday rites… But we are keeping the wreath laying simple because of the pandemic," Malapitan said. – Helen Flores, Marc Jayson Cayabyab, Edith Regalado, Michael Punongbayan
Related video: