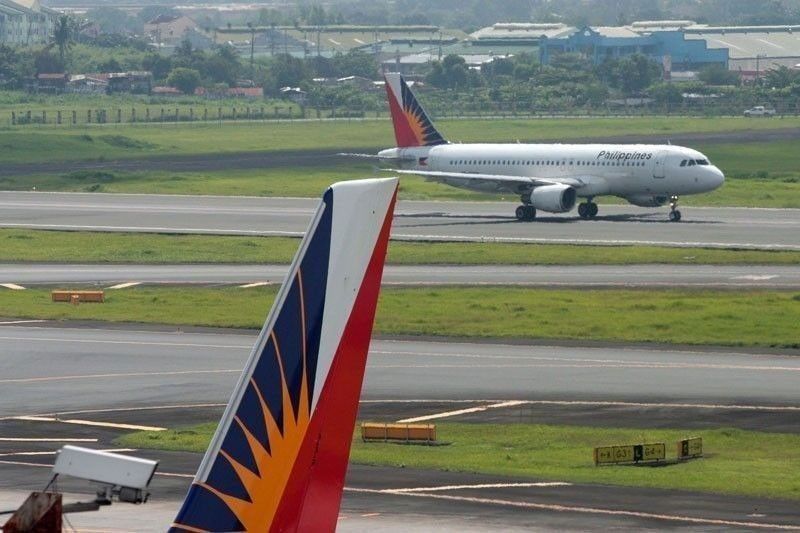 PAL is offering a discount to its passengers who need reverse transcription-polymerase chain reaction (RT-PCR) or swab testing for COVID-19 for their domestic or international flights.
The STAR/KJ Rosales/File
PAL, Cebu Pacific offer COVID-19 test promos
Rudy Santos
(The Philippine Star) - November 30, 2020 - 12:00am
MANILA, Philippines — Flag carrier Philippine Airlines (PAL) and Cebu Pacific are offering promotions for coronavirus testing to their passengers before boarding.
PAL is offering a discount to its passengers who need reverse transcription-polymerase chain reaction (RT-PCR) or swab testing for COVID-19 for their domestic or international flights.
Meanwhile, Cebu Pacific is introducing its Test Before Boarding (TBB) feature, so that passengers can undergo antigen testing conveniently at the airport just before their flight.
In a statement, PAL spokesperson Cielo Villaluna said starting tomorrow, PAL ticket holders will enjoy a P500 discount from the P4,500 regular rate at the convenience of its own RT-PCR testing center in Manila, with test results released within 12 to 24 hours.
The COVID-19 RT-PCR testing site is located at the Philippine Airlines Learning Center in Ermita, Manila with Detoxicare Molecular Diagnostics Laboratory as its Department of Health (DOH)-accredited partner.
The PAL testing center's competitive advantage lies in providing flexibility of choice, early release of results and pricing perks, according to Villaluna.
PAL ticket holders may choose either a drive-thru or walk-in service option. The testing facility is open daily from Monday to Sunday, from 8 a.m. to 5 p.m. with no noon break.
Passengers will experience pre-departure convenience with the testing facility's guaranteed release of results within 24 hours.
PAL travelers may pay in cash (in Philippine peso only), debit or credit card, GCash, PayPal™, WeChat Pay or Alipay.
Upon entering the testing facility, PAL passengers must present their ID, PAL ticket and quick response or QR code indicating completed registration on the PAL Passenger Profile and Health Declaration form. PAL passengers may access the form at https://bit.ly/PALIntPPHD.
Except for flights to the United States, Canada and Australia, all passengers must register and accomplish the online Passenger Profile and Health Declaration Form as early as five days before departure.
For a list of countries where PAL flies to and are requiring RT-PCR tests, passengers are advised to visit https://bit.ly/PALTravelsFromPH.
'Test before boarding'
TBB reduces the risk of infection between testing and boarding, finding infected passengers in a timelier manner. Only passengers with negative antigen test results will be allowed to board the Cebu Pacific aircraft.
Together with the local government of General Santos, and in coordination with the Philippine Airport Diagnostic Laboratory (PADL), Cebu Pacific is set to pilot TBB on Thursday for a two-week trial period.
All Cebu Pacific passengers flying from Manila to General Santos on Dec. 3-14 will be required to undergo TBB, free-of-charge during the pilot run. This is in compliance with the executive order of General Santos, where passengers no longer need to take any other test prior to their flight.
"We welcome this development through Cebu Pacific, because it opens up more people to the idea of traveling again. We believe this will be a breakthrough initiative, as it will allow our residents to feel more secure and not be wary of arriving passengers from Manila," General Santos City Mayor Ronnel Rivera said.
"Safety has always been our topmost priority, and in this current environment, health is part of safety. We look forward to the results of this pilot so we can pave (the) way for a more confident restart of non-essential travel and a standardization of requirements across all Philippine destinations. We would also like to laud General Santos City for piloting TBB with us," Cebu Pacific vice president for marketing and customer experience Candice Iyog said.
Passengers must fill out an electronic passenger information form (E-PIF) through https://www.padlab.ph/DLS/ePIF and pre-register through http://tapat.gensantos.gov.h/tapatsystem/registration/#details at least 24 hours before their flight. They must also secure a travel authority to be allowed entry into the city, and check in online before going to the airport as part of contactless flight procedures.
At the airport, guests must proceed to the testing facility located at Level 3 of the Ninoy Aquino International Airport Terminal 3 five hours before departure to give ample time for testing procedures. Once called for their turn, swab samples will be collected, with results to be released within 30 minutes.
After completing the test, DOH-accredited PADL will provide passengers with a certificate showing the results of their antigen test. They can then proceed straight to gate or bag drop counters until an hour before the scheduled time of departure.
Only guests with negative results will be allowed to board the flight, while those with positive results will be referred to another testing facility for confirmatory RT-PCR testing.