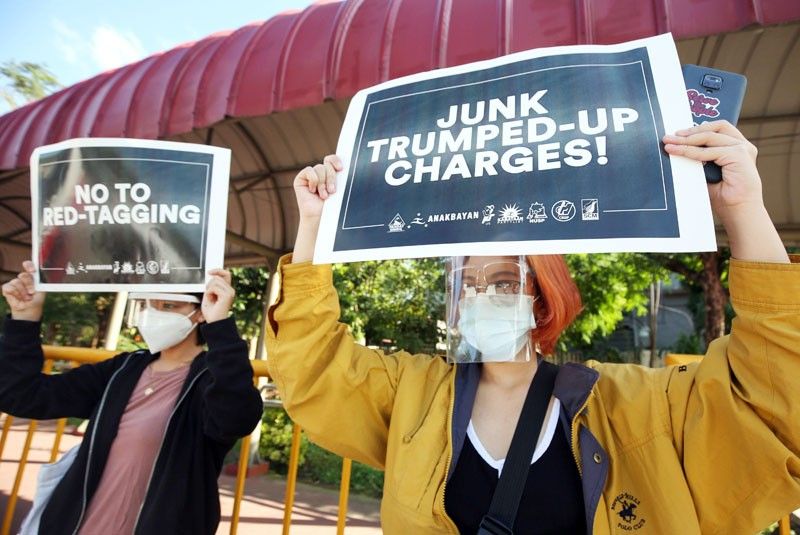 Militants troop to the Senate building in Pasay City yesterday for the hearing of the committee on national defense and security on the issue of red-tagging.
KJ Rosales
Ex-Reds tag left-leaning party-list lawmakers
Paolo Romero
(The Philippine Star) - November 25, 2020 - 12:00am
MANILA, Philippines — Former communist rebels yesterday tagged left-leaning party list congressmen as among the leaders of the Communist Party of the Philippines-New People's Army-National Democratic Front (CPP-NPA-NDF), an allegation that the accused lawmakers said was not only false, but is also causing the extrajudicial killings of scores of activists.
At the resumption of the inquiry of the Senate committee on national defense and security, chaired by Sen. Panfilo Lacson, into the alleged red-tagging of lawmakers, celebrities and other personalities and organizations, the Cabinet security cluster presented several former NPA leaders who detailed how front organizations become recruitment bases for communist rebels.
The hearing saw leaders of the Makabayan coalition – Bayan Muna chairman Neri Colmenares, Bayan Muna party-list Rep. Carlos Zarate, Kabataan party-list Rep. Sara Elago and former Bayan Muna representative Teddy Casiño – facing off with their accusers, who also include National Security Adviser Hermogenes Esperon Jr. and other members of the National Task Force to End Local Communist Armed Conflict (NTF-ELCAC).
Among the alleged former rebels who testified was Joy James Saguino alias "Amihan," who operated in various capacities, including as guerilla front secretary for the Davao region.
Saguino said he personally met and knew Elago when the latter visited Cotabato and the then Compostela Valley (presently Davao de Oro) to meet with local CPP-NPA-NDF leaders some years back.
"There was no way for Sarah to deny, she needed to coordinate with the (CPP-NPA-NDF), with us, to visit," Saguino said, who added that he used to be an organizer of the Anakbayan and Kabataan party-list before being recruited to take up arms against the government.
Saguino said that shortly after he was sworn in as full-fledged member of the CPP-NPA-NDF in 2012, he was directed to organize groups to campaign for Casiños's senatorial bid.
Also testifying was Ivy Lyn Corpin alias "Red," who recounted that sometime in 2015, her NPA unit managed to recruit five new members, including two minors, who belonged to the League of Filipino Students and Kabataan party-list.
"This is the time for our redemption, a chance to rectify our mistakes, who else have experienced hunger, lack of sleep, extreme fatigue while in the mountains, fighting? We're afraid of dying, but from the CPP-NPA-NDF, who have labeled us traitors," Corpin said in mixed Filipino and English.
"If the CPP-NPA-NDF can kill mayors, officials, what more ordinary people?" she added.
Several other former rebels – physically present at the session hall – also testified, but the common thread of their narrative is that they started as members of front organizations until they were recruited to join the CPP-NPA-NDF.
They said the CPP-NPA-NDF considers front organizations as a pillar in the effort to take over the government.
Jeffrey Celis, whom the NTF-ELCAC also introduced as a former NPA commander, said all front groups have counterpart underground organizations that report to the CPP-NPA-NDF.
The party-list lawmakers and other personalities strongly denied being members of the communist group even as they warned such red-tagging has cost the lives of many innocent activists and community leader
"I state categorically before this committee that I'm not a member or official of the CPP. I'm not a rebel or a member of the NDF. I also categorically deny that my party-list Bayan Muna was created and controlled by the CPP," Zarate said.
Elago also made similar denials, saying the Kabataan party-list group is not a part nor a front of the CPP, and that she was not an NPA recruiter.