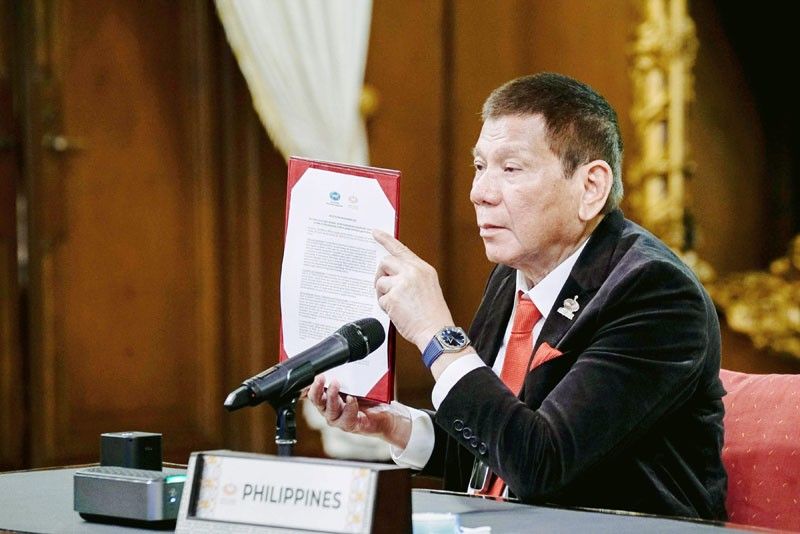 President Duterte shows the APEC Putrajaya Vision 2040 document, an aspiration for the present and future economic growth in the next 20 years, during the virtual 27th APEC Economic Leaders' Meeting the other day.
STAR/ File
Duterte to APEC: Ensure free flow of vaccines
MANILA, Philippines — President Duterte has urged fellow leaders in the Asia Pacific Economic Cooperation (APEC) to ensure unimpeded flow of vaccines for COVID-19, which has killed more than a million people and ruined industries across the globe.
"We have to ensure the unimpeded flow of medical supplies and technologies, especially COVID-19 vaccines. We have to defeat the virus everywhere, or no one is safe. To do this, we need to strengthen partnerships to make vaccines a global public good," the President said Friday at a videoconference with 20 other leaders of APEC economies, including US President Donald Trump, Chinese President Xi Jinping and Russian President Vladimir Putin. Duterte's message was beamed from Malacañang.
The President said in his intervention that it would be a folly to assume that there could be pockets of safe havens in the face of a global pandemic.
Malaysia hosts the 27th APEC Economic Leaders Meeting.
Several pharmaceutical companies and laboratories have announced successful trials of vaccines.
Duterte also said that aside from bilateral and multilateral cooperation for vaccine supply and distribution, tripartite arrangements can be made between the government, private sector and multilateral financial institutions.
"There is no other way. Let us resolve to act decisively on universal vaccine access and maximize these mechanisms. COVID-19 is indeed the defining challenge of our generation, unprecedented in reach and ramifications for our societies," he said.
The President stressed that the task at hand was to save lives, even if it meant bringing economic activities to a halt.
"It was the right thing to do at the onset. We saved lives and contained the spread of the virus. But it is clear by now that this approach is hardly sustainable. We have to reopen our economies, while protecting and helping our people adjust to a 'new normal'," Duterte added.
The President said the world is still in a very difficult situation given the complexity and enormity of the recovery process.
"We aim for a comprehensive recovery with no one left behind. This can only be done through deeper engagement with the international community, especially with close partners in the Pacific Rim region and the key areas where we can work together," Duterte pointed out in his remarks.
The President likewise said that information is key to effective response and mitigation efforts. "We welcome Malaysia's initiative to establish the COVID-Live online portal, precisely for sharing of best practices," he said.
Duterte said APEC economies need to keep trade free, open and fair if they want to achieve sustained and inclusive economic recovery.
Duterte said over the years APEC has helped spur economic growth and prosperity, lifting millions of people out of poverty in the Pacific Rim region.
"Tonight, we recognize the economic advancements we have thus far made. Yet we have a new reality that is sobering. We should not be discouraged. If anything, we must recommit ourselves to bolder, more concrete ways to ensure our region's economic well-being and vitality," the Chief Executive added.
The President and other leaders also endorsed the APEC Putrajaya Vision 2040. The document commits member-economies to deepen regional economic integration, address income inequalities within and between countries, and enhance cooperation to face the disruptive impact of a new globalization, driven by digitalization and innovation.
The APEC Economic Leaders also adopted the 2020 Kuala Lumpur Declaration which highlights key imperatives like combatting and mitigating the impacts of COVID-19.
The 27th APEC Economic Leaders Meeting concluded with the turnover of the APEC chairmanship from Malaysia to New Zealand.
Foreign Affairs Secretary Teodoro Locsin Jr. and Trade and Industry Secretary Ramon Lopez joined the President during the meeting.
Aside from the Philippines, the US, China and Russia, APEC economies include Australia, Brunei, Canada, Chile, Hong Kong, Taiwan, Indonesia, Japan, South Korea, Malaysia, Mexico, New Zealand, Papua New Guinea, Peru, Singapore, Thailand and Vietnam.