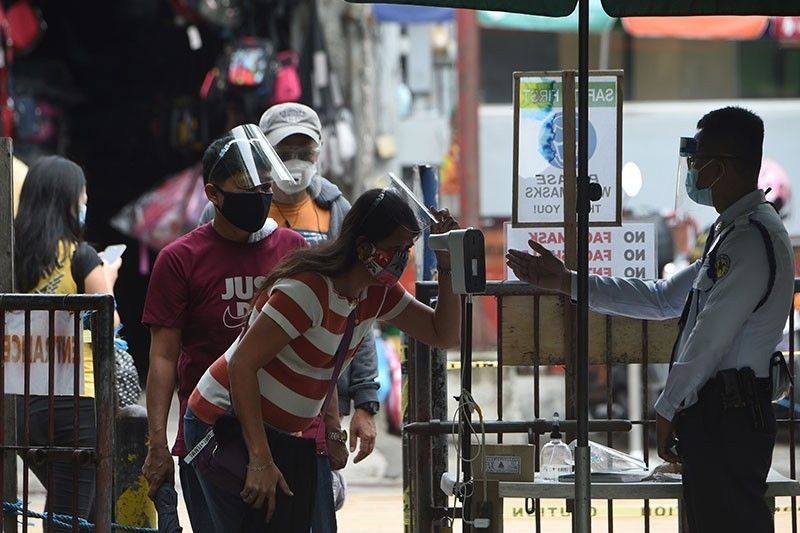 The rest of the country will remain under modified GCQ.
AFP/Ted Aljibe
Metro Manila, 6 other areas under GCQ for November
DAVAO CITY, Philippines — The National Capital Region along with the provinces of Batangas and Lanao del Sur as well as the cities of Iloilo, Bacolod, Iligan and Tacloban will remain under general community quarantine (GCQ) until Nov. 30, President Duterte announced yesterday.
The rest of the country will remain under modified GCQ.
Duterte announced the quarantine classifications for Nov. 1 to 30 subject to appeal by the local government units.
"COVID-19 is still a problem," Duterte said in a public address on Monday night but broadcast yesterday.
The President held the weekly meeting of the Inter-Agency Task Force for the Management of Emerging Infectious Diseases (IATF) through teleconference from Davao City.
Duterte said COVID-19 cases are still increasing, but the quarantine restrictions have been proven to slow down transmission.
He said most of the mayors in Metro Manila wanted the region to remain under GCQ.
"Ang gusto ng karamihan, gusto nila (Most of them want to)...make it permanent because they have seen the goodness of the result, that it has considerably lowered the number of people who are infected with the microbe," Duterte said.
The President reminded the people to wear face masks, shields and follow health protocols, saying the government has prioritized the welfare of the general public.
"Palagay ko naman, sa inyo pa rin itong kapakanan (I think this is still for your own good). Look, we are not here to make your life miserable or sad. We are here to make your life comfortable and to make you happy," he added.
Duterte said the administration is working with the Chinese government for the purchase of COVID-19 vaccines.
Health Secretary Francisco Duque III said local governments have until today to appeal the quarantine classification with the IATF.
Bacolod City Mayor Evelio Leonardia had asked regional IATF head Jovie Ingeniero that the city be placed under MGCQ, saying the COVID-19 situation in his jurisdiction remains manageable.
Leonardia said there were only two COVID-19 infections in the city, the lowest recorded since July 16. – Christina Mendez, Gilbert Bayoran