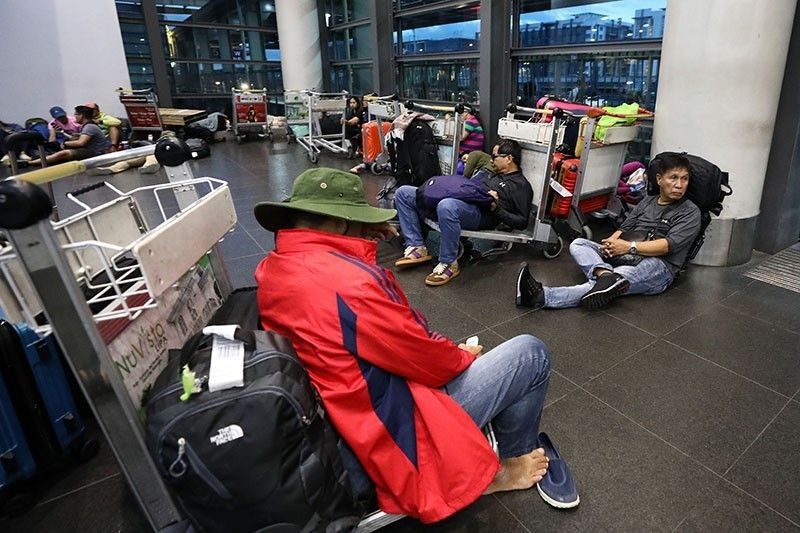 According to presidential spokesman Harry Roque Jr., the IATF scrapped its earlier decision apparently after the Department of Health ruled that the antigen tests could detect infections only if a person already has symptoms of the disease.?"
The STAR/Miguel de Guzman, File photo
IATF withdraws pre-boarding tests for outbound Filipino travelers
MANILA, Philippines — Filipinos going abroad no longer need to undergo antigen testing for COVID-19 before they leave the country, the Inter-Agency Task Force (IATF) for the Management of Emerging Infectious Diseases said yesterday.
According to presidential spokesman Harry Roque Jr., the IATF scrapped its earlier decision apparently after the Department of Health ruled that the antigen tests could detect infections only if a person already has symptoms of the disease.?"The IATF approved during its 80th meeting the lifting of the pre-boarding testing requirement for outbound Filipino travelers, amending IATF Resolution No. 79, which asked for a negative antigen test result taken within 24 hours before departure as a pre-boarding requirement," he noted.
As a result, the IATF also amended its omnibus guidelines on travel of Filipinos abroad.
The IATF maintained that overseas Filipino workers (OFWs), students enrolled abroad and participants accepted in exchange visitor programs, permanent residents of foreign jurisdictions and foreign nationals may leave for abroad through any of the airports or seaports in the country.
It also said outbound travel of Filipinos, regardless of purpose, may be allowed as long as they comply with requirements. For those traveling on tourist or short-term/visitor visas, the task force requires the submission of confirmed round-trip tickets and adequate travel and health insurance to cover travel disruptions and hospitalization in case of COVID-19 infections during the allowable period of stay abroad.
Outbound travelers are also asked to execute an immigration form acknowledging the risks involved in traveling, including the risk of delay in their return trip.
Whenever required by the country of destination or the airline, travelers must present a negative COVID-19 test. Upon return, the travelers should follow guidelines of the National Task Force for returning OFWs.
The IATF decision came after reports said the US Food and Drug Administration said antigen tests quickly detect fragments of proteins found on or within the virus through samples collected from the nasal cavity using swabs.
While antigen tests can provide results in minutes, this type of diagnostic testing may not detect all active infections because it is not as sensitive as the RT-PCR test, the "gold standard" in coronavirus testing.
Local carriers AirAsia Philippines, Cebu Pacific and Philippine Airlines (PAL) welcomed the ruling, saying it is another step toward rejuvenating air travel demand.
AirAsia Philippines spokesman Steve Dailisan said "this will lessen the cost of air travel in the new normal, which in return will encourage passengers to fly to various international destinations once allowed by foreign governments."
The low-cost carrier, he added, is looking forward to having similar ease in domestic travel restrictions, or have in place a more affordable, effective and efficient PCR antigen test which has already been discussed by members of the Air Carriers Association of the Philippines with the Department of Health and IATF.
Candice Iyog, Cebu Pacific vice president for marketing and customer experience, said they "appreciate that the government has been continuously revisiting our existing travel regulations with an aim to help the tourism industry recover."
She said safety remains Cebu Pacific's top priority, stressing the importance of giving passengers peace of mind whenever they travel.
"We have been working closely with the government on the standardization and simplification of requirements for domestic travel to aid the reopening of local borders while implementing a multi-layer approach to health and safety," Iyog also said.
PAL spokesperson Cielo Villaluna said the streamlining of requirements leads to ease in the process of preparing for one's non-essential international outbound travel.
"All travelers – whether essential or nonessential – are required to observe the safety protocols such as wearing of face masks and shields throughout the journey and subjecting themselves to thermal scanning, among other measures," she added.
Villaluna pointed out that "passenger demand for tourist travel is dependent on several factors such as the easing of travel restrictions at points of origin and destination, combined with one's desire to travel for tourist purposes."
She is hopeful that, in time, tourist travel will gradually increase as she noted that air travel remains the safest form of travel. "Building up passenger traffic for tourist travel will be a gradual process and will not happen overnight," she said. – Richmond Mercurio