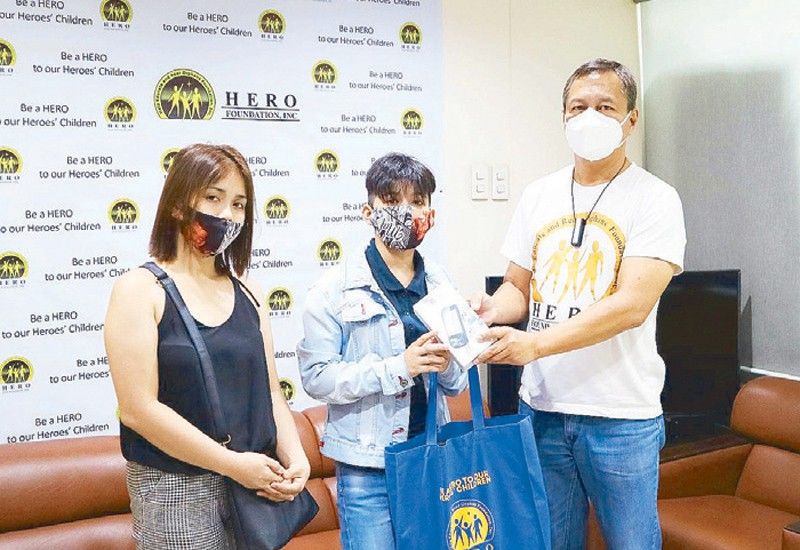 Maria Francia Velasco, widow of the late Sgt. Jaime Velasco, and daughter Johanna Denise receive gadgets and school supplies from retired MGen. Victor Bayani, executive director of the HERO Foundation.
STAR/File
HERO Foundation welcomes new scholars
(The Philippine Star) - October 18, 2020 - 12:00am
MANILA, Philippines — For 32 years, HERO Foundation Inc. has made it their mission to ensure every military orphan gets to achieve their dreams.
As the country strives to cope amid the pandemic, HERO continues the cause to help the children of fallen heroes by welcoming two new scholars.
Johanna Denise Velasco (Grade 5) and Jody Jillian Velasco (Grade 9) are the latest addition to HERO's growing list of scholars.
Their father, late Sgt. Jaime Velasco Jr. of the Philippine Army, was among the soldiers who died in the line of duty during an incident in Jolo, Sulu, last June 29.
Since 1988, HERO has supported over 2,000 military orphans by providing them with educational assistance like school supplies, transportation, meals, gadgets and even a portion of their tuition fees.
Last Sept. 29, Johanna and Jody were handed their first educational support as HERO scholars.
As schools shift to online learning, the scholars are also faced with a challenge of having proper equipment and internet connection under new learning modalities.
The foundation continues to call for donations of gadgets scholars can use in their online classes. During this season of giving, the HERO Christmas Card will soon be available for purchase where donations can be made on behalf of a chosen card recipient. Proceeds will help support the education of the scholars.
Cash donations or any form of support is also made convenient with HERO's enhanced donation channels for those who are willing to help.
Donations can be made through bank accounts online, GCash, Give2Asia and Lazada.
More information about the foundation and how to donate are available at https://herofoundation.com.ph/.