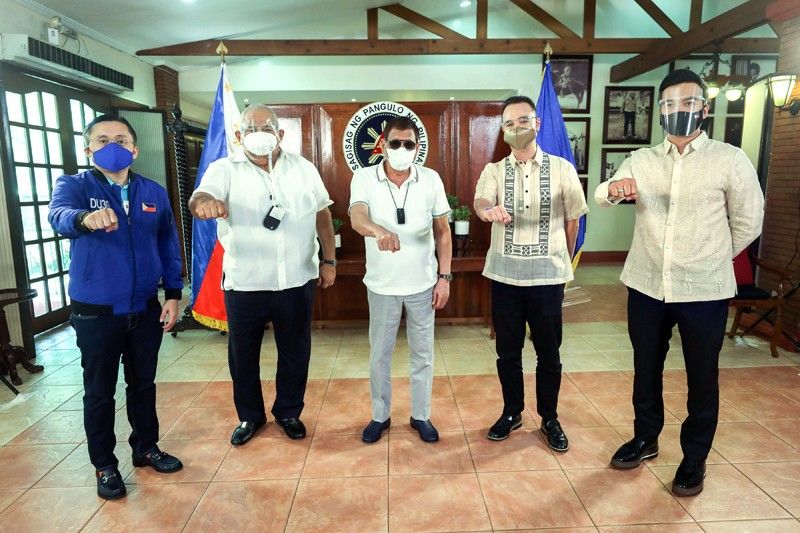 Boxing Over: Rivals Taguig Rep. Alan Peter Cayetano (second from right) and newly installed Speaker Lord Allan Velasco (right) pose with President Duterte following a meeting held at Malacañang yesterday. Also in photo are Sen. Bong Go (left) and Executive Secretary Salvador Medialdea.
STAR/File
New leadership overturns 2nd reading passage of budget bill
MANILA, Philippines — The first order of business for the House of Representatives under the leadership of Speaker Lord Allan Velasco was to return to plenary debates the stalled P4.5-trillion national budget for 2021.
House Deputy Speaker Aurelio Gonzales Jr., who presided over the first day of the four-day special session, approved the motions of acting House Majority Leader Juan Pablo Bondoc to "reconsider" the termination of budget deliberations for agencies.
The same reconsideration was proposed for the second reading approval of the budget measure, contained in House Bill 7727.
The new leadership had to void or annul the surprise decision of former speaker Alan Peter Cayetano to pass the measure on second reading and suspend the sessions until Nov. 16.
Bondoc, a congressman from Pampanga, clarified that the current status of HB 7727 is that it is now "under sponsorship and debate," in compliance with Duterte's Proclamation 1027 providing for a special session from Oct. 13 to 16 for purpose of approving the measure.
This developed as Davao City Rep. Paolo Duterte, who resigned as Deputy Speaker, was appointed new chairman of the House committee on accounts, replacing Cavite Rep. Abraham Tolentino, who held the post since July 2019.
The chamber decided to go back to plenary debates following the failure of Cayetano's leadership to deliberate on the budgets of crucial agencies like the Department of Public Works and Highways, where Negros Oriental Rep. Arnie Teves detected and questioned hefty allocations for Cayetano and his loyal allies.
Deliberations on the budget of 26 government offices, including the Departments of Education, Health, Social Welfare and Development, the Interior and Local Government, Tourism, Agrarian Reform and the Commission on Human Rights, among others, had been stalled.
The House minority bloc led by Manila Rep. Bienvenido Abante Jr. has been looking forward to scrutinizing the spending measure.
"As we move forward, we hope to work with our colleagues to quickly and thoroughly thresh out the details of the national budget, conscious of our mandate to come up with an appropriations measure that addresses the adverse impact of the pandemic on the lives of our countrymen," the bloc said in a statement
Albay Rep. Joey Salceda, chairman of the House ways and means committee, said the House under Velasco would be a "bridge to the future" as he vowed that Congress would be on the "fast-lane for modernizing reforms" under new House leader.
"The new Speaker is a workhorse, not a show-horse. He has very little appetite for political theatrics, and that attitude will spill over to us in his leadership team," the former socio-economic planning secretary general said.
According to him, Velasco will "bring youth, energy and dynamic curiosity to House leadership."