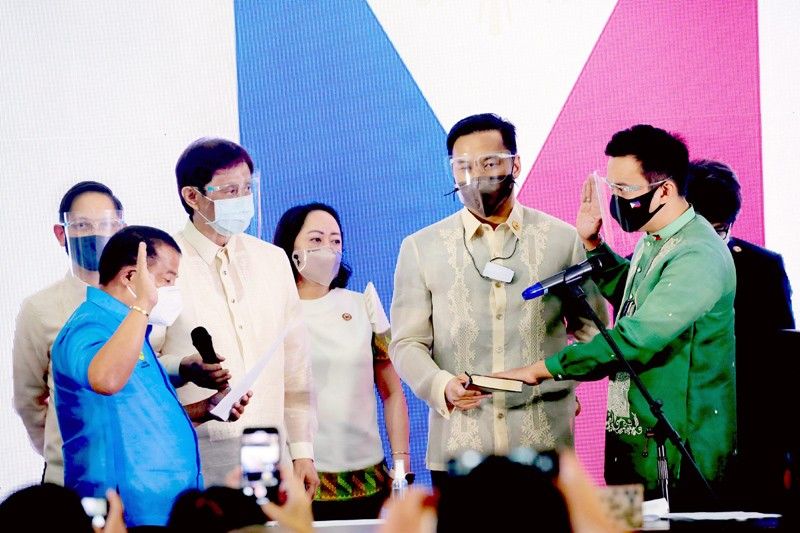 Marinduque Rep. Lord Allan Velasco (right) is sworn in as Speaker by Balara barangay captain Allan Francia at the Celebrity Sports Plaza in Quezon City yesterday before allies led by 1-Pacman party-list Rep. Mikee Romero, who is holding the Bible.
Michael Varcas
Allies install Lord Allan Velasco as new Speaker
Sara, Hugpong back Velasco
MANILA, Philippines — Allies of Marinduque Rep. Lord Allan Velasco installed him as the new Speaker of the House of Representatives yesterday, effectively ousting Taguig Rep. Alan Peter Cayetano, who challenged the validity of the procedure and insisted that he remained the leader of the chamber.
Covered live by Radio-TV Malacañang and livestreamed via the Facebook page of the Presidential Communications Operations Office, a total of 186 lawmakers voted to elect Velasco in rites held at the Celebrity Sports Plaza in Quezon City.
"I would like to extend my hand to Speaker Cayetano and hope that he would be amenable to sit down with me as we comply with the agreement for a peaceful transition for the benefit of our members and the country," Velasco said in his acceptance speech.
No less than President Duterte brokered in July 2019 the term-sharing agreement between Cayetano and Velasco, in which the former was to serve as Speaker for the first 15 months while the second 21 months would be taken over by Velasco – an arrangement proposed by Cayetano himself.
Davao City Mayor Sara Duterte-Carpio confirmed that she and Velasco met in Davao City over the weekend, during which she made it clear that her Hugpong ng Pagbabago (HNP) party "will respect their term-sharing agreement."
"He intimated that there will be a speakership vote and he sought for my help, as the chairperson of HNP, with regard to the votes of the three HNP congressmen from Davao region," she said.
In a speech after his election as Speaker, Velasco acknowledged the challenges lawmakers under his leadership have to surmount.
"It has been a difficult journey to get to where we are, one fraught with many frustrations and complications, but then we are all here, and this is a testament to our indomitable spirit and our collective commitment to honoring our word," Velasco said.
"For what are we, who are we, if we cannot live up to our word? This is not the triumph of one, this is the triumph of everyone who believes that a promise is a promise," he said.
"The true measure of leadership comes not when things are easy, but especially when things are most difficult. Whether famine or feast, poverty or plenty, a leader will always rise to the challenge and respond to the call of service," he added.
Fake session
But Cayetano wouldn't budge, pointing out that the venue where they held their ceremonies was not the House plenary, thus making the process "illegal" altogether.
"Now, we have a fake session. Celebrity Sports Club is not Congress, it creates a disturbing precedent," he said.
"Sobrang kalokohan ang ginagawa nila. Isang pambababoy sa legislature ang nangyari (What they did was really outrageous. What happened was a defilement of the legislature). I will not allow you (Velasco) to burn down this House. They (Velasco group) are calling for revolutionary government," he argued.
While the Batasang Pambansa complex in Quezon City is the official home of the House of Representatives, a simple majority of the nearly 300-member chamber can always hold session elsewhere and that whatever decision they make can be considered binding and legal.
There are questions as to where the mace may have gone. Pictures circulating in social media indicated it may have been smuggled out of the chamber, but this was denied by House sergeant-at-arms retired police general Ramon Apolinario, who would lose his job to retired police general Mao Aplasca. Also booted out was Cayetano's secretary general Jose Luis Montales, who was replaced by lawyer Jocella Bighani-Sipin.
Rep. Mikee Romero (1-Pacman), who held the Bible when Velasco was taking his oath, said they would work for the immediate passage of the P4.5-trillion national budget for 2021 which is the main concern of Duterte.
"It's time for us to stop this divisiveness and buckle down to work. There's still so much to be done and our people need this budget for next year, when we expect that a vaccine may finally be available. Let's not lose sight of our mandate," he said.
Oriental Mindoro Rep. Doy Leachon, another ally of Velasco, thanked their colleagues who showed up at the Celebrity Sports Plaza for their "bravery" even if they still "don't know what lies ahead," especially in the light of recent purges made by Cayetano's camp.
Velasco took his oath before barangay captain Allan Francia of Balara, Quezon City.
Among the House officials who facilitated Velasco's election as Speaker were Reps. Conrad Estrella (Abono party-list), who was the presiding officer during the entire proceedings, and Pampanga Rep. Juan Pablo Bondoc who acted as the majority leader.
Albay Rep. Joey Salceda, chairman of the House ways and means committee who was originally identified with Cayetano's camp, said the 186 votes comprised 111 physically present lawmakers, 45 Zoom votes and 30 votes via Viber.
Early in the day, the Velasco camp showed a manifesto of support signed by leaders of political power blocs or parties under the administration coalition or the super majority in the House.
The signatories were Reps. Leachon, Eric Martinez, Bondoc and Salceda of PDP-Laban; Isidro Ungab (Davao City) of Hugpong ng Pagbabago; Jack Duavit (Rizal), Mark Enverga (Quezon) and Wes Gatchalian (Valenzuela City) of the Nationalist People's Coalition; Mikee Romero of the Party-list Coalition; Lito Atienza, Kristine Singson Meehan of the Northern Luzon Alliance; Kiko Benitez of the Visayas bloc; Rufus Rodriguez of Cagayan de Oro; Munir Arbison of the Nacionalista Party and Raul del Mar of the Liberal Party.
Senators' appeal
Senators, meanwhile, urged their colleagues in the House of Representatives to resolve as amicably and as quickly as possible their internal problems to make sure the proposed P4.5-trillion national budget would be passed before yearend.
Sen. Sonny Angara, who chairs the committee on finance, said the House leadership row is an internal matter so the Senate has no say on it.
"But our request remains the same – that the proposed budget be passed on third and final reading before Congress goes on recess," Angara said.
He said senators were ready to hold a special session to ensure quick passage of the budget.
When asked about the leadership deadlock in the chamber, he said: "It's fairly simple. With both camps claiming they have the numbers they should just call the session to order and conduct an election – like every other legislative body in the world, the majority rules. That will resolve the conflicting claims once and for all so the focus can return to tackling and passing the budget bill," he said.
Sen. Imee Marcos said senators are willing to take up the slack and make up for possible lost time for the sake of the budget.
"The Senate will do everything necessary to pass next year's budget and will work all hours for the welfare of the people, especially in these difficult times," Marcos said.
Sen. Bong Go also said he did not want to meddle in the affairs of the House.
"My only appeal to my fellow legislators, given the health crisis we are still in now, is to set aside political and partisan differences as well as personal ambitions in favor of national interests and the welfare of our people. Let us work together and pass the 2021 national budget on time," Go said in a statement.
He said the government must have an enacted budget by Jan. 1 to ensure funding for programs to fight the pandemic, revive the economy and lift the poor out of poverty.
"Let's prioritize the welfare of the people who elected us to our position. Let's unite and set aside politics and ambition. Let's perform our duties as lawmakers for the sake of the country and the future of our countrymen," Go said. – Paolo Romero, Edith Regalado
Related video: